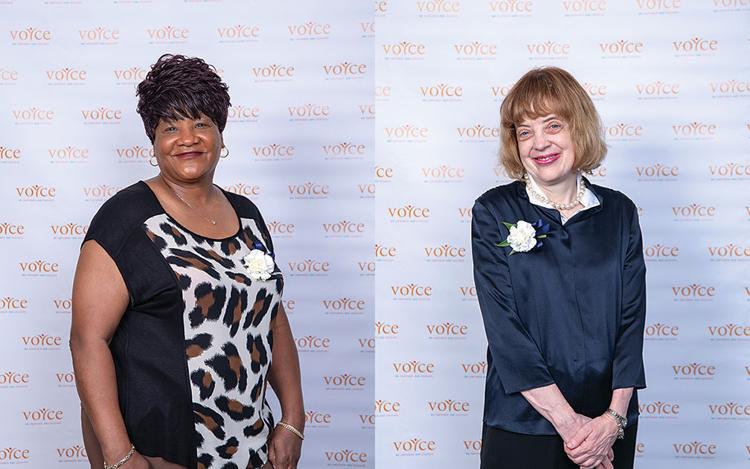 Sometimes all it takes is a friendly smile to know that everything is going to be OK. That's the philosophy that Priscilla Djebbour embraces.
Djebbour of West St. Louis, Margaret Golden of St. Louis and Cynthia Miller of St. Louis were among 18 caregivers who were recently honored by VOYCE (formerly the Long Term Care Ombudsman Program) at the Caregiver Awards Luncheon. Miller, a dietary aide at Manor Grove, received the Lifetime Achievement Award. Djebbour is a certified nursing assistant (CNA) at St. Louis Altenheim and Golden is a memory care volunteer and member of the board of directors at St. Louis Altenheim.
Priscilla Djebbour
Djebbour was nominated by the residents she serves every day. They love her attention to detail, her ability to anticipate their needs, and her willingness to do "a little something extra" to make their days better.
On more than one occasion, Djebbour has overheard a resident talking about his or her need for some new clothes, socks or a special shampoo. Using her own money, she has purchased the item and surprised that resident with a special gift. Other times, she has offered to give residents a shower even if it's not their shower day.
Margaret Golden
Any organization would be blessed to have a devoted volunteer like Margaret Golden, according to VOYCE.
As a board member and past president with St. Louis Altenheim for the past 18 years, Golden has helped guide her organization as it grew, adapted to health care changes, and built partnerships throughout the community.
Cynthia Miller
Cynthia Miller, VOYCE's first lifetime achievement honoree has been a dietary aide at Manor Grove in Kirkwood for more than 37 years.
As the longest serving staff member at Manor Grove, Miller has had a positive impact on every resident there for nearly four decades. Each day, when residents come down for meals, Miller is ready to greet them with a smile and the willingness to do whatever she can to make their day the best it can be.