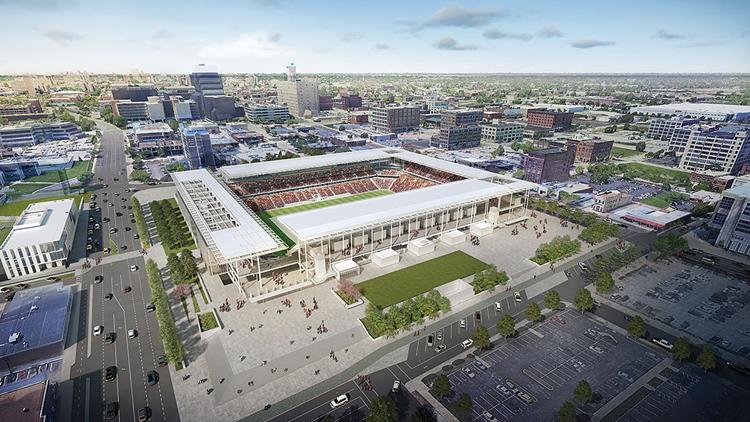 St. Louis-based architecture firm HOK and urban design architect Julie Snow, co-founder of Snow Kreilich Architects, are working with MLS4TheLou to update the proposed Major League Soccer stadium design set for the St. Louis Downtown West neighborhood.
The most recent renderings include an expanded stadium district and adjusted planting locations to create an "active public environment" for spectators and city residents year-round. Additionally, the elevated plaza on Market Street and the larger openings in the stadium façade and massing are designed to have a strong presence and organic connection to the surrounding city.
Renderings highlight a more open, accessible and inclusive design. The stadium and surrounding district will sit north of Market between 20th and 22nd streets.
"As the stadium design continues to evolve, the ownership group's vision to create a stadium district that will be the heart of St. Louis soccer and continue St. Louis' growth and revitalization hasn't changed," said Snow. "Making the stadium more accessible from 22nd street and adjusting planting locations to create a more active public environment will only enhance the stadium's ability to connect Downtown West and extend the Gateway Mall, while directing it north and south."
The MLS4TheLou ownership group, headed by Carolyn Kindle Betz, was instrumental in campaigning to bring soccer to St. Louis. The group is a multigenerational team comprised almost entirely of women.
The group consists mostly of the Taylor family, founders of Enterprise Holdings and World Wide Technology CEO Jim Kavanaugh, himself a former professional soccer player.