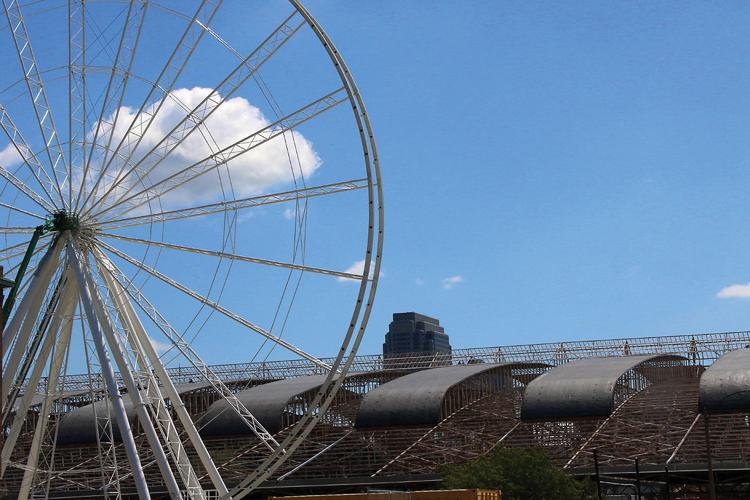 A one-of-a-kind Ferris wheel promises to put a new spin on Downtown St. Louis entertainment, plus a planned aquarium guaranteed to make a big splash.
The Arch will soon be sharing the city's skyscape with the bright lights of one of the country's largest Ferris wheels and the once-shuttered Union Station is being transformed into a two-story aquarium that will be home to thousands of animals.
A carousel, an 18-hole mini golf course, mirror maze, ropes course, splash park, new restaurants and more will also be part of the $187 million entertainment complex at the former train station and mall site.
The former Hard Rock Cafe building is being converted into a 1950's style soda fountain shop, and the popular Fudgery is returning to St. Louis Union Station.
But first up – literally – is the Ferris wheel. The spokes of the 200-foot St. Louis Wheel are going up now and by mid-October visitors will be able to ride in one of the wheel's 42 climate-controlled gondolas. Each gondola will hold eight passengers and be ADA accessible.
To put its size in perspective, the St. Louis Wheel is 49 feet taller than the Statue of Liberty, 20 feet taller than the Colossus wheel at Six Flags St. Louis and four feet taller than Chicago's famous Centennial Wheel at Navy Pier.
"There's bragging rights here," said Eli Stovall, managing partner of Icon Attractions, which will run the St. Louis Wheel 365 days a year. "This is going to be a new landmark in St. Louis."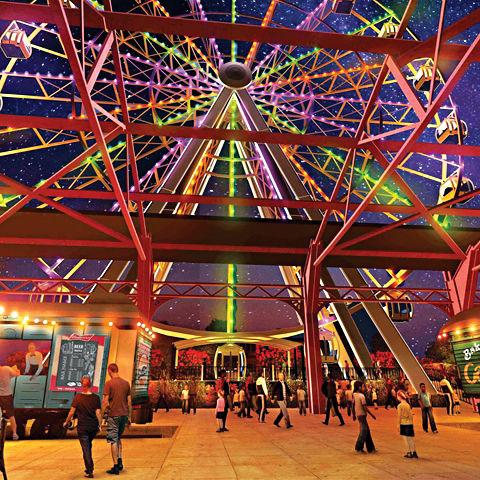 The Ferris wheel will also give St. Louis natives and visitors alike a new look at the city. The view from the top will give riders a visibility of nearly 20 miles in every direction on a clear day.
"It will be a great new view of the city," Stovall said.
The wheel completes a half rotation every minute, making 30 rotations per hour. Rates for the 15-minute ride experience have not yet been determined.
More than 1.6 million LED lights in more than 16 million colors will bring the wheel to life at night, illuminating the city's skyline. The lights can be programmed to highlight St. Louis' sports teams or add a personal touch to special occasions such as a marriage proposal, wedding ceremony or even a gender reveal for an expecting couple.
"The light show possibilities are endless," Stovall said.
The Ferris wheel is an important part of the city's history, and the St. Louis Wheel is an homage to the famous Ferris wheel that was part of the 1904 World's Fair in St. Louis.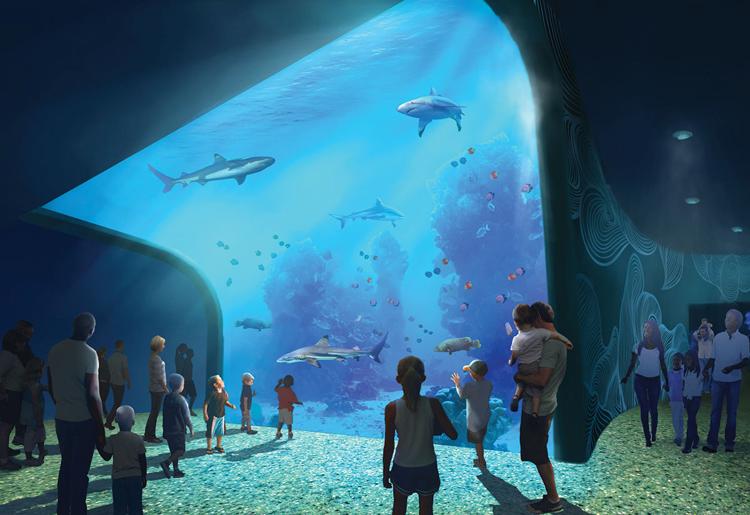 Water Everywhere
A 120,000-square foot, two-story aquarium will be the crown jewel of the multi-million-dollar transformation of St. Louis Union Station, a National Historic Landmark.
"When we started our revitalization of Union Station we thought, 'What has St. Louis always wanted that it doesn't have? An aquarium,'" said Kirkwood resident Bob O'Loughlin, chairman of Lodging Hospitality Management, which purchased Union Station in 2012 and has fully renovated the hotel's guest rooms and event space. "St. Louis is also the largest city without an aquarium."
But that's about to change, and St. Louis will soon be a large city with a large aquarium. At a combined tank space of 1.3 million gallons, the St. Louis Aquarium at Union Station rivals the Tennessee Aquarium in Chattanooga, which manages 1.1 million gallons of water. Shedd Aquarium in Chicago remains one of the largest indoor aquariums in the world with roughly 5 million gallons.
The St. Louis Aquarium at Union Station will feature one-of-a-kind exhibits and more than 13,000 aquatic animals from freshwater and marine environments around the world. Its opening is scheduled for mid-December.
"It's our Christmas gift to St. Louis," O'Loughlin said.
The aquarium, which is the centerpiece of the company's revitalization of Union Station, promises to be an interactive experience for all guests.
"This will be a hands-on experience," said Erin Clark, director of animal projects for the St. Louis Aquarium at Union Station. "We expect every single person who visits to get their hands wet."
Sharks, sting rays, piranhas, otters,  jelly fish, sea stars and sea urchins are just a handful of the aquatic creatures visitors will see and have a chance to interact with.
"These are animals that people might typically scurry away from – or animals that might scurry away from people – that visitors will be able to get up close and personal with," Clark said. "That's exactly what we want. We want people to get to know and understand the animals that live in the world's oceans, rivers and lakes."
With Shark Canyon's 250,000-gallon tank for sharks and rays that arches over visitors' heads, every week will be shark week at the St. Louis Aquarium at Union Station. The aquarium is already home to favorite crustacean "Lord Stanley," a rare blue lobster named after the Blues' Stanley Cup hockey championship win. 
The aquarium will also be home to other animals including mammals,  birds and insects. 
"We want to educate visitors about rivers and oceans, but to have and honor only animals that live in the water would only be telling half of the story," Clark said.
The aquarium also aims to educate people about what's below the surface of the water, especially in St. Louis.
"St. Louis is a river town, and the aquarium will help tell the amazing story and history of the rivers," Clark said. "The design of the aquarium itself takes visitors below the Mississippi and Missouri rivers, and explores the confluence of those rivers. We want people to appreciate what's going on in their own backyard."
As the nonprofit partner of the St. Louis Aquarium at Union Station, the Aquarium Foundation will work to provide educational opportunities for students in schools throughout the region and serve as a voice for water stewardship and conservation.
The St. Louis Aquarium at Union Station expects to have 1.5 to 2 million visitors a year. Admission rates have not yet been determined.
The aquarium has brought more than 500 construction jobs to St. Louis and will add roughly 100 more permanently when it opens. The St. Louis Wheel will create about 130 positions, and job fairs will be held in August.
Fun For Everyone
The combination of the wheel, aquarium, carousel, mini golf, new restaurants and other amenities will make Union Station a destination for everyone of all ages – and for St. Louisians and visitors alike.
"It will make for a great day to spend with family and friends, for people who live here and for people who are visiting," said Karyn Wilder, general manager of the St. Louis Wheel. "We are so excited to open. It brings the history of St. Louis, but also the future."
For more information, visit www.StLouisAquarium.com or www.thestlouiswheel.com.