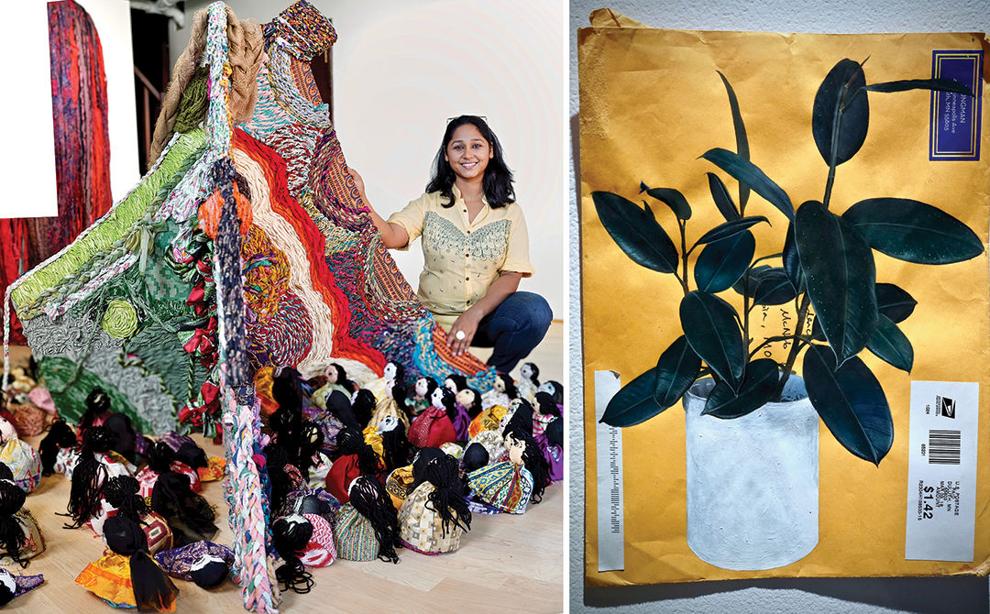 The Innovations in Textiles STL collaborative dates back to 1994, when Craft Alliance, COCA, Art Saint Louis, Saint Louis Art Museum and Duane Reed Gallery created a joint event celebrating contemporary fiber art. There are now 48 regional partners participating in what is the largest art collaborative in metropolitan St. Louis.
Four years ago, Program Coordinator Anne Murphy, along with Robin Hirsch-Steinhoff of Art Saint Louis, re-visioned the original biennial schedule into an every-four-year schedule, so as to involve more art organizations and institutions over an extended time period.
Contemporary fiber art has evolved, from traditional ideas and the making of utilitarian objects, into innovative expressions that confront contemporary issues and values. The collaborative exhibitions, events, workshops and programs address contemporary fiber art from what could be called the cutting edge.
Fidencio Fifield-Perez
Currently on display at Craft Alliance is "Fidencio Fifield-Perez: Cuttings." Born in Oaxaca, Mexico, Fifield-Perez was raised in the U.S. His work speaks to the idea of "home," as he manipulates newspaper cuttings, maps, paper and painted surfaces to refer to crafts and customs he learned as a toddler in Oaxaca – those used to celebrate festivals and mourn the dead. He uses these techniques to reconnect with a time and place no longer present as he examines the borders and edges of states, countries and people who are treated as objects, with their humanity and existence questioned. One such expression of freedom is a painted manila mailing envelope, created as a response to the government's faceless forms, demanding that he send documentation of his existence.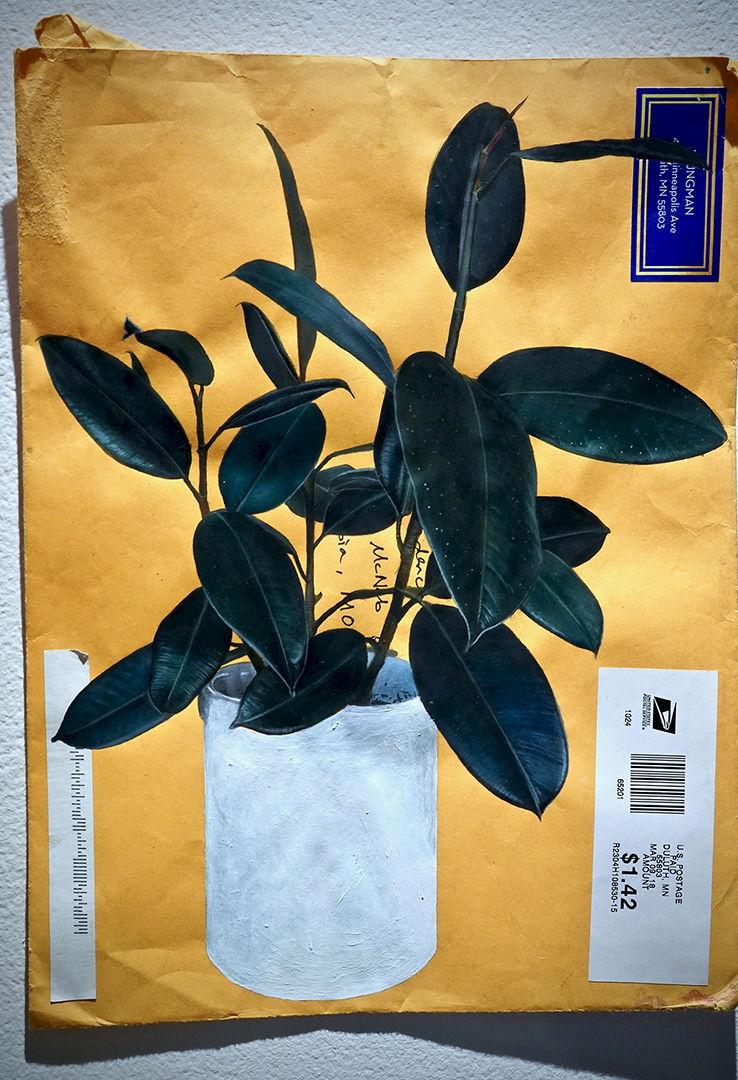 "Fidencio Fifield-Perez: Cuttings," runs through Oct. 27, at Craft Alliance Center of Art + Design, 6640 Delmar Boulevard.
Mee Jey
The Erica Popp Studio + Gallery in the Tower Grove South neighborhood is showing "Dadi" by Mee Jey. The word dadi means grandmother in Hindi. In creating this large fiber work made entirely of recycled and repurposed materials, the artist reflects on her grandmother's stories, which she heard growing up in India. Her grandmother taught her to use any fabric material available to create beautiful dolls, which Jey places in a kind of fantasy world, around the towering and compassionate grandmother figure, viewed from four different aspects of her personality.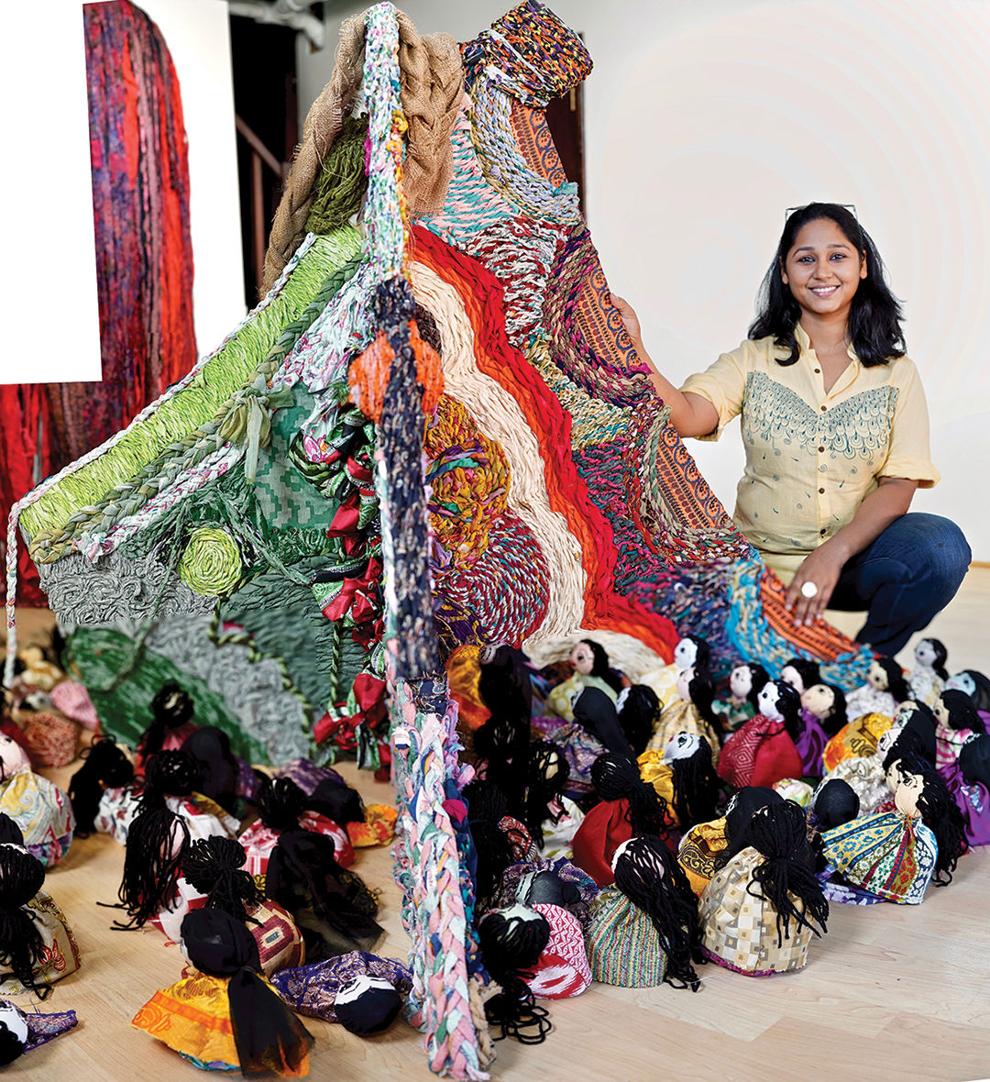 Many of the fabrics were donated from the artist's extended family and community, who thereby feel intimately connected and included in her art. Jey came to America two years ago, on scholarship for her MFA degree, awarded in 2019 from Washington University. Her entwining of art and life are similar to those of avant-garde movements such as Dada, which prioritizes ideas over aesthetics. The idea of responsible use of resources is a cultural thing and a gender thing for Jey, and her forms well express both center and periphery, as well as the idea of waste and identity — important for this narcissistic age and world where, sorry, you and I are not the center.
"Dadi" by Mee Jey runs through Sept. 22 at the Erica Popp Studio + Gallery, 3271 Roger Place.
Full information about Innovations in Textiles STL 2019, plus a calendar from now through Dec. 1, is available at: www.innovationsintextilesstl.org.