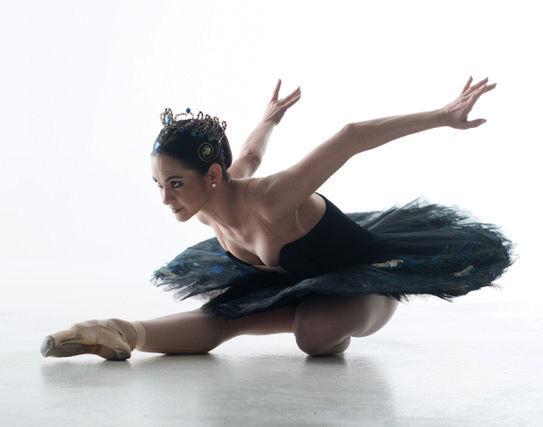 Music and dance always soar together, but this dance season the music, sometimes live, leads the way in dance titles and themes from Sinatra songs to jazz. For tickets, check company websites, venues or MetroTix.
September
Karlovsky & Company Dance presents two free Thursday noon "Dine on Dance" events: Sept. 19 at Strauss Park and Sept. 26 at the Old Post Office Plaza downtown. See professional contemporary and site-specific dance with live music by Rick Kramer and Tory Z Starbuck. Bring lunch and enjoy each show.
On Saturday evening, Sept. 21, at 8:15 p.m. the Karlovsky troupe also presents another in its "Playful Pairings" series at the Grandel Theater in the Grand Center area. Guests add culinary tastings to the mix of site-specific dance and live music. "Playful Pairings: Bite Size" offers kids 6 years and up their own sampling on Sunday, Sept. 22 at 4 p.m.
For one-night only, Dance St. Louis presents "An Evening of Ballet Stars 2" at Washington University's Edison Theater, Saturday, Sept. 28 at 7:30 p.m. This event follows last year's wildly successful debut of welcoming U.S. and internationally-trained ballet soloists and pairs who dazzle with proven, world-class talent. They have danced with companies such as American Ballet Theatre, The Joffrey Ballet and San Francisco Ballet.
October
Big Muddy Dance Co. kicks off its season titled "Fortissimo: Celebrating Musical Minds through Movement" with a collaborative production called Such Sweet Thunder. The troupe joins with the Nine Network of Public Media's lighting and video, Jazz St. Louis' live music and Shakespeare Festival St. Louis's verse & theatre for three nights, Oct. 3-5 at 8 p.m. Though free, the outdoor show at the Nine Network Public Media Commons requires online registration.
Saint Louis Ballet opens its season with Nine Sinatra Songs, famously choreographed by the fluid-moving trickster, Twyla Tharp. Performances are Oct. 4-5 at 7:30 p.m. with a Sunday matinee Oct. 6 at 2:30 p.m. on the mainstage of the University of Missouri-St. Louis' Touhill Performing Arts Center's. Sinatra songs, such as "One For My Baby" and "Strangers in the Night" will feature the company with guest Tharp dancer Matthew Dibble.
MADCO 2 gives room for more dancers and new faces within the MADCO umbrella. The troupe starts its season with multiple works on the program at the Touhill's more casual Lee Theater on Saturday, Oct. 19 at 8 p.m. with a Sunday matinee on Oct. 20 at 2 p.m.
Leverage Dance Theater delves into Halloween with an eerie, site-specific dance called The Forgotten at the Intersect Arts Center in the Cherokee Street neighborhood. Guests can come in costume for the Oct. 24-26 and Oct 31-Nov. 2 weekend performances, two per night at 7 p.m. and 9 p.m. Be prepared for an immersive experience, moving around in dim light and up and down two flights of stairs within the space. Local musicians and visual art expand the effects.
November
MADCO encores its 2014 tribute to the fall of the Berlin Wall titled Wallstories, Oct. 8-9 at 8 p.m. in the Touhill's Lee Theater. It's now been thirty years since 1989 and the themes celebrating courage and defiance are still relevant. Choreographed by native Berliner Nejla Yatkin, the work features music from Pink Floyd's "The Wall" and Bach with voice recordings of people's experiences before, during and after the Cold War-era Berlin Wall.
Big Muddy Dance Co. presents director Brian Enos' contemporary, satirical take on A Christmas Carol at Edison Theatre, Nov. 14-15 at 8 p.m. This classic tale of love and redemption features an original arrangement of Tchaikovsky music classics.
Add Saint Louis Ballet's The Nutcracker to your Thanksgiving weekend for an early start to the holiday season, Nov. 29-30 at 7 p.m. with matinees at 2:30 on Nov. 30 and Dec. 1 on the Touhill's mainstage. More dates follow in December.
December
Saint Louis Ballet makes the season sparkle with the elaborate costuming and special effects of director Gen Horiuchi's The Nutcracker. The magic happens on Touhill's mainstage, Dec. 18-23 with some matinees and a special shorter version for very young children on Wednesday, Dec. 18 at 11 a.m. Start times for evening shows are 7 p.m. with matinees at 2:30 p.m. See this article online for a full schedule of upcoming dance events, or check your local college dance departments and dance schools.
Save these dates!
Jan. 24-25  Big Muddy Dance's "Beat Ballads" at the Grandel
Feb. 14-16  Saint Louis Ballet's "Could This Be Love?" with the Arianna String Quartet with a work by Christopher Wheeldon at the Touhill
Feb. 14-16  Dance St. Louis's Riverdance (the new 25th anniversary show) at the Fox Theater in Grand Center  
Feb. 22  Dance St. Louis's Ailey II troupe "The Next Generation" at the Touhill
Mar. 27  MADCO's Resilience with local tales of healing after traumaat Touhill's Lee Theater
Mar. 27-28  Karlovsky & Co. Dance's Conversations, a collaboration with dancers from South Africa at the Grandel
 Apr. 3-5  Saint Louis Ballet's Swan Lake at the Touhill
Apr. 4-5  Big Muddy's "Moves & Grooves" at the Grandel
Apr. 11  Dance St. Louis's dare-devils of Diavolo at the Touhill
May 21-23  "Spring to Dance Festival" sponsored by Dance St. Louis at the Touhill
For additional dance events, check your local college dance departments and dance training schools.