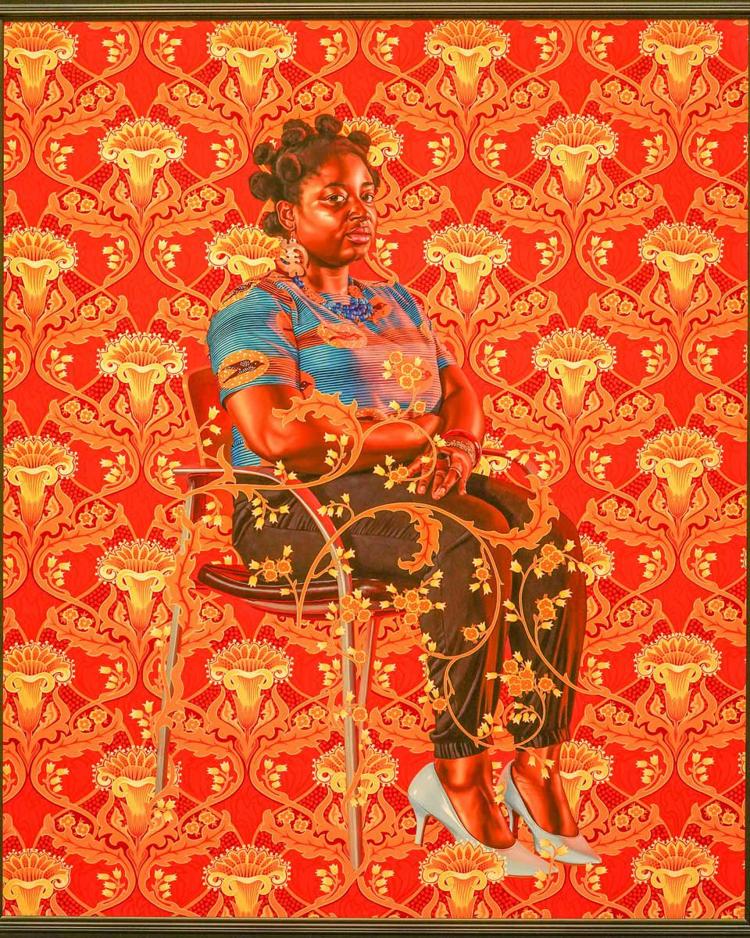 Two artists, each widely-acclaimed, are exhibiting in St. Louis. Kehinde Wiley is currently showing 11 large-scale paintings at the Saint Louis Art Museum, and Jamie Adams is exhibiting 11 paintings at the Philip Slein Gallery in the Central West End. 
Each anchor their work in history — cultural history in Wiley's paintings and personal history in Adam's paintings — though each artist disrupts viewer expectations in different ways. Wiley dismantles the conscious outer world perceptions of normative, and Adams brings surprises from the unconscious inner world of dreams and memories. Both artists' works are large scale and convey exceptional power.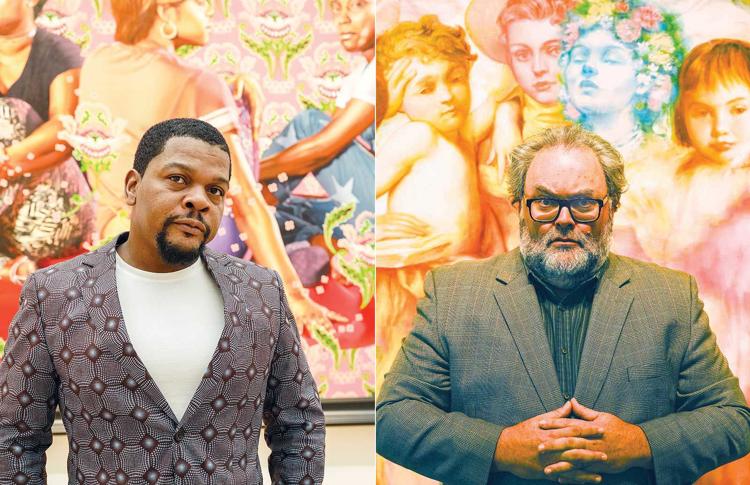 Kehinde Wiley
Wiley revisions cultural history by borrowing from classic European art — traditional grand portraits of white people, familiar to museum-goers because, well, those were the subjects depicted. Blacks, when represented at all, were mostly seen in menial service roles. Wiley borrows old-world compositions and replaces the aristocratic and royal white flesh, inserting contemporary black bodies into those poses.
Wiley visited the Saint Louis Art Museum and photographed artworks from the museum's collection to use as reference; then, taking a camera crew to the streets of North St. Louis and Ferguson, he recruited "models" to photograph and cast into his paintings. 
Wiley asks his models to choose their own clothing for the portraits, which adds an extra measure of personal identity. Placing these unknown black individuals into iconic poses of power, Wiley re-imagines history, as his subjects' direct gaze confronts the viewer with ideas of justice, equality and freedom. 
Wiley's backgrounds surround these figures with decorative wallpaper or fabric-like patterns of vines and florals that grow and tangle around the subjects, binding them to an anywhere space.
Referencing the painting of "Madame Valmont" by Jean-François Millet, Wiley creates a portrait of Yvonne Osei, an up and coming artist in her own right, with a recent MFA from Washington University. Osei is known for wittily creating surprises; she designs colorful African dress for her installations, which are chock full of trickster behaviors. In doing so, she also upends viewer perceptions and brings transformed awareness to Western audiences.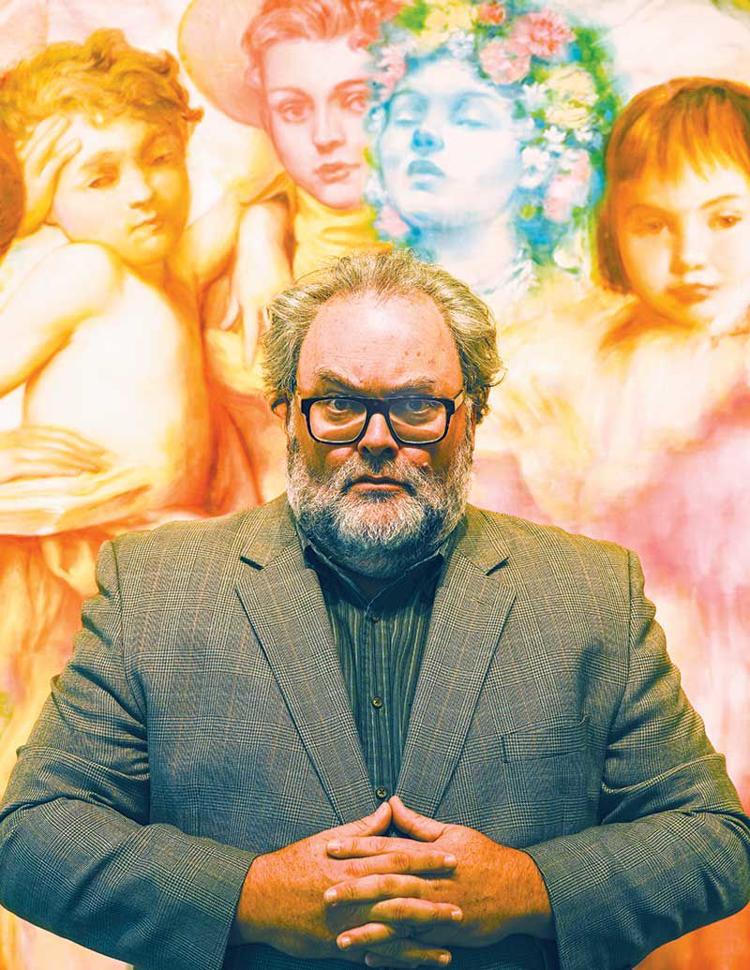 Jamie Adams
At the Slein Gallery, Jamie Adams revisions the history of painting through personal history. If Wiley documents iconic cultural truth through the lens of still photography, Adams searches story fictions in his family through a cinematic lens, using techniques like montage, fades and dissolves to give mythic significance. Painting with the classical beauty of glowing colors and soft curvilinear forms, he allows for unbidden, unconscious material to unfold with surprising intimacy.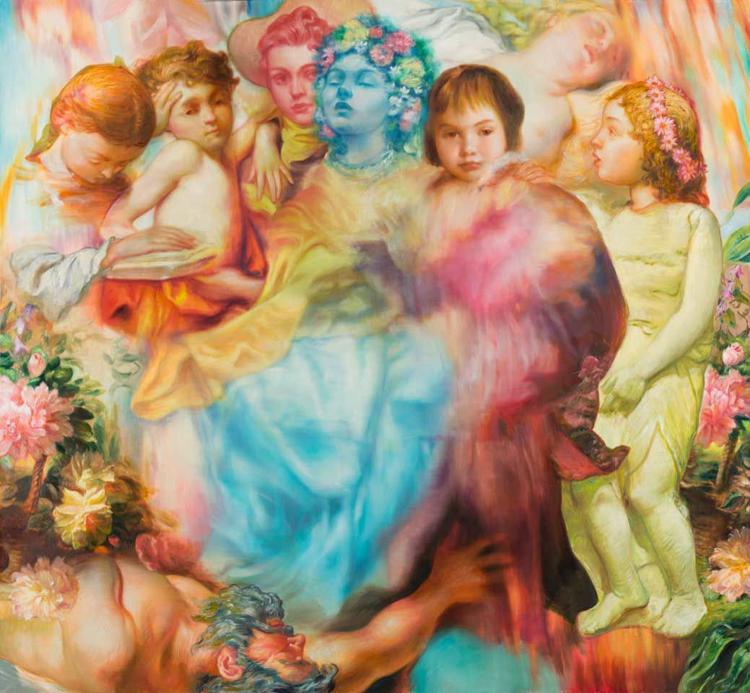 Adams' subjects are known up-close and personal, and they are loved. The artist paints his family in pleasant settings where food is shared with mythic gods and goddesses. This is a world privileged with the comfortable power of love that is found in relationships.
Through Adams' collaged and ambiguous compositions, the viewer experiences how dependent all are upon stability and reliable memory, which is more often than not blurred by expectation, desire and fear.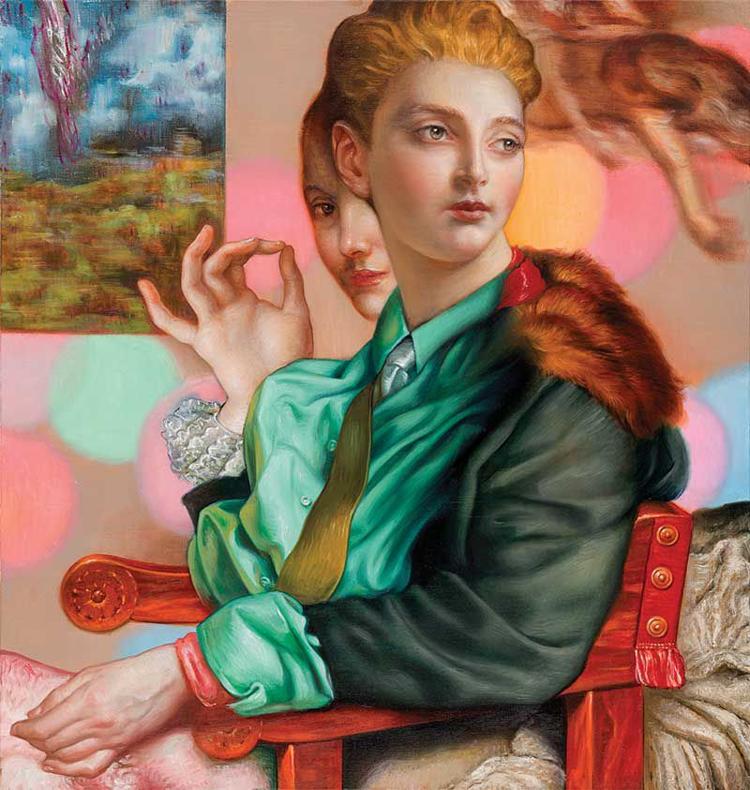 In the upper left corner of "Blondie Bubba Green Shirt," Adams includes an image based upon Alfred Hitchcock's classic film, "Vertigo." The image depicts the hero experiencing his worst fear, that of falling. Adams paints that falling man in a blurred red and inserts it into a fantasized landscape evocative of El Greco's "Toledo."
The works of both Wiley and Adams question what is seen and who is doing the seeing. By searching through the complicated cultural history of art and through memories of personal history, rearranging systems of representation, and re-visioning sources of inner and outer power, these artists bring significant conversation to the table of 21st century art.