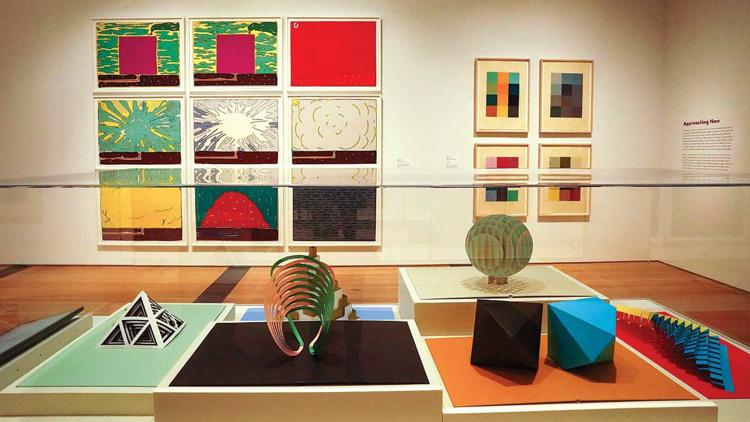 A brightly packaged holiday gift atop Art Hill in Forest Park is currently dazzling and exciting eyeballs. As the graphic revolution, begun in the 1960s, holds the brain in a vise of images, the Saint Louis Art Museum splashes before us "Graphic Revolution: American Prints 1960 to Now."
Saint Louis Art Museum curators for prints, drawings and photographs, Elizabeth Wyckoff and Gretchen Wagner, co-curated this big smart show and compiled the accompanying brilliant catalogue. The exhibit's opening gallery introduces themes more fully developed in following galleries.
A vitrine displays "Every Building on the Sunset Strip," the artist book of photographs that Ed Ruscha shot early on Sunday mornings in 1966 (decades before Google Street View) with a specially designed camera mounted on a truck. Nearby, Jasper Johns' lithograph "Fool's House" illustrates his signature method of stenciling the names of everyday objects in the work.
The exhibit illuminates the importance of technological innovations in engraving, lithography, woodcut and screen printing. Artists work with collaborators, publishers and printers to experiment with new materials and techniques, producing artworks in multiples and making art affordable to collectors.
As media distribution expanded, artists such as Johns, Robert Rauschenberg, Roy Lichtenstein, Andy Warhol, Nick Cave and Ellen Gallagher pulled contemporary images from newspapers, magazines, photography, TV and digital sources. Lichtenstein culled images from German Expressionism, and Kerry James Marshall from Africa.
Print-making lends itself to story telling. Kara Walker's black and white linocut silhouettes tell of the Old South, presenting uncomfortable narratives, the social truth of American slavery and the degradation of people based on skin color; Louise Bourgeois adapts a male Baroque art figure to communicate anxiety rooted in female identity; Robert Blackburn's work conveys the shift from representation to abstraction — all part of the graphic revolution.
Printing Abstraction
A related exhibition, "Printing Abstraction," is curated by Gretchen Wagner and can be found in galleries 234 and 235 of the museum's Main Building. These print images rely less on representation of the natural visible world and focus more on expressions of line, color and shape — Marcel Duchamp's rotoreliefs and works by Ellsworth Kelly, James Turrell and Gerhardt Richter.
In three monoprints, Jerald Leans embosses the edges of biomorphic forms to create color variations in a work titled "On Being Blue," based on an essay by William Gass.
Carmon Colangelo's work combines digital and traditional processes. His "O land O" series, produced in collaboration with Flying Horse Editions, employs letterpress, intaglio, digital print and colored pencil. The series abstracts from urban architecture, highway exchanges, aerospace flights and amusement parks in Orlando, Florida.
Colangelo prints a graphically manipulated word, "solastalgia," expressing the environmental distress of living with rapid change in an urban landscape, experiencing a dizzying plethora of images and finally coming to rest in separate but same franchised hotel rooms that typify how postmodern loss of place makes every place look like every other place.
The dramatic, provocative, in-your-face images in both exhibitions tell multitudinous social, political and personal stories, reflecting commonplace experiences of whimsy, joy, injustice and identity. This graphic revolution has the power to change the world.
"Graphic Revolution: American Prints 1960 to Now" runs through Feb. 3 and "Printing Abstractions" is on view through March 31, at the Saint Louis Art Museum in Forest Park. Visit slam.org for more details.