NEWS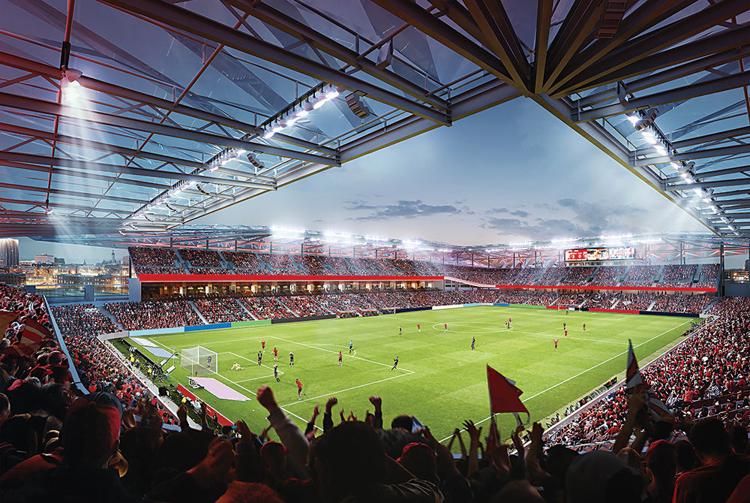 Ain't That A Kick ...
Major League Soccer coming to town
Efforts to bring Major League Soccer to St. Louis were rewarded on Aug. 20, after a representative of MLS announced that St. Louis is to become the 28th team in the league.
Carolyn Kindle Betz, who lead MLS4TheLou, a campaign to bring MLS to St. Louis, is credited with much of the victory. She composed a multi-generational team comprised almost entirely of women to lead the cause. The St. Louis MLS franchise will be one of the first women-majority-owned soccer clubs in professional sports history and the first in MLS.
The group consists mostly of the Taylor family, founders of Enterprise Holdings and World Wide Technology CEO Jim Kavanaugh, himself a former professional soccer player. 
Though MLS4TheLou was a revival of past attempts to bring soccer to St. Louis, Kindle Betz' campaign is unique — most notably that its ownership group is 100% based in St. Louis and it's primarily privately funded.
Plans are currently underway for a mixed-use stadium in St. Louis' Downtown West area. A new plan, updated from originals  revealed before the team confirmation, expands the MLS stadium north of Market between 20th and 22nd streets, connecting Downtown West between Union Station, south of the stadium and businesses on Olive and farther north.
Team headquarters is set for an area of primarily undeveloped land immediately west of Union Station.
In a Dec. 17 development, a vote  to allocate $15 million in state funding for stadium construction was cancelled abruptly without explanation. The move came as a surprise to MLS4TheLou membership.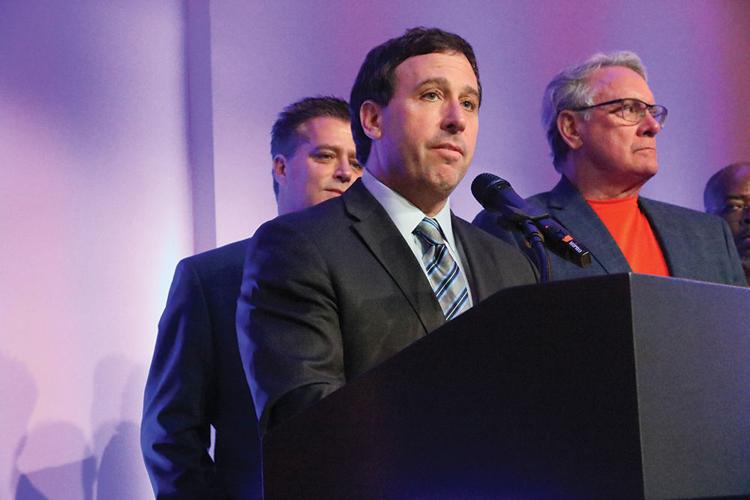 Steve Stenger's Swift & Sudden Downfall
Less than five years after Steve Stenger beat out Charles Dooley for St. Louis County Executive,  Stenger resigned in the face of three felony counts of corruption, each carrying a maximum prison sentence of 20 years.
On April 29, 2019, Stenger appeared in court with lawyer Scott Rosenblum to enter a not guilty plea to federal charges that involved a "pay-to-play" scheme.
Earlier that day, he formally resigned in a letter, claiming his decision was best for his family and the county. 
In May, Stenger pleaded guilty to corruption felony charges and was sentenced to nearly four years in a South Dakota prison.
The indictment alleges that from October 2014 through Dec. 31, 2018, Stenger and others accepted bribes and concealed material information related to such crimes. Stenger allegedly accepted campaign contributions from individuals and their companies in exchange for favorable political action.
One specific example given was that Stenger, in exchange for campaign donations and several fundraising events, took official action to guarantee that John Rallo received options and contracts with St. Louis County for several of his businesses; Cardinal Insurance, Cardinal Creative Consulting and Wellston Holdings, LLC.
Yet another allegation is that Stenger insured that Company One obtained a 2019-2021 state lobbying contract from the St. Louis Economic Development Partnership in exchange for campaign donations and fundraising activities. 
Stenger took steps to hide, conceal and cover up his illegal actions, including making false public statements.
Several top people in Stenger's administration departed just before the charges against him surfaced.
Mere hours after his resignation, the St. Louis County Council designated Sam Page to fill the position.
Stenger would have become the first Metro Mayor of a combined St. Louis city and county under a proposed "Better Together" plan. Later versions of the plan were updated to remove Stenger from the position, a sign that the indictment was on its way.
U. City Gives Nod To Major Development Along Olive
The City Council of University City approved a major redevelopment by Novus Properties along Olive Boulevard on June 10, 2019.
What is now known as the "Novus project" includes a hotel, apartments, office space and retail, including a Costco. The $190 million project will run from Interstate 170 east to Woodson/McKnight roads, taking in about 50 acres.
The project was first introduced in 2018, when $70.5 million in tax increment funding was approved for its use, funded from a combination of sales tax and a community improvement district. 
Novus first read through the project publicly on Jan. 14, 2019, and later made revisions based on feedback from that meeting. The project moved forward despite a discovered tax calculation error and mixed opinions from residents.
Those in favor of the Novus project predict a financial boost to the city. Those opposed accused the council of not being transparent and not listening to residents, warning that the project would lead to gentrification, driving up land prices while driving out residents, many African American.
The project is expected to bring in 250-350 permanent jobs.
On Nov. 11, City Manager Greg Rose pledged to provide regular updates regarding the status of the Novus project. Presently, a construction date has not been set, as Novus is still in the process of acquiring funding to purchase land for the project. Rose said the process could take anywhere from six to 18 months.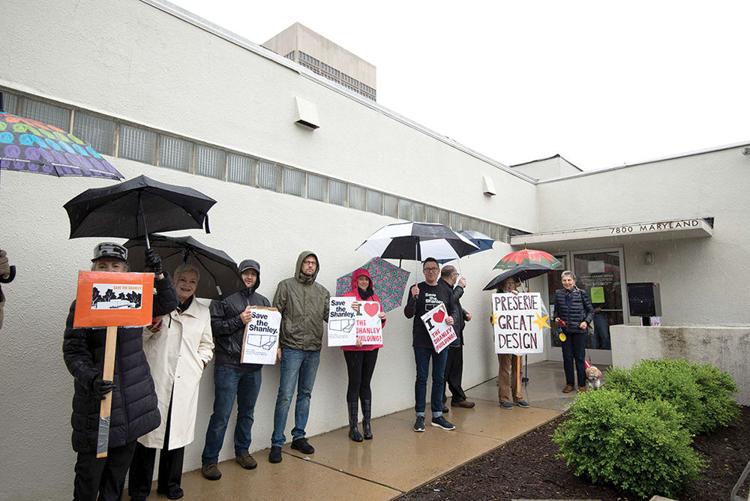 2019 Efforts To Save The Shanley Building
A proposed downtown Clayton condominium development drew backlash this year from city officials and residents due to the possible demolition of the historic Shanley building at 7800 Maryland Avenue. Built in 1935, it was designed by noted architect Harris Armstrong for the building's original occupant, an orthodontist named Leo Shanley. 
During several presentations, city officials were widely critical of the project. HBE Corporation proposed a large building for the block bounded by Central Avenue to the west, Maryland Avenue to the north and Bemiston to the east. The project would go south to an alley in approximately the middle of the block. 
Original plans called for a 21-story condo building with 110 units and a four-level garage. Later, the height of the building was shortened, reducing the number of floors from 21 to 14.
Commission members and residents expressed concerns about the project's impact on area businesses, and the plan to raze several area buildings, including the Shanley. 
An architecture preservation group, ModernSTL, held a May 11 protest march through downtown Clayton to the Shanley Building. Historian Esley Hamilton, who wrote the original application to have the Shanley building listed on the National Register of Historic Places, spoke at a December 2019 city meeting, describing the HBE project as "ruthless." He urged the city to adopt a historic building preservation ordinance before other historic buildings are lost.
HBE will come before the city of Clayton in 2020 to further discuss plans for the condominium project.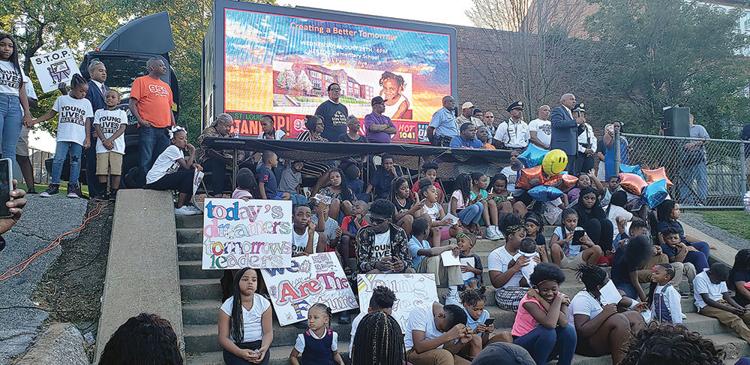 Communities Rally Against Gun Violence
Violence plagued St. Louis City in 2019 with a rash of child deaths due to gunshot wounds. In spring and summer alone, more than 20 residents under the age of 18 were fatally shot. That figure does not include adult shooting deaths, which totaled over 100.
The shootings deaths sparked discussions on gun control, poverty and violence all over the city. On  Aug. 28, U.S. Rep. Lacy Clay, D-St. Louis, held a town hall meeting at Harris-Stowe State University to address what he called an "epidemic" of gun violence. Clay said this was caused by a culture of easy access to guns, as well as the failure of other Congressmen to stand up to the National Rifle Association, with its extensive lobbying power.
Alongside St. Louis Alderman John Collins-Muhammad, Clay addressed questions and promoted his bill, introduced in June. House Resolution 3435 is dubbed the Local Public Health and Safety Protection Act. The bill would allow cities to pass tougher gun restrictions without state approval, including assault weapon bans and requiring gun owners to apply for permits. 
Clay also promoted two additional bills in the name of stronger background checks for gun purchases and transfers — HR 1112 and HR8. Both bills passed through the U.S. House of Representatives in February but have not yet made it to the Senate. 
On Sept. 19, Missouri Gov. Mike Parson revealed a plan to address gun violence in the city, committing 25 state personnel to support task forces and other operations. The plan includes:
• An Alcohol, Tobacco, Firearms and Explosives Strike Force.
• The U.S. Marshals Fugitive Task Force.
• The Mission SAVE (Strike Against Violence Early) Task Force.
• Missouri State Highway Patrol.
• The U.S. Attorney's Office.
• Victims of Crime Act Funding.
• Probation and Parole Police.
Airport Privatization Plans Go Bust
St. Louis Mayor Lyda Krewson said in a Dec. 20 radio interview that efforts to privatize ownership of St. Louis Lambert International Airport are dead.
Krewson said there was "very little support" for privatization efforts, and that  she had instructed Deputy Mayor Linda Martinez not to vote to issue a request for proposals for privatization.
Martinez represents Krewson on the Airport Advisory Working Group, which has four voting members charged with studying the possibility of privatizing the airport. Along with Comptroller Darlene Green, who is an opponent of privatization, Martinez's vote would effectively end the conversation.
Krewson's announcement came one day after the St. Louis County Port Authority authorized issuing a request for proposals for a privatization study in a 4-3 vote.
Thrown For A Loop...
Trolley faces shut down by year's end
After years of doubt, delays and funding issues, the Loop Trolley — a 2.2 mile, fixed-track system stretching from Forest Park to the Delmar Loop — finally opened Thanksgiving weekend in 2018. But since then, the trolley has been plagued with low ridership, poor ticket sales and further discussion of bankruptcy. On Dec. 10, the Bi-State Development Agency Board of Commissioners voted to begin exploring a takeover of the Loop Trolley Company. 
The  motivation? To avoid defaulting on a federal grant obligation. The Federal Transit Administration approved a $25 million grant for the trolley in 2010, which was secured in 2012. The sum is nearly half of the project's $51 million price tag.
The later months of 2019 have not been kind to the trolley. In October, after it became obvious that trolley ticket sales were nowhere near predicted volumes, company President John Meyer, Jr. requested $700,000 from the St. Louis County Transit Fund to remain afloat; $200,000 of that sum would keep the trolley running for the remainder of 2019; the rest would go toward its 2020 season.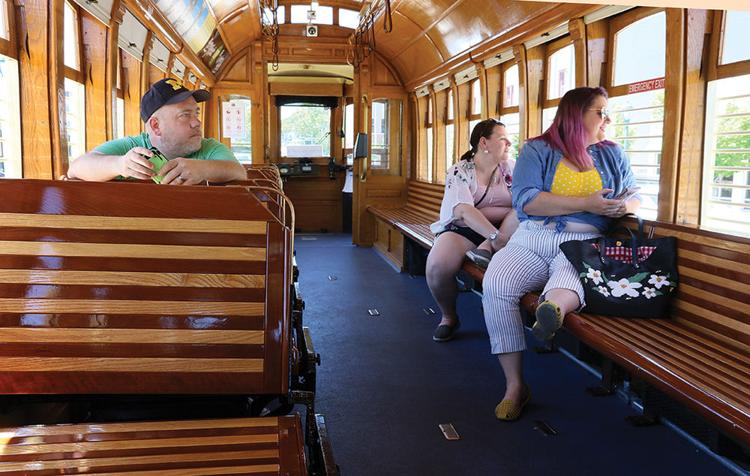 Despite a  recent $90,000 loan from the taxing district that funds the trolley, the county would not commit to further funding. The Loop Trolley announced it would shut down on Dec. 29, 2019, with the possibility of a future opening unknown.
A Bi-State takeover could be the only way out.  St. Louis County Executive Sam Page said Bi-State, which operates MetroLink and the Metro bus system in St. Louis, would be a viable option to keep the trolley running, but that he would continue to monitor the situation to make sure taxpayers aren't taken advantage of.
Bi-State has not committed to a takeover, but has agreed to consider it. According to a press release, no further federal or taxpayer funding would be needed for at least four years. Instead, Bi-State would reallocate funds from pre-existing grants and programs. Bi-State also said the takeover is contingent upon the Loop Trolley Taxing District growing financially, as it is predicted to do.
Bi-State CEO Taulby Roach said a Bi-State takeover would prevent a default on the federal grant, which could hinder the region's ability to compete for future funding of transportation projects.
Clayton Establishes Community Equity Commission
The Clayton Board of Alderman established a Community Equity Commission for the city at a Sept. 24 meeting with a unanimous vote. According to the ordinance establishing it, the commission exists "to assist the city in promoting and enhancing equity, diversity and inclusion and the quality of life throughout the city." It will serve in an advisory capacity to the mayor and aldermen.
The council took into account recommendations from a consultant, 21st Century Police Solutions LLC. The city previously hired 21CP following a July 2018 incident in which Clayton Police responded to an IHOP at the corner of Brentwood and Clayton roads for a reported "dine and dash" incident. 
Police stopped a group of black Washington University students who were walking on Brentwood and escorted them back to the restaurant, where it was determined that the students were not involved. The handling of the situation drew complaints and concerns from students, their families and the university.
ART & ENTERTAINMENT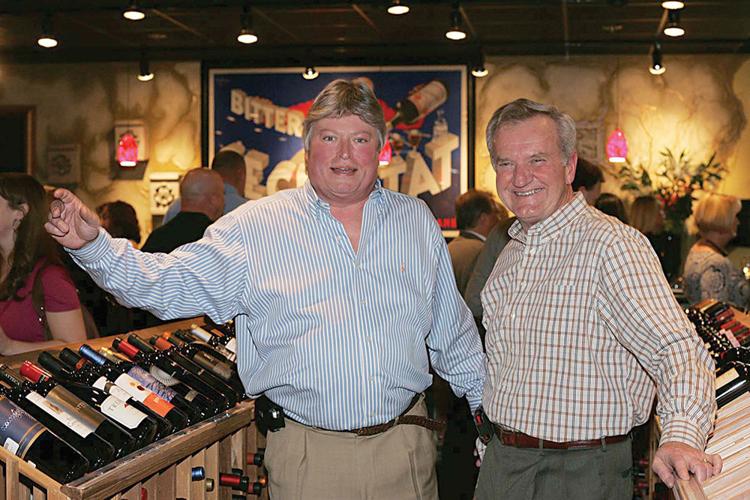 3 Dining Spots To Close In Central West End, Balaban's Coming Back
The latter part of 2019 brought news that two popular restaurants, along with a family-friendly yogurt shop, would be shuttered at their familiar Central West End locations.
Culpeppers Grill & Bar closed its doors after service on Dec. 4. Neighboring Brennan's announced it would close its three-story bar in the spring of 2020. FroYo will also be leaving its Central West End location.
All three establishments are leaving as a result of a major expansion planned by the Saint Louis Chess Club. All three businesses are adjacent to the Chess Club facility, which plans to lease the properties along Maryland and Euclid avenues.
But 2019 also brought good news for diners missing the days of the popular Balaban's.
Karen Halper, owner of the Mahler Ballroom, Enchanting Embellishments and Mary Ann's Tea Room in the Central West End,  purchased beloved Balaban's restaurant from partners Brian Underwood and Steve McIntyre on Aug. 15, 2019.
Herb Balaban (aka Carp) opened Café Balaban in 1972 in the Central West End and soon found it named to the Class of '72 by the late St. Louis restaurant critic Joe Pollack. It later departed for a location at 1772 Clarkson Road in Chesterfield after a change in ownership.
The reopening date for Balaban's back on its home turf depends on the completion of building renovations at the anticipated location at 412 N. Euclid, across the street from the site of the original Café Balaban.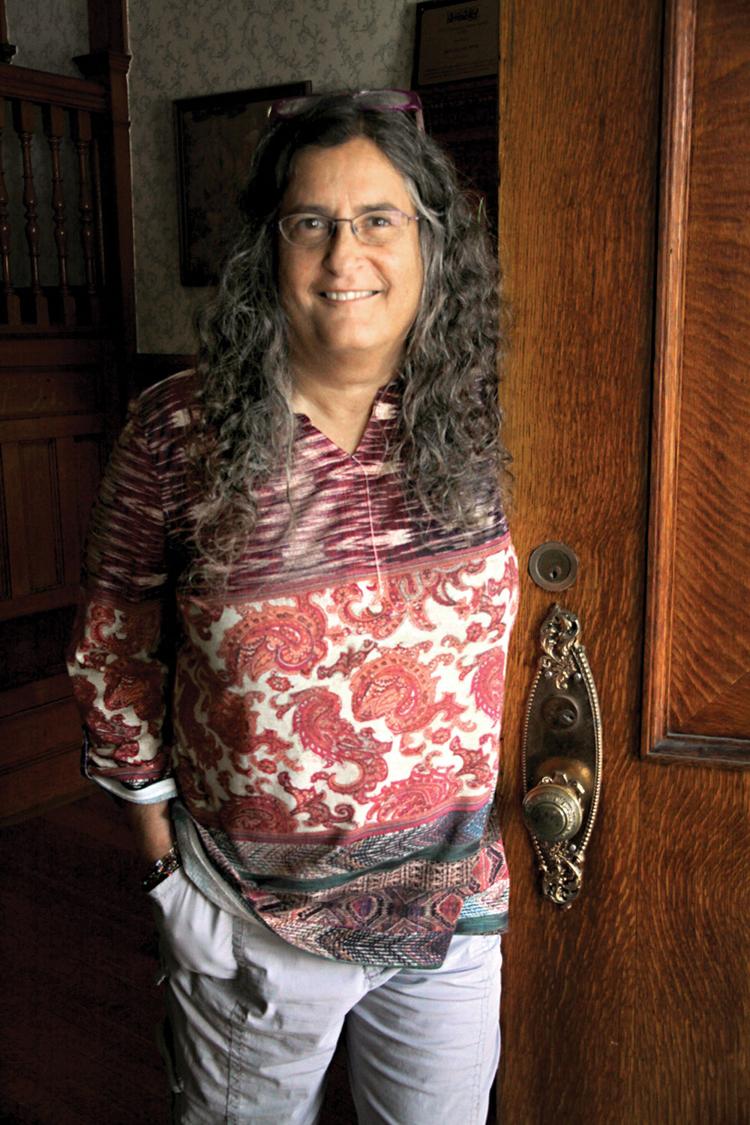 Jane Ellen Ibur Installed As Third St. Louis Poet Laureate
Jane Ellen Ibur was installed as St. Louis Poet Laureate on April 12 at a special gathering in the St. Louis City Hall rotunda.  Ibur is the third named St. Louis Poet Laureate. She follows the late Dr. Michael Castro and Shirley LeFlore.
Ibur said she intends to bring about the experience of poetry and creative writing  to people of every age and in every imaginable setting, including schools, correctional institutions, museums, social service agencies, veterans facilities, homeless shelters and more. 
Ibur is an arts educator with more than 35 years experience. She is a founder of, and lead faculty for, the Saint Louis Regional Arts Commission's Community Arts Training Program. She has an extensive following of students that range from young writers she taught in middle school summer classes to seasoned poets who workshop with her. She is an alum of Webster University.
For the past number of years, Ibur has written a poem a day. As of April 14, she had written a poem on 2,633 consecutive days. Her poems have appeared in numerous anthologies. She was a member of the legendary Soulard Culture Squad.
Ibur is the author of two collections of poetry: "Both Wings Flappin,' Still Not Flyin'" and "The Little Mrs./Misses."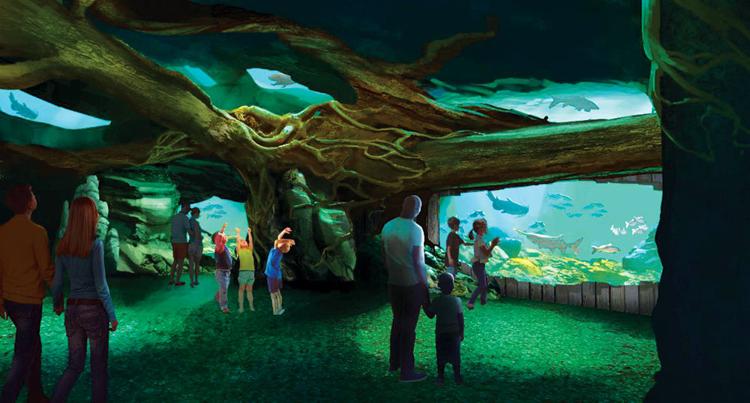 Aquarium, Wheel Among New Attractions At Union Station
A multi-million dollar revitalization project came to fruition in late 2019 with the opening of several major attractions at Union Station in downtown St. Louis.
Beginning Sept. 1, 1894, Union Station was used as a train station, becoming one of the most widely-used train terminals in the world. In 1978, Union Station saw its last train. It lay dormant until 1985, when it was reopened as a mixed-use complex with retail shops, event spaces and restaurants. After a long period of decline, plans for the current renovation were announced in 2016.
First to open was the St. Louis Wheel, which opened to the public on Oct. 1, 2019. The Wheel is one of the country's largest Ferris wheels, bearing 200-foot spokes, over a million colored LED lights and 42 climate-controlled g gondolas capable of carrying eight people each.
  A carousel, a mini-golf course and a new restaurant, the Union Station Soda Fountain, opened the same day.
The Soda Fountain is one of several new restaurants at Union Station. In addition to a small menu of diner-style food like chicken fingers, egg salad and classic sundaes, its claim to fame is an assortment of enormous milkshakes, dubbed "freakshakes," piled high with whole cupcakes, slices of pie, cookies, giant lollipops and other over-the-top treats.
The Train Shed, another restaurant, opened in late November, offering an extensive menu of classic cocktails alongside familiar food items with a twist, like fried pickles with lemon aioli or Caesar salad with candied brioche croutons.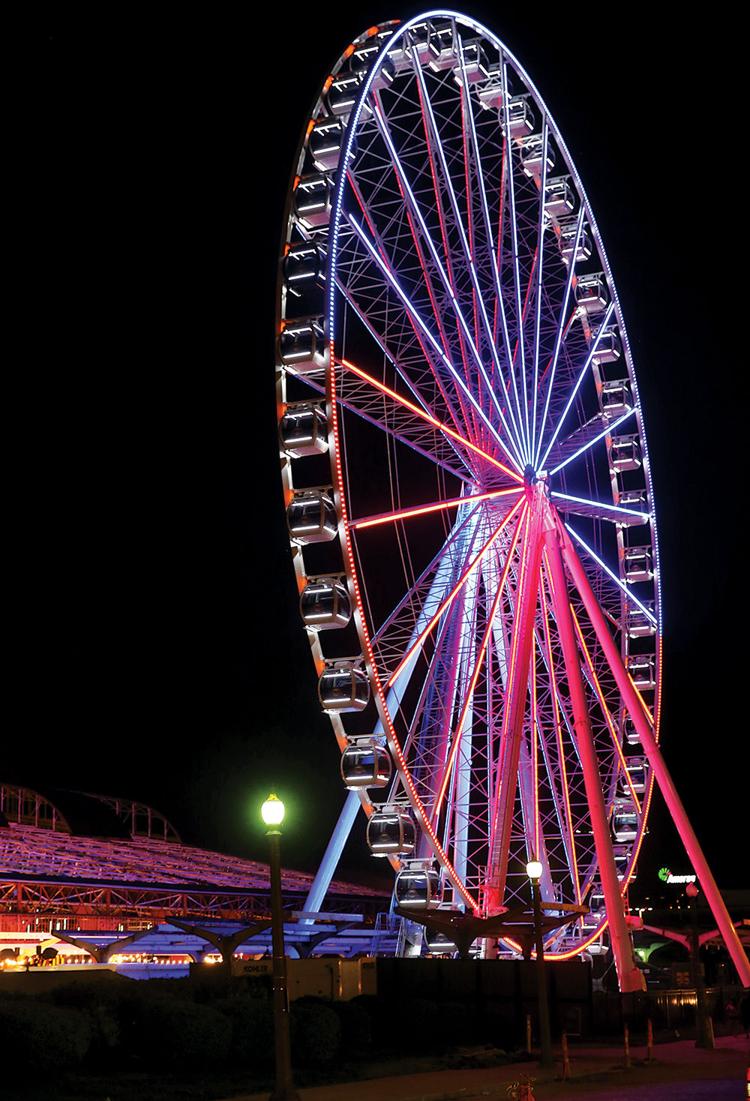 The long-awaited St. Louis Aquarium opened Christmas Day  with a launch of tickets that quickly sold out.
The St. Louis Aquarium at Union Station is the centerpiece of the family entertainment complex. The 120,000-square-foot aquarium covers two stories and includes environments filled with more than a million gallons of water. The aquarium includes one-of-a-kind exhibits featuring more than 13,000 aquatic animals from fresh water and marine environments around the world. It brings together state-of-the-art technology, animal care, education and conservation with the excitement of aquatic creatures.
For hours and tickets, visit www.stlouisaquarium.com.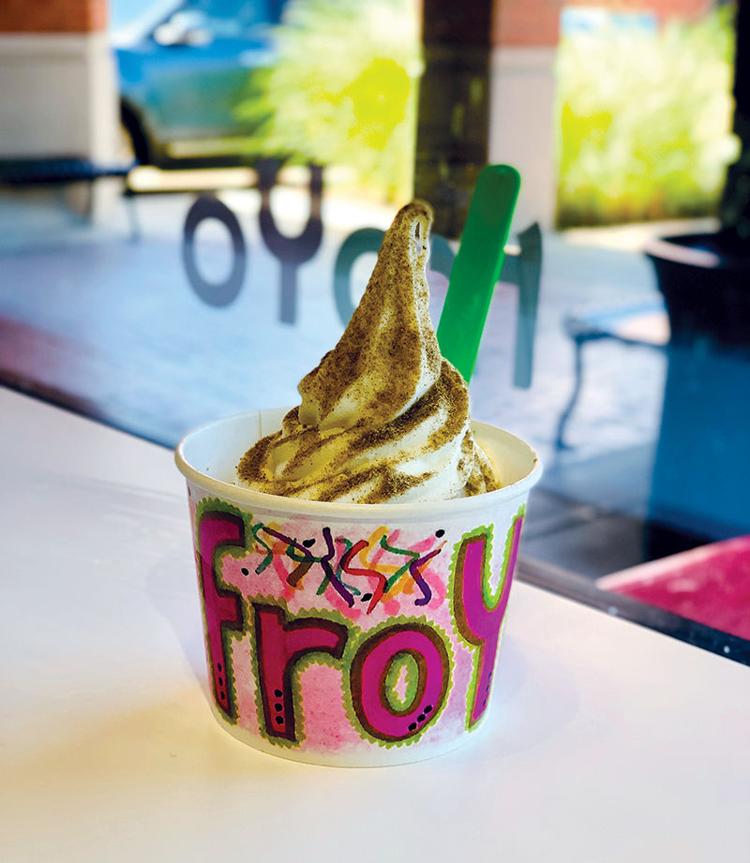 Crickets, Anyone?
Sarah Schlafly, CEO of Mighty Cricket, issued a challenge to St. Louis this October in the name of creating a healthier world.
Schlafly's company produces protein-packed powder out of dried crickets, and this fall, she enlisted over 50 St. Louis area restaurants to offer menu items using it. Participants included eateries such as Amigos Cantina, Layla, Symbowl, Schlafly Bottleworks, The Blue Duck and all FroYo Premium Yogurt locations.
Food outlets featured cupcakes, yogurt dishes, chocolaty cricket-covered popcorn, quesadillas, muffins and more with cricket toppings or ingredients. 
Schlafly's goal, in addition to promoting her product, was to normalize crickets as a clean protein source. Crickets contribute very minimally to climate change and absorb far fewer resources than cows and other sources of traditional protein per pound produced.
According to Schlafly, cricket powder can be used as a substitute for flour or a supplement in cooking. It adds a pleasing, nutty flavor to items.
ANNIVERSARIES
2019 Celebration At New City School
2019 marked the 50th anni-versary of a school widely praised for solidifying the growth of the Central West End. New City School, located at 5209 Waterman Blvd., celebrated its five decades of education on Nov. 1, the 50th day of school for the 2019-2020 school year.
Celebrations continued all weekend with a convergence of past teachers, administrators and alumni. Alongside the school's over 300 current students, faculty and staff sang "Happy Birthday" to the school and enjoyed cake and cookies at a school-wide assembly. An aerial photo was taken of the entire school forming the shape of a giant 50, all wearing matching shirts for the occasion.
New City School was founded in 1969 as a response to closings of two high-performing schools — Barat Hall and City House. 
Children's Zoo Marks 50 Years 
The Saint Louis Zoo's Emerson Children's Zoo hit its 50th anniversary milestone on May 18, 2019. To honor the date, admission to the Children's Zoo was just 50 cents per person.
On June 14, 1969, the first Children's Zoo opened at the Saint Louis Zoo. It was the vision of Marlin Perkins, who served as zoo director from 1962 to 1970, and other zoo leaders, to connect children to animals through contact in a space that offered a sense
of adventure.
Admission to the Emerson Children's Zoo is free from 9 to 10 a.m. in spring and 8 to 9 a.m. in summer, starting May 24. Visit www.stlzoo.org for more details.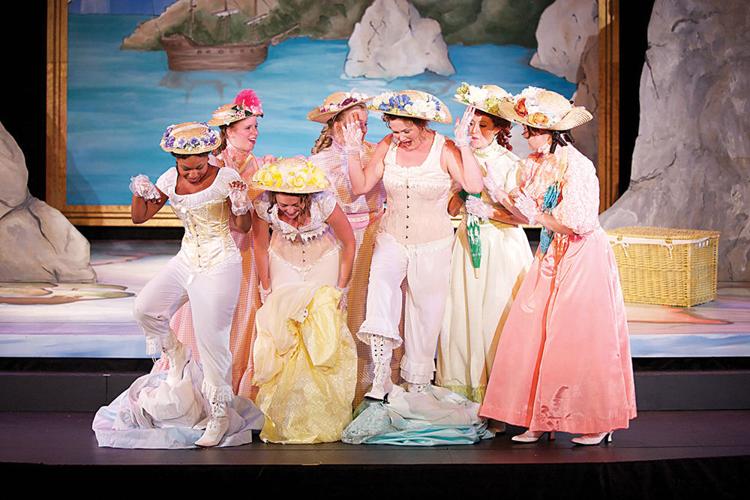 Union Avenue Opera 
CWE opera company celebrated 25 years in 2019
What began with a low-budget, one-act show in a dimly-lit auditorium  has grown into a full-fledged company. Union Avenue Opera draws stage talent from across the country with performances for hundreds of people in a Central West End theater. Union Avenue Opera celebrated its 25th season in 2019.
The opera's first season was a one-act Greek tragedy. Very few people turned up for auditions. Just before the first performance was set to begin, the lighting system blew up, leaving the crew to perform with only house lights. Conductor Scott Schoonover said it's something he can laugh about now.
It's grown from that first season of six performances with about 50
people at each show to an opera
company that puts on multiple productions per year that draw audiences of 500 people per show and stage talent from across the country. Union Avenue Opera has expanded its auditions to New York City and California, and there's always a waiting list.
That's been the case even more since a $250,000 capital campaign in 2007 allowed Union Avenue Opera to build a new orchestra pit, expand the stage and get all new seating in the 600-seat theater.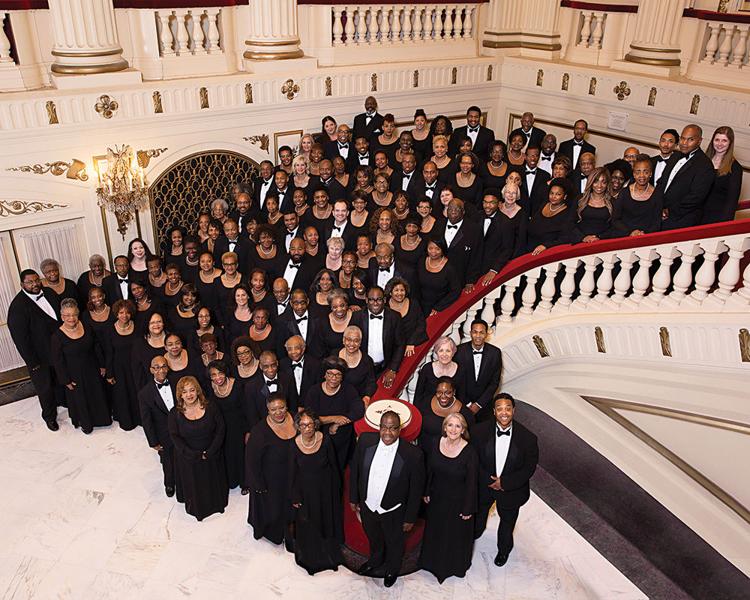 25 Years Of The IN UNISON Chorus at Powell Hall
This year's Black History Month marked an important year for the IN UNISON Chorus at Powell Hall. Feb. 22 saw the "Lift Every Voice" concert, a celebration of 25 years of  IN UNISON's partnership with the St. Louis Symphony Orchestra.
Under the direction of Kevin McBeth, who also leads the music program at Manchester United Methodist Church, IN UNISON performs classics and newly commissioned pieces in a variety of genres. Its 125 members range in age from 24 to 80.
The chorus was created in 1994 to preserve music with African and African American origins. Original director Robert Ray wanted IN UNISON to be known as more than just a stereotypical chorus. Its original 100 members numbered 10 from each participating church.
Though the group's first performance was supposed to be a one-off, Ray thought the concept was too good not to keep exploring.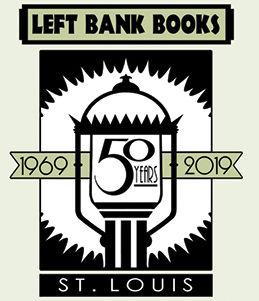 Left Bank Books: 1969-2019
Eight years after opening, Left Bank Books moved to the corner of  McPherson and Euclid avenues in 1977, becoming a fixture in the historical Central West End neighborhood. The eclectic and diverse bookstore celebrated 50 years in business in 2019. Today, it is the largest and oldest independently-owned bookstore in St. Louis.
Left Bank Books was founded in 1969 by a group of anti-war social activist graduate students at Washington University. It built its reputation on the inclusions of counter-culture, feminist, LGBTQ and civil rights content not found elsewhere in St. Louis, alongside underground publications. 
Co-owner Kris Kleindienst, hired as a clerk in 1974, purchased the store with fellow employees after the owners collective announced bankruptcy. She is now in her 45th year running the store, alongside husband and business partner Jarek Steele, who has been there 17 years.
Despite tough competitor Amazon, Left Bank Books has weathered the storm, said Kleindienst, because it doesn't strive for the widest profit margin. Left Bank Books also gives back to the community that has kept it in business through charity projects, author events and other activities.
To learn more about the Left Bank Books Foundation and its partnership with River City Readers, visit www.left-bank.com.
St. Louis Earth Day Festival
The 30th Anniversary St. Louis Earth Day Festival was held the weekend of April 27-28, on the Muny grounds at Forest Park. 
The St. Louis Earth Day Festival is a community tradition that helps the public learn about sustainable products and services offered by local businesses and organizations. Visitors can meet local area nonprofits that share Earth Day values, enjoy local entertainment and St. Louis area Green Dining Alliance restaurants.
50 Years Of The Missouri Coalition For The Environment
The Missouri Coalition for the Environment was founded in 1969 as the St. Louis region's first independent grassroots organization created to address ecological policy issues. In 2019, the group celebrated 50 years of pro-environment activism. 
While part of MCE's agenda involves education and public outreach, most of what the coalition does revolves around public policy. From public awareness campaigns and petitions to lobbying and bill writing, MCE attempts to influence lawmaking in favor of conservation and public health. 
As part of festivities, MCE's webpage now has available an interactive timeline of the past 50 years. Viewers can visit significant moments, events and policy victories in the lifetime of the coalition.
To celebrate the 50-year milestone with its members, now numbering around 800, MCE hosted a 50th Anniversary UpRising Gala on Nov. 2 at the Missouri Botanical Garden, the location where the group was founded.
For more information, visit www.moenvironment.org.