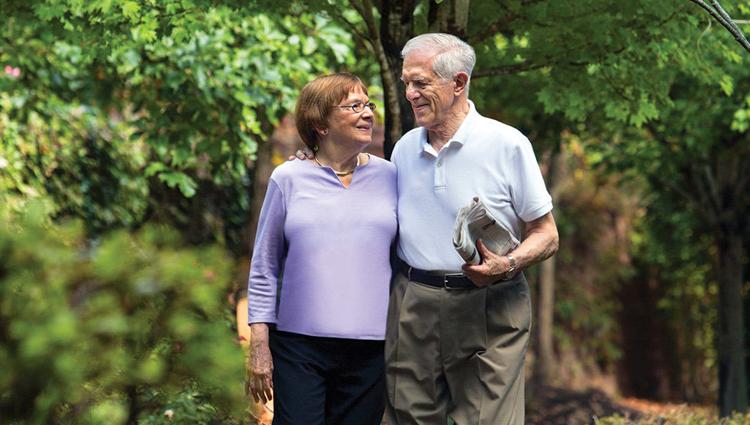 The Gatesworth, a residential senior living community in St. Louis, is designed for exceptional living. Carrie Montrey, Executive Director of The Gatesworth, explains, "We want our community to inspire a vibrant, active lifestyle. Instead of worrying about maintaining a home, residents are gardening, improving their golf game or discovering a new passion. In other words, they are living their best lives."
"At The Gatesworth, it's not just about living well. It's about being well and providing a safe haven during uncertain times like we are currently facing," Montrey added. The Gatesworth is adhering to every precaution outlined by the U.S. Centers for Disease Control and Prevention (CDC), St. Louis County Department of Health, and Missouri Department of Health & Senior Services (DHSS). "While we are not allowing visitors to enter the community right now, we are available to answer your questions and provide virtual tours for those who would like to experience what life at The Gatesworth is all about," said Montrey.
Currently, all of The Gatesworth staff complete a health screening questionnaire and have their temperature taken prior to every shift to provide as safe of an environment as possible for residents.
"Keeping the mind active through intellectual pursuits and continual learning is essential to wellness. Residents can take advantage of an extensive library, art classes and foreign language lessons and many more programs to stay socially involved."
As important as a healthy mind is a healthy body. The Gatesworth offers a state-of-the-art, fully-equipped fitness center and a heated indoor saltwater pool. Certified trainers are available on-site, teaching a wide variety of classes as well as creating personalized wellness plans. The luxurious, full-service Spa|One features a beauty salon, massage rooms, cosmetics counter, wood-paneled locker room and barbershop.
For dining, The Gatesworth offers nutritious and delicious meals. "Everything is home-cooked and made-to-order with more than 25 entrée choices for dinner alone," Montrey said. "Our award-winning chefs bring years of culinary experience from the finest restaurants and are knowledgeable about the latest nutritional information." For those with special dietary needs, Chef Brian Hardy and his team offer customized meal plans. "Fresh produce is delivered six days a week from local farms. Even the meat is prepared in-house and butchered daily. All bread and desserts are from scratch," Montrey noted. Residents can choose casual or fine dining from one of the three full-service restaurants or have their recipes prepared and delivered with complimentary in-room service.
The Gatesworth also encourages residents to maintain an active social life. "At The Gatesworth, there are so many ways to enjoy yourself in the company of friends," says Montrey. "We show a full schedule of movies including old classics and new releases—complete with freshly popped popcorn! Sporting activities give residents the chance to challenge their neighbors to a game of pool, ping pong or putting competition."
Complimentary amenities include in-house postal service, weekly computer tutors, online shopping assistance, daily deliveries from Walgreens, a fashion boutique and room service. The Gatesworth has added additional services during this time such as facilitating video chat sessions with residents and their families, small group activities to keep residents engaged, enhanced cleaning and sanitizing of all common areas and transportation to necessary medical appointments.
The Gatesworth is a warm and welcoming community customized exclusively for seniors who want to remain active, eat well, pursue their passions and make new friends all in the comfort of a safe environment. What better way to spend your day? Call 314-993-0111 or visit TheGatesworth.com to learn more.

314-993-0111 | TheGatesworth.com