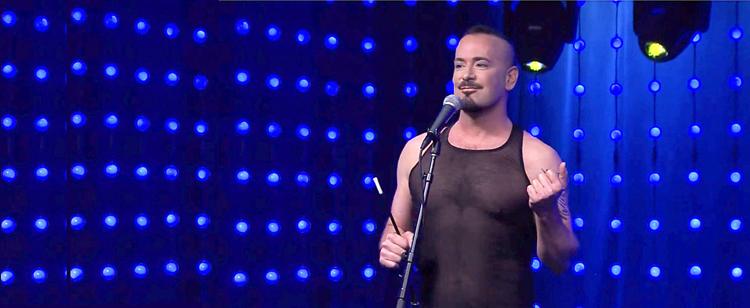 If you've ever wanted to know more about the man behind the music of Queen, "Mercury" is the show you need to see.
Featuring international vocalist and Central West End resident Terry Barber, "Mercury – The Music of Freddie Mercury and Queen," is coming to St. Louis. On the heels of several sold-out shows around the country, Barber and the talented musicians he's handpicked from across the globe will take the stage at The Grandel Theatre for one night only on Saturday, July 13.
"I've brought some of the best artists in the world to St. Louis for this," said Barber, who is the show's producer, artistic director, script writer and lead performer.
Audiences are in for a treat with Barber's Mercury-like vocals and a band that's as bold as it is talented. The set list includes 22 of the favorites people know and love that made Queen legendary: "We Will Rock You," "We Are The Champions," "Bohemian Rhapsody," "Crazy Little Thing Called Love," "Under Pressure," "Fat Bottomed Girls" and many more.
"This is a fun night," Barber said. "It's a party in the room and we want the audience to be a part of it. That's exactly what Freddie wanted, too."
And if you liked the 2018 box office hit movie "Bohemian Rhapsody," then you'll love this show, Barber said.
"The movie only gives you bits and pieces of the songs, so if the movie left you wanting to hear more of those songs, then you should definitely come to the show," he said, noting that while the film was highly entertaining, it contained some biographical inaccuracies.
Barber's production, which he started working on about a year before he knew the movie was in the making, is tagged as "The Story of Queen's Front Man" and that's exactly what it is. It obviously includes Queen's greatest hits, but the focus is on the man behind the band.
Regarded as one of the greatest lead singers in the history of rock music, Mercury was known for his outgoing and flamboyant stage persona and his incredible four-octave range. In addition to writing many of Queen's hit songs, he also had a solo career and served as a producer and guest musician for other artists.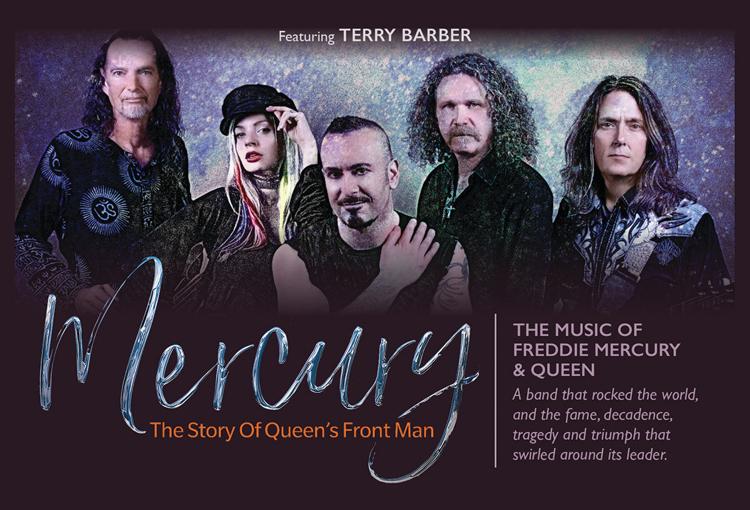 Mercury died in 1991 at the age of 45 due to complications from AIDS. As a member of Queen, he was posthumously inducted into the Rock and Roll Hall of Fame in 2001, and he received many other prestigious music awards in his lifetime.
"It's not the story of Queen – it's the story of Freddie Mercury," Barber said. "I'm not trying to be him or even sound exactly like him – I'm just trying to show people who he was. I want to take people to where Freddie was and what he was going through when he wrote particular songs. I want people to walk out of the show and say, 'I know who that guy was.'"
To accomplish that, Barber takes care with the dialogue that's woven between the music.
"I kept asking myself: 'How is the audience going to get to know him?' To do that, I use a lot of the words that Freddie actually spoke," he said.
Those words set up the songs that people know and love, but probably don't know the stories behind.
"I try to explain what was going on in his life at the time he performed the songs," Barber said. "As he struggled with his illness, Freddie refused to give up, working harder than ever. Queen lead guitarist Brian May wrote 'The Show Must Go On' for Freddie to sing during this difficult time."
Barber's passion for the part is obvious, and he doesn't take the responsibility lightly. Before beginning work on the project, he immersed himself in all things Mercury, including five biographies about the star.
Although Barber's versatility as an artist ranges far and wide, he said the role of Mercury has been one of his most challenging and unlike anything he's done before.
"I've had to step outside of my comfort zone," he said. "Freddie Mercury's shoes are big shoes to step into, and it affects my walking going forward."
A countertenor with an extraordinary vocal range and a master's degree in historically informed performance to entertain, Barber has graced stages all over the world. He's been a soloist for the Metropolitan Opera, Carnegie hall, London's Queen Elizabeth Hall and several other prestigious concert, theater and performance halls.
Although Barber currently has five shows with more than 70 tour dates during this season, he's especially excited to bring "Mercury" to the city he knows and loves best – St. Louis. Although he's not a St. Louis native, he grew up visiting family here and it's where he and his husband are now raising their 10-year-old twins.
More Music
In addition to the show, Barber has released a concept recording that includes several of Queen's hits, but not the way people are used to hearing them. The recording, which is different from the popular songs people will hear at the show, pays tribute to Mercury's classical music interests. It also honors his ties to Zanzabar, where he was born, and India, where he attended school.
"This recording has African and Indian influences, which harken back to Freddie's roots," Barber said. "These are still Freddie's songs, but I moved away from the original versions. I hope we've taken the project in a direction that Freddie would be proud of."
Beyond The Music
Barber is grateful for the success he's experienced and wants to help other artists achieve the same. He does that by serving as a mentor and consultant to other vocal and performance artists.
"I get to do what I love and I don't take that for granted. In an industry where artists are struggling and are often pitted against each other, I want to help other talented artists find their way forward," he said.
Barber is also the founder of Artists For A Cause Inc., a nonprofit that helps artists use their talents for community improvement. For example, the organization's "Dance for Food" program not only creates an opportunity for hundreds of dancers to perform each year, but collects thousands of pounds of food for the hungry and raises funds to help fight poverty.
Performance Details
Produced by Barber, sponsored by Artists For A Cause and presented by The Presenters Dolan, "Mercury – The Music of Freddie Mercury and Queen" will play on Saturday, July 13, 8 p.m., at The Grandel Theatre, 3610 Grandel Square.
Tickets are $25 to $38, and VIP tickets are $75 to $85. VIP ticket holders are invited to Barber's exclusive record release party on Saturday, June 29, at the Gaslight Lounge, where they will receive a signed copy of his concept recording. Tickets are available at MetroTix.com or by calling 314-534-1111. For more information, visit www.terrybarber.com.