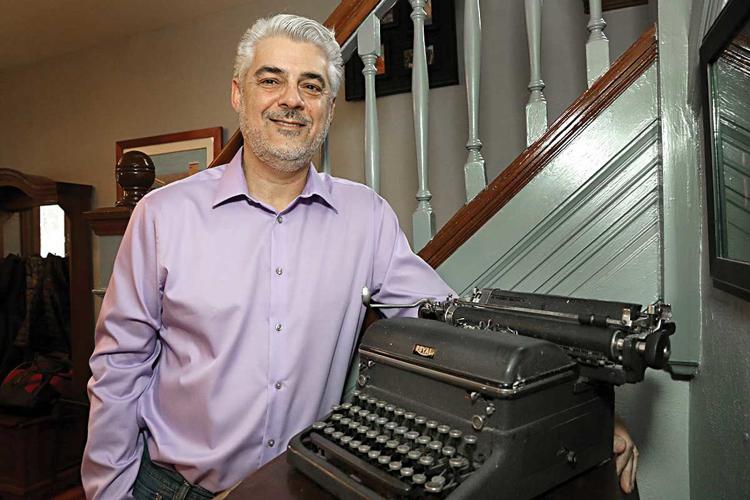 Stu Durando spends his days working the sidelines at baseball, football and basketball games, interviewing players and analyzing plays for the St. Louis Post-Dispatch.
But a conversation he had along a soccer sideline with a parent propelled him in another direction. That other parent was Martin Keller M.D., medical director of trauma at St. Louis Children's Hospital.
"He told me about the frequency of young gunshot wound victims, and this intrigued me," Durando said. "We would talk about what would happen with gunshot injuries and he said they were treating more than any children's hospital in the country. At the time I had two small kids, and that concerned me."
Durando said that like a lot of journalists, he often thought of writing a book.
"I was thinking maybe, 'A Year in the Life,' and get in there for a year, follow it, and write about what it's like for them to have to deal with this, and it turned into six years," he said.
Durando began writing "Under The Gun: A Children's Hospital on the Front Line of an American Crisis" in late summer of 2012, with Keller as his main character. The book was released in December 2018.
"I wanted to do two things," Durando said. "One, I wanted to show how the hospitals were impacted – from the medical aspect, to the treatment, to the social services, to the security – and to find the different ways, resource-wise, that they were impacted.
"Then, I wanted to follow the families and weave that throughout," he said.
Durando said the hospital was very open throughout the process.
"Everybody I wanted to interview throughout was candid, and didn't hold back," he said.
Meeting with victims and their families entailed dealing with the heads of the hospital and attorneys because of federal health care privacy regulations. Durando made sure that he followed these security protocols.
"Some people who had signed consent forms either couldn't be reached, or they ended up not wanting to talk," he said. "And the people who did want to talk, really wanted to tell their stories, and let me get close to their situation."
Durando wanted to cover an incident from the time a patient came into the trauma bay to surgery.
"One day I was there at 8 a.m. for an interview with a woman who was doing her surgery fellowship, and two minutes after we started talking her phone went off. There was a kid coming in who had been shot," he said.
"I said, 'Can I come with you?' and she said, 'Yeah, come on,' and we went. They whisked me into the ER where, technically, I shouldn't have been at that time. But fairly quickly they got the family to consent to let me watch the whole process."
Durando followed the boy from the trauma bay through surgery, then followed up a few days later. He said it was "pretty graphic."
"Under The Gun" tells many stories of young gunshot victims – some from drive-by shootings and others who had found guns in the home, were playing with them, and either shot themselves, their siblings or friends.
"Some of the interviews were hard," Durando said. "Most of the kids survived, which is a good thing, but I met one woman at her house in University City six or seven months after her 12-year-old son was shot and killed," he said.
The woman had three boys, and one boy went to a friend's house where they found a gun.
"Whatever happened, happened, and it was ruled a homicide," Durando said.
Though the mother was still fragile, she was very open when Durando told her what he was doing.
"Some of the others that I met at the hospital, like the boy who got shot in the back of the head with an air gun, those interviews were all done at the hospital," Durando said. "When I got there, he was in a coma, and they didn't know if he was going to survive. That was the first time I was in that setting, and that was tough."
Durando said that while he tried not to go overboard on statistics, when Keller started at Children's in 2006, the gunshot wound incidents were about 110 a year which he described as "incredibly high." The numbers then went down, only to go back up during unrest in Ferguson.
"Also, my intention was to keep it as apolitical as possible," he said. "I didn't want to get into opinions, although there are plenty opinions that I didn't use.
"The one thing they all say, whether they're pro-gun, anti-gun, or on the fringe, is that you have to find a way to protect the kids," Durando continued.
In writing this book, Durando wanted to add his voice to an issue that is commanding a lot of attention.
"People have such heated arguments about everything, and guns are one topic that you can't seem to have a rational conversation," he said. "They just seem to end up shouting at each other and refusing to find any middle ground.
"If reading the book prompts a conversation among friends – the more you talk about it, the better outcomes we're going to have," he continued. "Someone reads it and decides to put their gun away, and saves their kid's life, who knows? People need to talk about it."
Durando is from southern California and has been a sports writer for 35 years. He worked in Las Vegas for a few years where he met his wife, Elizabethe, before moving to St. Louis. He and wife have two children: Riley, a junior at Nerinx Hall, and Bennett, a sophomore and a journalism major at the University of Missouri in Columbia.