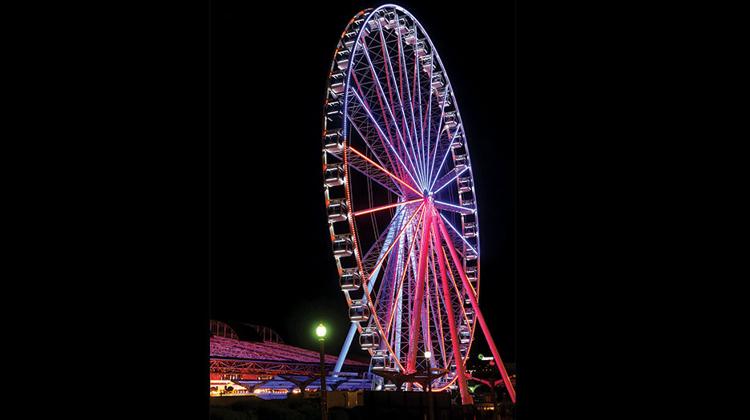 St. Louis' premier Ferris wheel officially opened Tuesday morning, Oct. 1, and will remain open from 10 a.m. to 10 p.m. from this point on, 365 days a year.
The new attraction, dubbed "The St. Louis Wheel," is part of a $187 million entertainment complex opening soon at formerly-shuttered Union Station in downtown St. Louis. Other embellishments include a two-story aquarium, a carousel, 18 holes of mini-golf, a ropes course, a mirror maze, a splash park and several new restaurants.
The Wheel is one of the country's largest Ferris wheels, bearing 200-foot spokes, over a million colored LED lights and 42 climate-controlled gondolas capable of carrying eight persons each.
The carousel, the mini-golf course and The Union Station Soda Fountain restaurant are now open. The aquarium is set to open in December. For more information, visit www.stlouisaquarium.com or www.thestlouiswheel.com.