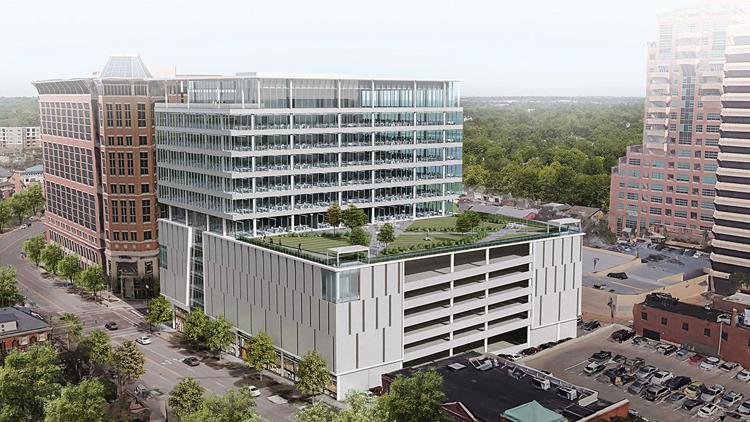 Clayton officials are again considering a project for one of the most important corners in the city.
The city's plan commission/architectural review board on July 15 reviewed a project at 8015-8049 Forsyth Blvd.
U.S. Capital Development is proposing "Forsyth Point," a seven-story office building above a six-story, 778-spot parking garage. The project includes ground floor retail including an entertainment venue, and a terrace for events on a section of the garage roof not taken by the office tower.
The project site includes five lots which currently consist of several two-story buildings and some surface parking. The area begins at the northeast corner of Forsyth and Brentwood, across from the Chapman Plaza area of Shaw Park, and extends east along Forsyth.
Members of the board said the proposal was better than a previous development for the same area. Still, there were concerns about the proposal.
Board Chairman Steve Lichtenfeld called the location "the most prominent, available piece of property in the city." He questioned whether the project adequately complemented Shaw Park, or the Shaw Park Plaza building located across the street.
The board also expressed concern that the garage was too big, considering there is no residential element to the project. They also had concerns about street level activity.
U.S. Capital's representatives said they will look at the board's recommendations. They did say that some of the parking, about 40 to 50 spaces, are planned for public use. They said they would be willing to make the rooftop terrace available several times a year for public city events.
This is not the first project proposed for the site. In February 2017, a 22-story tower was proposed for 8049 Forsyth., to include retail, offices, apartments and a parking garage. However, work on the project never began.
When Clayton approved that project, the developer agreed to purchase a city-owned parking lot at 8049 Forsyth for $1.1 million. However, when the project fell through, the lot reverted to the city.
As part of the new development, aldermen will consider selling the lot to U.S. Capital Development for $2,625,000. Consideration of the sale was scheduled to take place on July 23, after The West End went to press.