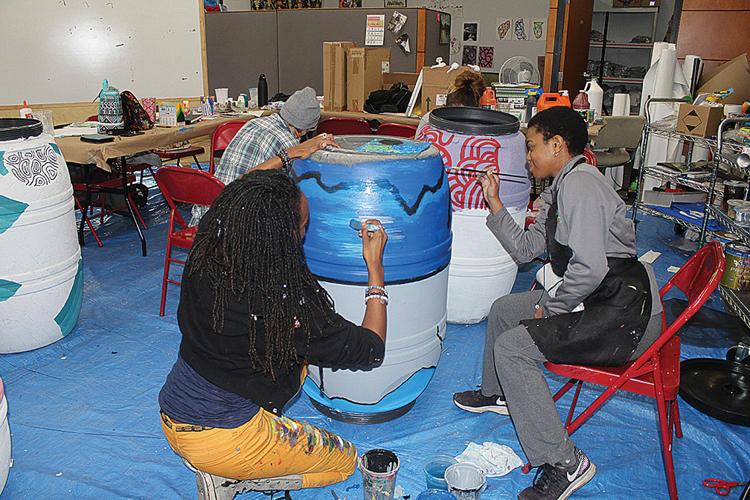 St. Louis ArtWorks, a year-round job training program using art to teach essential life and job skills to underserved youth in the East Loop, turns 25 this year.
The ArtWorks program has served more than 3,600 apprentices from 40 area ZIP codes, paid more than $2.2 million in stipends and graduated 92 percent of its apprentices since 1995. Since 2010, most applicants have hailed from North County and North City.
Apprentices of the ArtWorks program often become instructors themselves. One such case is Stajah Curry, who started as an apprentice in 2008. She graduated from Central Visual and Performing Arts High School then graduated from The Art Institute of St. Louis with a bachelor's degree in fine art.
"It's being able to be 'behind-the-scenes,' understanding how the organization works as opposed to just being one of the cogs in it," Curry said, comparing and contrasting her roles as apprentice and instructor. She teaches about 20 apprentices, aged 14 to 19, on average.
She said the "a-ha" moment in art, when students make connections beyond their own work, varies.
"For some of them, it happens almost immediately just from us showing them things they've never seen before," she said. "In others, it doesn't happen until the third or fourth session."
She said she has to be more of a leader as an instructor, but the organization tries to pull leadership out of its instructors.
"Being able to pull good ideas out of the kids and being able to push the skills they already have," are among her favorite parts of being an instructor.
Curry said she still desires to own an animation production company, Mystik Legends. She said it would cover fantasy, sci-fi and action-adventure pieces.
About St. Louis Artworks
ArtWorks started in 1995 with a commitment to provide high-quality arts education and job readiness training to youth that may otherwise lack the opportunity and/or access to quality out-of-school programs. Executive Director Priscilla Block has been the group's leader since 2001; she will retire on July 31.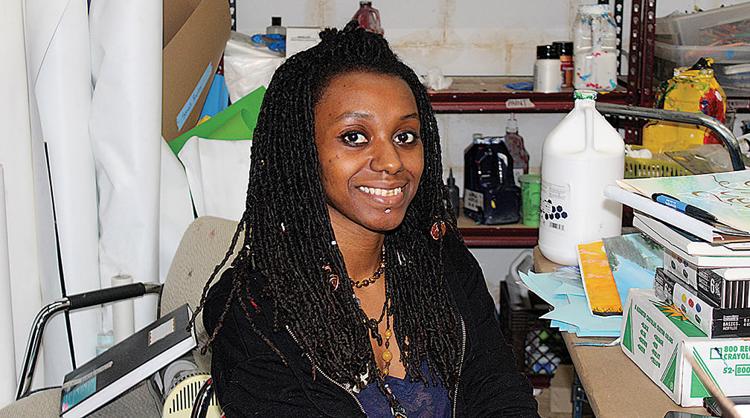 "It was just a summer job program in 2001, held downtown where Citygarden is now," she recalled. "We were under tents and it was hot and dirty, but the kids loved the freedom of walking around downtown at lunchtime. At the end of that summer, my advice to our board was we needed to be indoors with plumbing and air-conditioning."
The group moved to Adams Elementary School in Forest Park Southeast with the help of Urban Strategies. There, they used classroom space between 2002 and 2005.
Block began the commission process from individuals, corporations, foundations and communities. This enhanced the business side of the process — students became responsible for interviewing with clients, designing art suggestions then editing and producing them on deadline. Budgets and executive decision-making skills played roles, too. The group usually provides 200 jobs annually.
"We typically have two to three times more kids apply than we are able to accept," Block said. "One of the main things the kids say at the end of the time at ArtWorks is they really enjoyed meeting other kids from different parts of the city that they wouldn't normally get to meet."
Instruction, Employment Training & Life Skills
All apprentice works of art are either commissioned by local companies and organizations or sold at public sales. That's right — they are not students; they are apprentices.
Eighty-five percent of apprentices identify as African American, nine percent are Caucasian, four percent multi-ethnic and the remainder are Asian. Fifty-five percent of apprentices are female and 39 percent of apprentices live in St. Louis City.
Programming happens after school and on weekends for five hours per week in the fall and spring for 12 weeks, and five hours a day, five days a week for six weeks in summer. Youths apprentice with professional artists to develop art, life and communication skills. Many kids remain in the program more than one session; several have been involved for four consecutive terms.
Each program combines in-depth art instruction, employment training and life skills focused on personal health, fiscal literacy and environmental stewardship. Teens earn stipends, are required to have a bank account and attend financial literacy training.
Activities like client meetings, open house events and public sales give apprentices opportunities to practice presentation and public speaking skills, leave better prepared for the future with community contacts, resumes and a portfolio.
ArtWorks Expands
In 2006, Block suggested the board of directors make the program year-round because the need was there. The program became one of the initial tenants in the Centene for Arts and Education in Grand Center and expanded to the three-season format still in use today.
Also in 2006, the group entered the Skandalaris Entrepreneurship Program through the Olin Business School at Washington University. ArtWorks won and created its first social enterprise — Boomerang Press.
Boomerang focused on graphic designs for greeting cards, awards, logos, business cards, etc. Now, it's Boomerang Press Media, having branched into digital technology —video, public service announcements, documentaries, etc.
STEAM-based (science, technology, engineering, arts and math) education has taken root at ArtWorks and life skill training for the apprentices in fiscal literacy, social justice, mental health, community arts and environmental stewardship.
"We bring speakers in to talk to the kids about those topics," Block said. "Probably the most popular is fiscal literacy. The kids have quite an interest in understanding credit so they can think about what it takes to get themselves lined up for borrowing money."
After successful interviews, apprentices must have all of their banking ducks in a row to enable direct deposits to their accounts. Block said that, for many of the apprentices, this is their first bank account, which is their first step to building credit.
"I think one of the things that separates us from a lot of other arts programs for teens is that ours receive a stipend — they are paid for their work," Block said.
After Boomerex, making bicycle racks from recycled bike parts, ArtWorks advanced to its third social enterprise, Bloomworks, in 2012. Bloomworks is art for gardens, public parks and streetscapes.
In 2012, Equifax opened a companion job site on 14th Street in North St. Louis and were there until 2015, but it proved to be out of the way for most apprentices, Block said. They were also outgrowing their art spaces.
The current ArtWorks site at 5959 Delmar Blvd. opened in August 2015 with 18,000-square-feet of space on two levels. It has the added benefit of being near public transportation.
For more information, visit St. Louis ArtWorks at www.stlartworks.org.