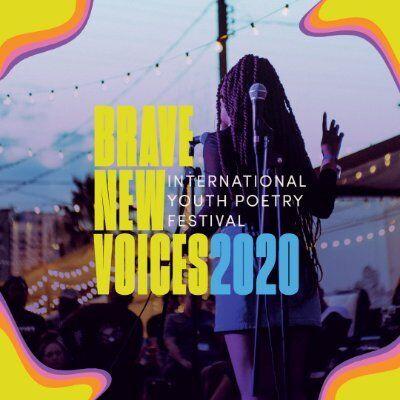 The UrbArts organization's youth poetry slam team won their second championship at the 23rd Annual Brave New Voices International Youth Poetry Slam Festival last week. Brave New Voices was scheduled to take place in Washington D.C. until the pandemic disrupted their plans. This year's virtual festival was held July 20th through the 25th. It is the second time St. Louis has taken first place in the international poetry competition.
In celebration of this win, UrbArts will hold a weeklong virtual celebration for the winning poets beginning Monday, July 27 through July 31 by posting a recorded poem from each member on the org's YouTube channel. Additionally, a Facebook recording of the youth team reading poems will be made available on its page. The team was led by two members of the 2019 championship team Sarah Abbas, 2020 St. Louis Youth Poet Laureate and Marquette High School senior, and recent Parkway North graduate Kaylyn McKoy.
The 23rd Annual Brave New Voices International Youth Poetry Slam Festival, powered by Youth Speaks, is the only festival of its kind. In normal years, over 500 young poets, their mentors, and the nation's leading artists and cultural workers convene in a different U.S. city for four to five days of arts education, artistic expression, and civic engagement. The festival has taken place for 23 years.
Commonly referred to as BNV, Brave New Voices hosted 12 teams from throughout the country in its first virtual version of it festival. This year, teams from Chicago, Nashville, Washington D.C., Seattle, Dallas, Indianapolis, Tampa, and Abuja in Nigeria were among the cities who competed in the virtual festival. Hamilton star and notable Youth Speaks alumnus Dahveed Diggs, was a special guest during BNV final. BNV received national attention in 2008 when HBO produced a series that aired on the cable network. 
During the Grand Slam Finals, the St. Louis team faced off against teams from Los Angeles, Miami Gardens, Fayetteville. Final scores, St. Louis with 107, Los Angeles finished second with 104.3, Fayetteville third with 104.1 and Miami Gardens in fourth with 101.
The 2020 champion St. Louis team is comprised of teen poets: Sarah Abbas; Kaylyn McKoy; Hazelwood West students Grace Ruo and Jacoby Collins; Parkway North senior Chris Lau; and home school student Antigone Chambers-Reed.
To make the St. Louis team, all youth had to compete and participate in the St. Louis Youth Poetry Movement, an UrbArts program that include the St. Louis Youth Poet Laureate and VerbQuake Youth Poetry Festival. Funding support for the program came from the Regional Arts Commission, Missouri Arts Council and Enterprise Holdings.
This year's coach for the UrbArts team was MK Stallings, founder of UrbArts and program director. In addition to Stallings' service as lead coach, and Bisa Adero and Zack Lesmeister, former St. Louis Youth Poets Laureates were assistant coaches with Sahara Sista S.O.L.S. as associate lead-coach.