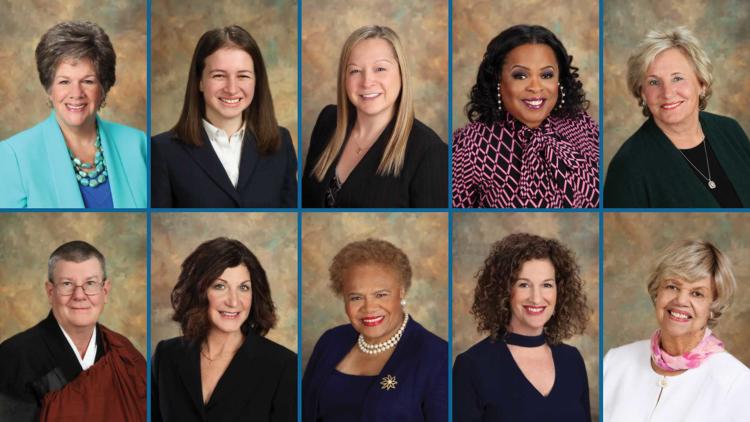 Women of Achievement has announced the 2019 Women of Achievement, a selection of 10 extraordinary volunteers from the St. Louis metropolitan region.
The 10 honorees will be recognized at the 2019 Women of Achievement Luncheon on Tuesday, May 14, 11:15 a.m., at the Ritz-Carlton, St. Louis.
The 2019 Class of Honorees includes:
• Jill Aul — Social Justice. Aul began her volunteer service following a 30-year teaching career. She is the founder of the St. Charles PFLAG chapter.
• Simone Bernstein – Youth Empowerment. Bernstein entered the volunteer service arena at age 12 and is the co-founder and president of VolunTEEN Nation, a national non-profit organization she launched at the age of 17.
• Jessica Bueler – Community Betterment. Bueler is the founder of Welcome Neighbor STL. This organization assists Syrian refugee families with everyday tasks including scheduling doctor appointments and navigating school systems.
• Valeda Keys — Health Advocacy. A two-time breast cancer survivor, Keys is the founder and unpaid executive director of Valeda's Hope. This organization is dedicated to increasing awareness of breast cancer through education and early detection..
• Jo Ann Taylor Kindle – Spirit of Giving. Taylor Kindle is chairman of the Enterprise Holdings Foundation. The foundation supports thousands of nonprofits worldwide in communities where She is also president of the Crawford Taylor Foundation.
• Kalen McAllister – Social Enterprise. McAllister has spearheaded the publication of "Start Here," a resource guide for the homeless, veterans and released felons. A former prison chaplain, she is the founder of Laughing Bear Bakery, a company that employs former felons.
• Mary Lieber Schoolman — Civic Responsibility. Lieber Schoolman is an activist and advocate for the St. Louis community, championing the arts, education, social justice, the fight against hunger, and housing for HIV/AIDS.
• Mary Harper Thomas — Educational Enrichment. Harper Thomas is widely known for her leadership and visionary role in making higher education accessible for black youth from lower income and first-generation college households. Her volunteerism brings post high school education within reach for young people born into families facing financial challenges.
• Cindy Lander Wallach — Youth & Family. Lander Wallach is the founder of Birthday Joy, a non-profit organization that provides birthday presents to children in need. She serves on the boards of the Anti-Defamation League, Crown Center for Seniors, A World of Difference, JCC, Central Reform Congregation and Clayton Century Foundation.
• Ollie Tucker Ward — Lifetime Service. Tucker Ward's commitment to equality, service and education to the St. Louis region spans more than seven decades. An unsung, behind-the-scenes participant in the St. Louis Civil Rights movement, she has logged thousands of hours of volunteer service to various community organizations.
Reservations for the Women of Achievement luncheon are $60 per person and can be made online at www.woastl.org/luncheon-reservations or by contacting Women of Achievement at 314.896.4962 or woastlouis@gmail.com.
For additional information about the awards, luncheon and honorees, visit www.woastl.org.