Dennis Owsley came to St. Louis in 1969 to work at Monsanto. In addition to his long career as a scientist and teacher, Owsley has become a prominent local jazz historian, photographer and collector. He has hosted jazz programs on St. Louis Public Radio for over 36 years.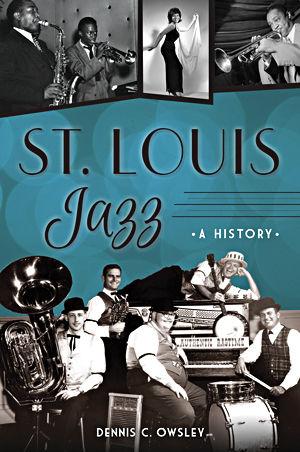 His photographs of jazz musicians have been displayed at the Sheldon Art Gallery and elsewhere. Owsley's book, "City of Gabriels: The History of Jazz in St. Louis 1895-1973," was published in 2006.
In his latest book, "St. Louis Jazz: A History," Owsley gathers his considerable store of jazz knowledge to present a comprehensive view of the local jazz scene and place it in a broader context. He writes in the introduction that he hopes to tell a fact-based story to dispel many of the myths and false narratives that persist regarding St. Louis' jazz history.
Much of the information in the book is derived from interviews, and readers who are curious to hear more are encouraged to follow a link provided in the preface to listen to the entire interview. Similarly, although the text is filled with references to who played with whom at what club and when, Owsley offers readers access to a complete searchable discography for many of the artists mentioned.
Owsley identifies several factors that changed the course of jazz in St. Louis. They include segregation, organized crime, riverboats and changes in the recording industry and radio.
One of the myths Owsley is eager to debunk is the notion that jazz journeyed from New Orleans to St. Louis on riverboats. He writes that the influence of riverboats on the development of jazz in St. Louis was primarily because musicians were hired to play on brief riverboat excursions. Owsley reports that many musicians called the riverboats "floating conservatories" where they honed their skills.
Anecdotes about jazz legends are found throughout the book, including a story about a timid teenaged Miles Davis asking Clark Terry for advice on trumpet playing.
Owsley takes the story of jazz in St. Louis up to the present day, writing about some of the people responsible for reviving local jazz venues, annual festivals, and jazz coverage in local media.
Owsley's fact-filled whirlwind tour through the history of jazz is an important addition to St. Louis history.