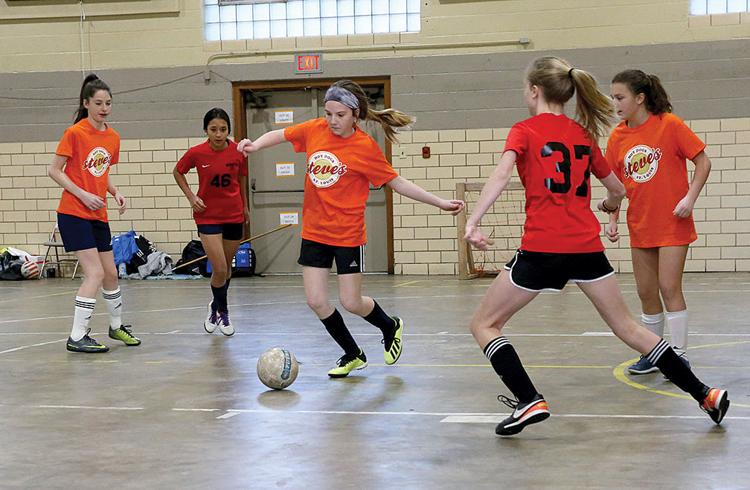 Inside the gymnasium of Immaculate Conception Parish in Maplewood, the frisky foot magic of a fútsal league is created.
With elements of soccer, football, basketball and water polo, St. Louis Grassroots Fútsal is a league with an emphasis on developing physical skills and self-esteem, along with nurturing community diversity. The league also serves underprivileged youths and collects donations for charitable causes.
"Let the game be the teacher" is the league's motto, according to Jamie Dunphy, St. Louis Grassroots Fútsal League manager. "The cost to play club sports is outrageous, and we wanted to reach out to inner city teams and include as many youths as possible."
The local fútsal league is in its eighth season as somewhat of an offshoot of the New Dimensions Soccer nonprofit after school and summer league program, which has existed for 50 years. Since its founding, the league has donated over $4,000 to New Dimensions and its outreach programs.
"We strive to bring kids together from different backgrounds and build relationships through fútsal. We look to partner with New Dimensions Soccer, the pioneers of grassroots soccer in St. Louis, to build for the future," said Dunphy.
The league encompasses both girls- and boys-specific teams, but the two also play against each other. Matchups are based more on skill than age.
St. Louis fútsal teams play five to six games every January. This season, there were 36 teams — 16 girls teams and 20 boys teams.
What is Fútsal?
The "footsal" sport is played indoors with a weighted ball that is slightly smaller than a soccer ball, with a little less bounce.
Across the globe, the game is known as a variant of association football (American soccer), which is typically played on a hard court. It has similarities to a five-a-side soccer match.
Fútsal is played universally between two teams of five players each, one of whom is the goalkeeper. It emphasizes ball movement and control skills in tight spaces.
According to United States Youth Futsal sources, the sport started in 1930 when Juan Carlos Ceriani, a teacher in Montevideo, Uruguay, created a version of indoor football for recreation in YMCAs. It originally was developed for playing on basketball courts, and a rule book was published in September 1933. Uniform international fútsal rules were adopted by 1956.
The new game caught on and spread quickly because it was easily played just about everywhere by people of all ages and was not dependent on outdoor weather conditions.
Fútsal debuted at the 2018 Youth Olympic Games in Buenos Aires, Argentina. That country has a strong tradition in the sport, having made every edition of the Fútsal World Cup and winning the tournament in 2016.
Fútsal's St. Louis Impact
"We love fútsal, and it's a labor of love that gets to the roots of our community," said Dunphy, who added that some players are refugee children. "There is minimal coaching in the league as we want to give the game back to the kids."
Dunphy and other team organizers saw the need for such a league because adults dominating club sports is "out of control."
"With elite teams and the cost of them, fewer kids are able to play sports now. There aren't as many recreational or mid-level teams anymore," he explained.
Dunphy ultimately founded the league so his son Peter and his teammates could play fútsal locally. Peter Dunphy now helps facilitate the league as a referee. Jamie Dunphy's daughter, Mary Clare, now plays in the seventh/eighth grade division.
"It's not about winning, it's about learning," said Tom Michler, with St. Louis nonprofit New Dimensions Soccer Corporation.
Alongside Tim Tettamble, Michler is a founder of the Summer Watermelon 4 v 4 Soccer League, of which St. Louis Grassroots Fútsal is a cousin. The Watermelon League, named for its original practice of giving out free melon after hot summer games, enables kids from all walks of life to play and learn together in a diverse setting while enjoying fun, skill building and grassroots soccer, free from the pressures and constraints of competitive leagues.
"We're utilizing sports for change, and the model that we employ is designed to create unstructured games for kids. We don't worry about keeping score or league standings, but want the kids to play for fun and to let their creativity flow. As a result, kids' skills improve faster when playing freely," he said.
Michler said he believes Dunphy is showing a lot of success in doing something similar indoors.
"Jamie has brought teams to our Summer Watermelon League for years, and is a devotee of the grassroots approach with soccer, but more than anything, being fun. We salute Jamie for his efforts and know his league has grown because it is fun," he added.
Sponsors for the St. Louis Fútsal league include Silver Fox Marketing, Steve's Hot Dogs and Burgers, and Design Aire Heating and Cooling.
"We believe it's important to support an organization that's doing a good job of bringing a sports-based learning outlet to kids," said Seth Goldkamp, Design Aire Heating and Cooling vice president. "It's been an all-around, really positive experience."
He said his company has sponsored the fútsal league for the past several years. Sports in general, said Goldkamp, have lost their original course in life.
"Sports for kids used to be a fun way to exercise and be teammates. The simplicity of sports is gone," he asserted. "The St. Louis Grassroots Fútsal league is more like the pickup sports games we used to play in our backyards or in the streets. It has an innocence to it. There's a real place for grassroots sports, especially today, where kids get the chance to figure out solutions for themselves."
For more information about this unique sports league, check the group's Facebook page, which can be found at "St Louis Grassroots Fútsal."
Check out more photos of St. Louis Grassroots Fútsal in our photo gallery.