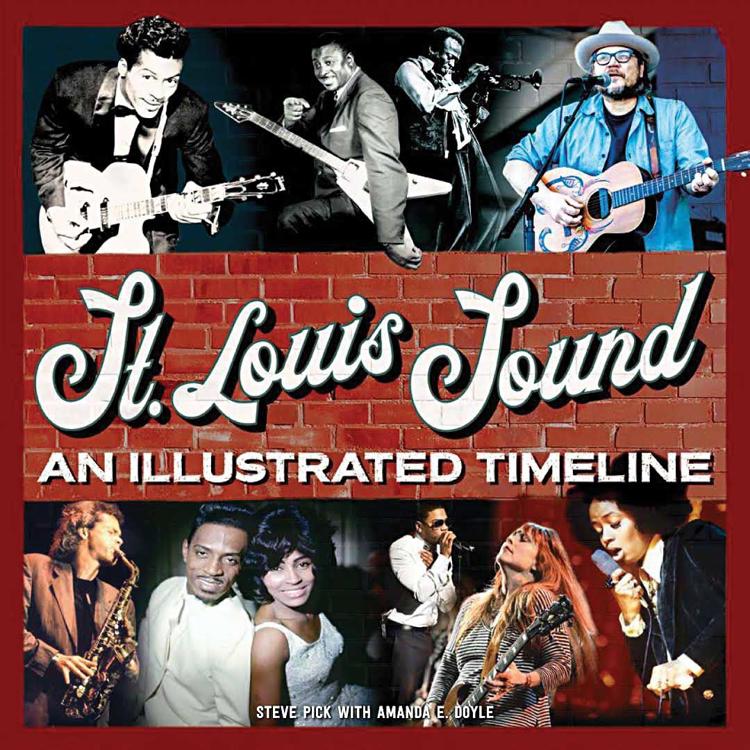 A new book, "St. Louis Sound: An Illustrated Timeline," opens with music from the Mississippian Culture of Cahokia Mounds and ends in an era when Chuck Berry was in his twilight, but still performing at Blueberry Hill.
"We opened with a music scene from our River City area from 1,000 years ago and, of course, we had to pay homage in the book to Chuck Berry," explained Steve Pick, who authored the book along with collaborator Amanda Doyle.
"Chuck Berry is the rock king and showed so much loyalty to the River City throughout his lifetime," said Pick. "But there are many other strains of music here, in part, because the river made us a crossroads where all kinds of musicians stopped and all the music melded."
Continuing the river metaphor for music here, Doyle stressed that the book showcases all the tributaries that converge to create a great St. Louis river of song from: classical jazz, blues, R&B, rock 'n' roll, country, hip hop and more.
Though it has rarely been cited as a center of any one music scene, any city that has been home to Chuck Berry, Miles Davis, Ike & Tina Turner, Johnnie Johnson, Grant Green, Pavlov's Dog, Kirkwood's Mel Bay and David Sanborn, Nelly, and Pokey LaFarge, clearly deserves to be chronicled and given national attention.
In music accounts from before 1900, the book covers the creation of classics such as "Stagger Lee" and "Frankie and Johnnie." The songs are based on actual events in St. Louis history. They've been modified over the years for blues, jazz and popular renditions.
The Stagger Lee murder has seeped into American culture through takes by Dr. John, Lloyd Price, the Grateful Dead and the Clash. The ill-fated romance of "Frankie and Johnnie" has been taken up by Jimmie Rodgers, Lead Belly, Louis Armstrong, Bob Dylan, Elvis Presley, and, fathom this – Lindsay Lohan.
Even more mind-boggling is the global influence of songs by Chuck Berry. How many million-sellers have piled up worldwide for artists re-doing Berry's "Maybellene," "Roll Over Beethoven," "Johnny B. Goode," or "No Particular Place to Go."
In 1986, two concerts at the Fox Theatre in St. Louis featured Keith Richards, Eric Clapton, Etta James and Julian Lennon as part of a film extolling the contributions of Berry called, "Hail! Hail! Rock 'n' Roll." It was the same year Berry was selected as one of the 10 inaugural inductees in the Rock & Roll Hall of Fame in Cleveland.
Venues and Innovators
It's not just about the musicians. The book by Pick and Doyle also gives St. Louis its due for its many unique music venues, large and small, some long gone and others still going strong,
Among those venues: Kiel Opera House, Powell Hall, Municipal Opera,
the Admiral, the Fox, The Arena, Casa Loma Ballroom, the Pageant, Gaslight Square, Mississippi River Festival (MRF), the Focal Point, Laclede's Landing, Fair St. Louis, Cicero's, Off Broadway, Riverport, Jazz at the Bistro, the Way Out Club, Cherokee Street and more.
Boomers may wax nostalgic over the MRF snapshots of The Who, Judy Collins, Smokey Robinson and Jerry Lee Lewis. They may also find a lot to talk about looking at The Arena pages featuring the appearances of Frank Sinatra, Led Zeppelin, Alice Cooper, Primus, Bruce Springsteen and more.
"I get asked about what venues I like and, of course, there are the icons like The Arena," said Pick. "But I have a soft spot for The Focal Point, which has moved all over the place, including Webster Groves and its current location in Maplewood.
"The Focal Point has been such a great, intimate venue for music greats like Martin Carthy, the Watersons, John Renbourn, Norman Blake and Pete Morton," added Pick. "It's always been a place to focus on listening to music."
In addition to praising venues, Pick and Doyle also make room for unsung local heros of the music industry. The late Mel Bay of Kirkwood would often be visited by rock stars like Pete Townsend when they were playing in the Gateway City.
"Tens of thousands of people learned how to play their musical instruments from his instruction books," said Doyle. "His sales were always good from the time he opened in St. Louis in 1933, but Bay's books were off the charts when Elvis Presley came along."
Another local music great is Bob Heil, who built and invented music systems that provided a St. Louis sound for groups all over the world.
"Heil has helped make the sound for The Who, for the Grateful Dead, for Joe Walsh," said Pick. "He invented the talk box, a sound feature used for hits by both Walsh and Peter Frampton."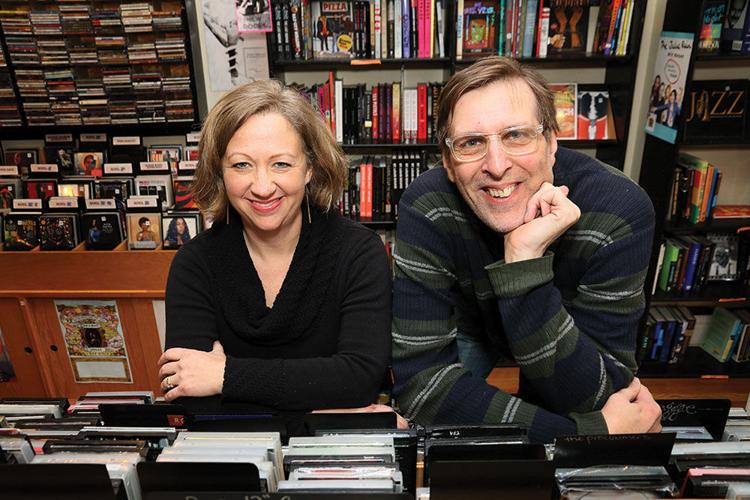 Musically-inclined Authors
Both Pick and Doyle have had a life-long interest in music. They said it was easier to pick the late great musicians for the book than to choose more contemporary musicians in St. Louis for their compilation.
"There are so many new groups I wanted in this book," Pick said. "They need to be seen and heard, but space did not allow. It was not hard at all to choose Jeff Tweedy, Pokey LaFarge, Marquise Knox or Sleepy Kitty."
Pick was born in 1958 in St. Louis and his interest in music became an obsession when he co-founded Jet Lag magazine in 1980. He spent 13 years reviewing concerts and writing a music column for the St. Louis Post-Dispatch.
Pick began working in record stores in 1983 and can now be found at Euclid Records in Webster Groves. He has a weekly radio show on KDHX-FM.
Doyle is a St. Louis transplant, via Memphis, Florida and the Mizzou J-School. She's the author of five previous books including "100 Things to Do in St. Louis Before You Die" and "Standing Up for Civil Rights in St. Louis."
"I got kicked out of my first concert at a dive bar in Memphis where my dad took me to hear Delbert McClinton," said Doyle. "Dad had me on his shoulders for the music and we were asked to leave. I was age 6, but that began a lifetime of great shows for me and some very diverse musical interests."
Upcoming Book Signings
• April 4, 7 to 8:15 p.m., at Subterranean Books, 6275 Delmar Blvd. Official launch party. Books available for purchase; beer courtesy of Urban Chestnut.
• April 9, 7 to 9 p.m., at Earthbound Beer, 2724 Cherokee St.
• April 14, 1:30 to 2:30 p.m., at the Carondelet Historical Society, 6303 Michigan Ave.
• April 16, 6:30 to 7:30 p.m., Maplewood Public Library, 7550 Lohmeyer.