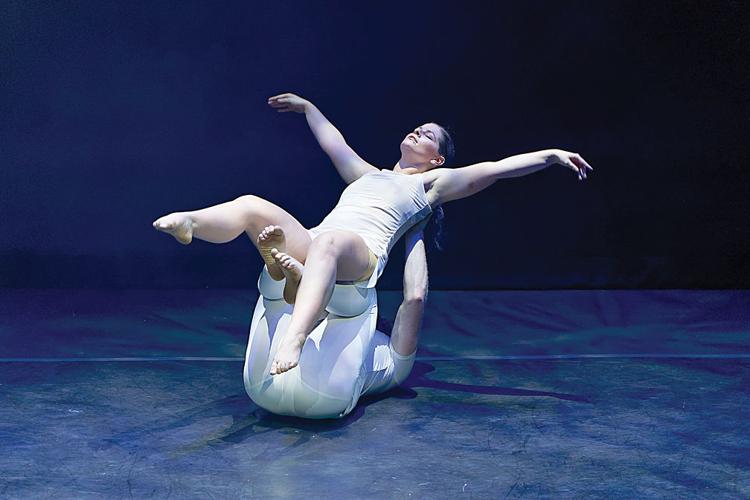 *Edited 2/10/2020 to reflect a change to an upcoming event. The Feb. 22 lecture at the St. Louis College of Pharmacy is no longer open to the public and is now exclusively for STLCOP students.
The dance season soars into full swing with four local and national company performances in February. Saint Louis Ballet offers its Valentine love fest with an evening titled "Could This Be Love?"
Three works are on the schedule at the University of Missouri-St. Louis' Touhill Performing Arts Center starting at 8 p.m. on both Friday, Feb. 14, and Saturday, Feb. 15, with a 2:30 p.m. Sunday matinee on Feb. 16.
"The American," with its passionate couples and fluid ensemble energy, comes from the internationally renowned, choreographic phenom Christopher Wheeldon. Former Royal Ballet and New York City Ballet dancer, he is most known for his recent Tony Award-winning, Broadway success choreographing and directing "An American in Paris."
Of note is that "The American" will be performed here to live music by the nationally recognized, St. Louis-based Arianna String Quartet. The music is Antonin Dvorak's String Quartet #12 in F Major, Op. 96. Performing will be John McGrosso (violin), Julia Sakharova (violin), Kurt Baldwin (cello) and Joanna Mendoza (viola).
Also on the program is a St. Louis premiere, as yet untitled, by nationally known choreographer Emily LeCrone, her fourth original work for the
St. Louis Ballet
And company head Gen Horiuchi presents an encore of his "Jazz à la Française" set to music by Claude Bolling and featuring spirited dancers in red, white, or blue costumes reminiscent of the jazzy American influence on Paris. Horiuchi himself, a former New York City Ballet dancer, will partner Lori Wilson in the lead accompanied by an ensemble of 12 dancers. For tickets from $24 to $59, go to touhill.org or call 314-516-4949.
At The Fox
The same Valentine's Day weekend audiences can catch the return of a reinvented "Riverdance" at The Fox Theater, promising new staging, projections, dance and music. This celebration of Irish arts, a world favorite since it began 25 years ago, runs Feb. 14-16 with 7:30 p.m. shows Friday and Saturday, a 2 p.m. matinee on Saturday, and both 1 p.m. and 6:30 p.m. shows on Sunday. Tickets are $29 to $100 at fabulousfox.com or MetroTix.
Ashleyliane Dance Company
The same weekend, for one night only, those 18 and over can catch Ashleyliane Dance Company's inventive program of dance with hair and fashion design elements. The annual "Love Spell" event starts at 7:30 p.m. on Saturday, Feb. 15 at the .ZACK Urban Ballroom, 3224 Locust St., in the Grand Center area.
The evening explores how celebrations of love are celebrated in different countries. Dance, hair and makeup styles and fashion will range from the spring rituals of ancient Romans and the gift-giving in 18th century England to Judaism's day of romance and some eccentric contemporary twists.
Company head Ashley L. Tate presents her 10 dancers in duet, trio and ensemble work in contemporary, jazz and modern styles. Hair clothing and makeup design is by Jacquilynn Proctor.
After the show, catered nibbles will be provided, but the additional age limit of 21 comes into play with the cash bar of cocktails, wine, beer and other beverages. Tickets are $25, $15 for students with ID and seniors 65 and over.
Dance St. Louis
Saturday, Feb. 22, Dance St. Louis presents "Ailey II," hailed as "The Next Generation of Dance" or Alvin Ailey Dance Theater's second company. The one-night-only performance on the Touhill's main stage is already sold out. Lucky season subscribers will be there to see Ailey's ever-ecstatic, signature, multi-section piece "Revelations," set to traditional gospel songs. The dance pays moving tribute to the spiritual and black-life experience of the mid-20th century South.
Of special interest to St. Louis fans is a full-company piece commissioned from former Ailey dancer Kirven Douthit-Boyd, who is now based in St. Louis as co-artistic director of dance at the Center of Creative Arts (COCA) in University City. The work is set to an original score by Lamar Harris, a St. Louis-based trumpeter and multi-faceted producer, whose influences include jazz, hip-hop and world music.
Also on the program is the high-energy "Where There are Tongues," choreographed by South African-born Bradley Shelver to music and vocals by the French a cappella group Lo Còr De La Plana. Tickets are $35-$69 at the Touhill box office (314-516-4949) or go to touhill.org.
Another opportunity at noon on Feb. 22 is a lecture-demonstration exploring the impact of the iconic "Revelations" at the St. Louis College of Pharmacy Auditorium, 4588 Parkview Place. The event, part of the College's Liberal Arts Convocation Series, is exclusively for STLCOP students.