February is destined to warm up dance fans with the world-renowned, glittering Rubies from Saint Louis Ballet, and later in the month with hot, uber-contemporary dance from London's Company Wayne McGregor.
For Valentine's week, catch Rubies choreographed by 20th century master George Balanchine for the New York City Ballet. Saint Louis Ballet's dancers have proven they can meet the sparkling standards necessary to capture the striking Rubies section of the three-part Jewels, with its Emeralds, Rubies and Diamonds.
Scheduled for Feb. 15-16 at 8 p.m. at UMSL's Touhill Performing Arts Center, Rubies is set to music by Igor Stravinsky ("Capriccio for Piano and Orchestra"). In recent years the work celebrated the 50th anniversary of its premiere in 1967. Words like sassy, witty and jazzy seem to capture the American spirit of the speedy, demanding piece. The dancers in the corps create jeweled necklace patterns. Some of the featured dancers will be Tiffany Mori, Michael McGonegal, Amy Herchenroether (Friday) and Elizabeth Lloyd (Saturday).
Also on the program will be two dances by another 20th century great, Gerald Arpino, who served as the celebrated Joffrey Ballet's resident choreographer and co-founder. The classic beauty of "Reflections" is set to music by Tchaikovsky while "Light Rain," a signature Arpino piece, captures the sensual, disco, youth-inspired, mystic mix of the early 1980s. The excerpt pas de deux is set to music by Douglas Adamz and Russ Gauthier. And Saint Louis Ballet's head Gen Horiuchi offers a new work set to the jazz music of the notable Claude Bolling.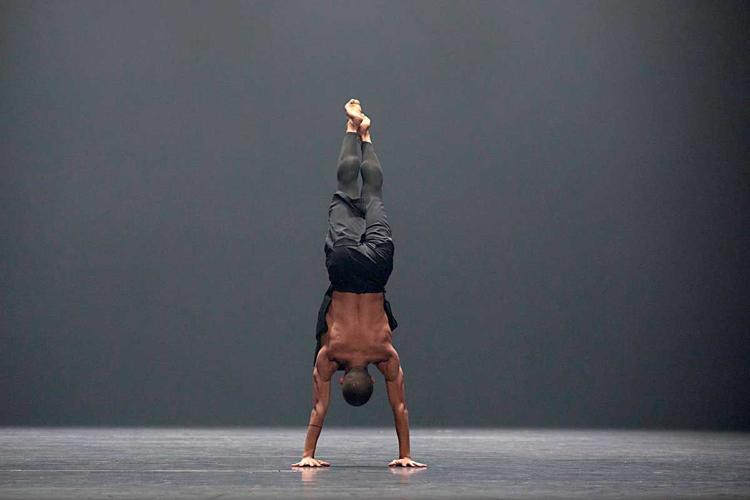 Company Wayne McGregor
Dance St. Louis offers the radical innovation of Autobiography by the Wayne McGregor troupe based in London. This is a full-evening, one-night only show on Wednesday, Feb. 27, at the earlier start-time of 7:30 p.m. at the Touhill Center. In this piece, the skilled dancers reveal their elastic, high-intensity athleticism.
Autobiography is inspired by the sequencing of McGregor's 23 genes and celebrates the interchanging qualities and results of gene mixing by using an algorithm to make every night's sequence of dance sections different. In essence, the work is new each night, to a degree. Section headings include titles such as "Memories" or "Aging" or "Nurture."
Famously, the modern dance pioneer Merce Cunningham revolted against Martha Graham-style emotionality by seeking pure, abstract dance. He rolled dice or flipped coins while experimenting with "chance dance" in the 1950s. In the online CLOT Magazine, dedicated to exploring art and science, the creator of McGregor's algorithm, Nick Rothwell, states, "We're rolling dice, but the dice are made of DNA."
For both Touhill events, get tickets and more information at touhill.org or call 314-516-4949.
GO! Series
And looking ahead, March 1-2 at 8 p.m., Saint Louis Ballet will offer its dancers and audiences a chance to explore a shift from classic ballet with its more traditional sets and costumes. Here they'll loosen their moves to embody contemporary ballet in the more intimate setting of the Grandel Theater in the Grand Center area.
Titled each year the "GO! Series," these specific performances add the subtitle "Beyond Borders" with dances inspired by the choreographer's home country or ancestors. Milan Valko hails from Slovakia, former head of Dance St. Louis Michael Uthoff is from Chile, Monique Meunier looks to her ancestry from Cuba, Ecuador and Spain, while St. Louis choreographers include CiCi Houston and Kameron N. Saunders.
The intercultural themes and explorations of our common humanity will be set to varied music, at times performed live. Listen for Flamenco, Spanish guitar, percussion, as well as music by Bartok, Vivaldi, and local composers Lance Garger and Nicholas Richardson.
For Grandel tickets, go to metrotix.com or call 534-1111.