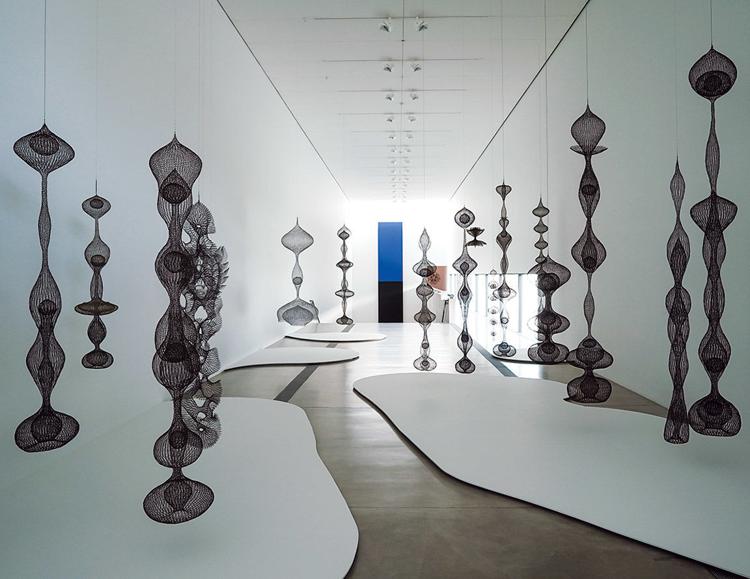 "Ruth Asawa: Life's Work," the current exhibition at the Pulitzer Arts Foundation, reflects the aesthetic and spatial sensibility of the Pulitzer's architecture itself, designed by Japanese architect Tadao Ando.
The Pulitzer has been called a "sanctuary for the ever-evolving experience of art." Even small children enter this sanctuary space and settle into calm, introverted bodies, as they quietly contemplate the zen-like wire sculptures of Asawa.
Like children, we become conscious of what we see even before we have words to express what is seen. Consciousness is like an iceberg, with less seen than unseen; and what we take time to see can reveal that which is unseen. That effect may be what Ando means in saying that architecture can change society.
Integration of Art & Architecture
Concrete and steel are the materials Ando uses to form two bars astride a pool of water that reflects building, people and skies. Copper wire, galvanized steel and brass are the materials Asawa uses to form spheres within larger spheres, which circulate light, shadow and air.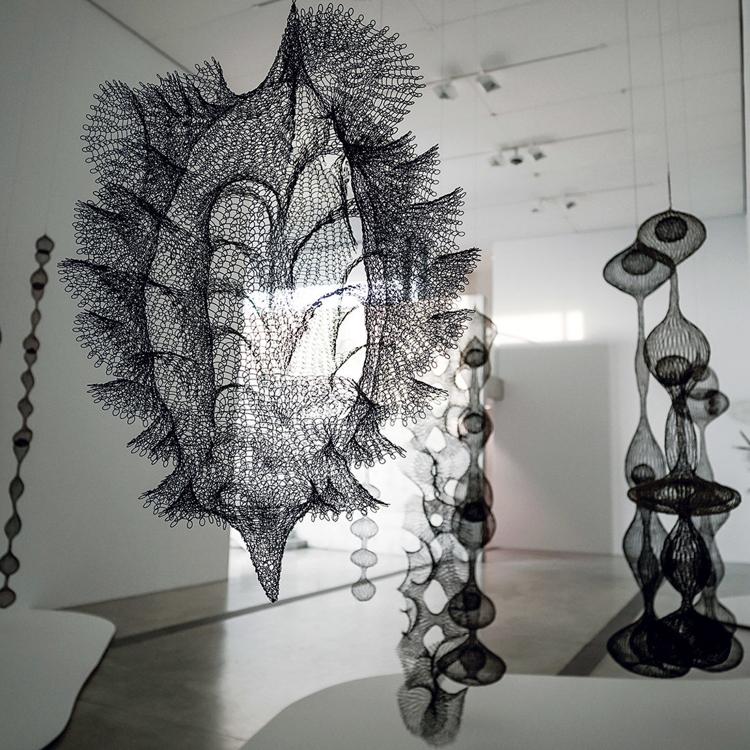 Both the architecture and the art honor honesty of material and simplicity of form. Ando's raw concrete walls are left unadorned by any covering or "skin." Asawa encloses space with wire, allowing gravity and movement of air currents to determine variations in the viewer's experience of density, transparency and color.
Using only humble materials, both architect and artist turn to a quiet inner world of feelings, bringing balance to a noisy urbanized world, screaming with visual distractions. A peaceful serenity emerges from the architecture and art, in relationship with nature. And visiting the Pulitzer on different days and at different times brings a variety of evanescent beauty to the viewer.
Ruth Asawa: Life's Work
Asawa attended Black Mountain College near Asheville, North Carolina, in the early 1940s. Begun in 1939 and in existence only 24 years, the school's influence in all the arts is epic. Faculty included Josef Albers of Bauhaus fame, who was a lifelong influence on Asawa's work. The college stressed communal living, experimental work with materials, and having jobs while enrolled. Asawa used stamps and ink from her job in the school's laundry to produce experimental work on paper, which is on display in the Pulitzer's lower gallery.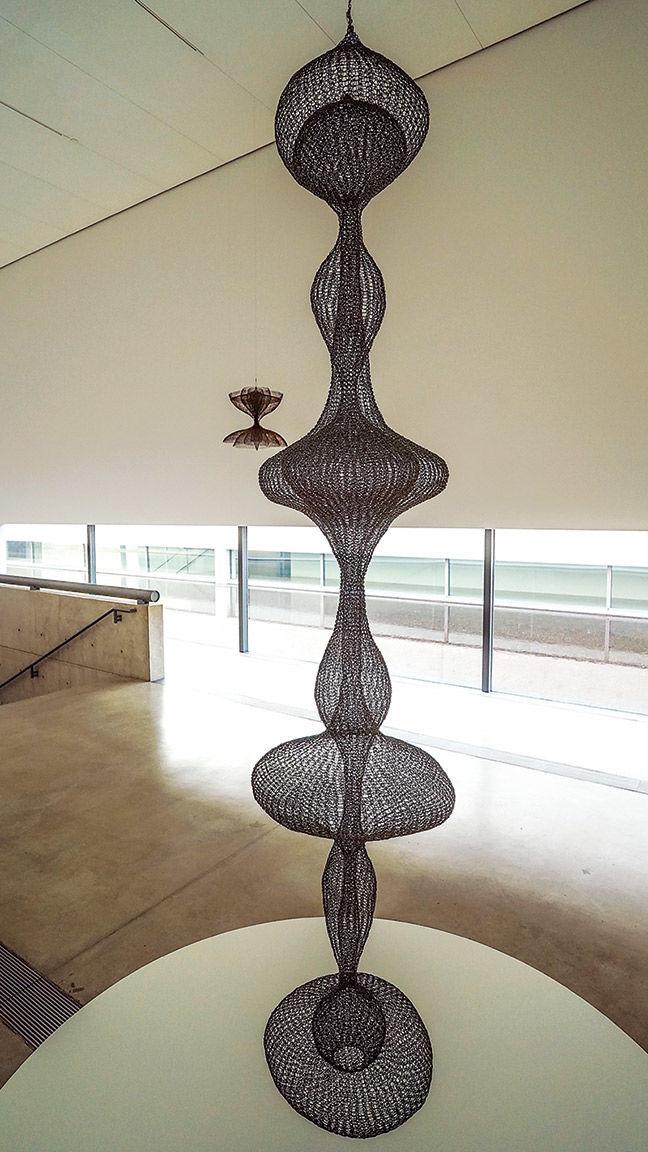 Asawa learned from a craftsman in Mexico how to use wire to crochet a basket. Upon returning home to San Francisco, she developed a method of forming spherical shapes of wire that she nests within larger spheres.
Using only a pair of pliers and her hands, the artist loops wire into sculptures that, hung from the ceiling, transform into hourglass or tear-drop shapes. Asawa often arranges these sculptures in pairs. Gravity and air currents give dance-like movement to these anthropomorphic forms, emphasizing the relationship of negative spaces among "families" of sculptures.
In the Pulitzer's entrance space, the viewer encounters a six-layered piece that Asawa considers one of her most important works. A "family" of four sculptures follow — and lead to the dramatic main gallery, where several groups of sculptures and individual pieces are displayed, including one from the collection of architect R. Buckminster Fuller. Viewed against the background of Ando's water court, just outside the floor level window, that sculpture is magnificent at any hour of the day — and especially at sunset.
Pulitzer curator Tamara H. Schenkenberg organized this exhibition, which will have a catalog available this spring. She structured the Asawa show to provide an integration of art with surrounding architecture. To experience the art of Asawa with open eyes in the sanctuary home that Ando designed is transformative. And it reinforces Ando's belief that architecture can change society.
Ruth Asawa: Life's Work through Feb. 16
Pulitzer Arts Foundation - 3716 Washington Blvd.