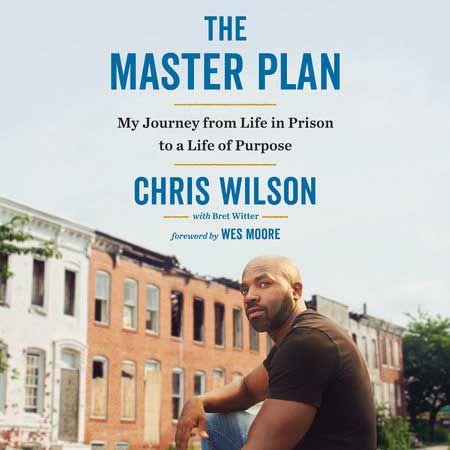 At first glance, Chris Wilson's book "The Master Plan: My Journey from Life in Prison to a Life of Purpose" looks like a straightforward inspirational story of how one man was able to overcome his circumstances and past misdeeds to achieve success. But it is much more. Wilson's ability to examine his own story within the context of American society and the criminal justice system elevates this book to more than simply memoir or social history.
Wilson writes about a difficult childhood, surrounded by violence, seeing his mother severely beaten, and generally making his way without much adult guidance. Without excusing his choices, Wilson writes of the crime he committed at 17 which resulted in a sentence of life in prison.
While he was in prison, Wilson developed a plan for his life. The "Master Plan" of the book's title developed over the years, as goals were achieved, added and modified. Through a combination of hard work, good luck and the help of others, Wilson turned his life around in prison. He dedicated his time and actions toward achieving his own goals and helping others.
After Wilson received a sentence reduction and was released from prison, he faced a whole new set of challenges. He writes of the barriers to safe housing, employment and financial assistance. His story illustrates how the path back to prison is clear, while the path to becoming a productive member of society is difficult and hazardous.
Wilson's story is not a cheerful endorsement of how working within the system can lead to positive results. Instead, he shares his story partially to illustrate how much the system is geared to ensure failure for so many. Rather than saying, "I did it, so anyone can," he seems to say, "Look at how hard we have to work just to survive."
With compassion, honesty and a bit of humor, Wilson shares a story of redemption and the power of hope. It is also a timely contribution to the current discussion of criminal justice reform.
Chris Wilson will discuss and sign "The Master Plan" at 7 p.m. Tuesday, Feb. 19, at Central Library, 1301 Olive St. Wilson will be joined by Missouri Workforce Housing Association Executive Director Jeff Smith.