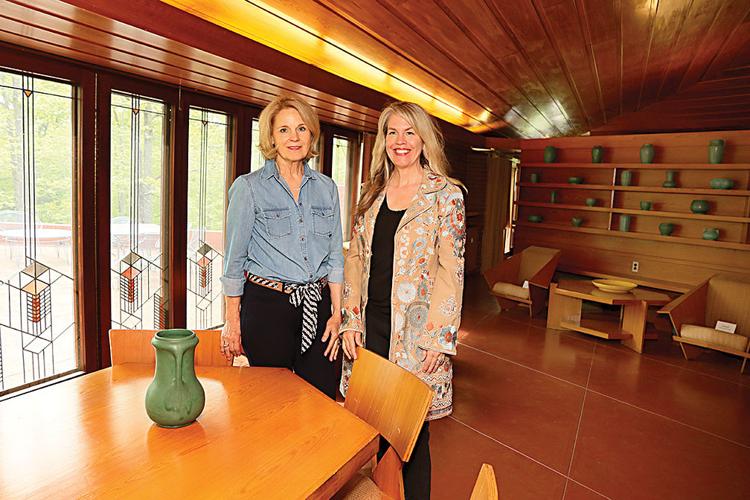 Two St. Louis architectural gems will share the spotlight on June 9 when the new Hotel Saint Louis hosts a benefit for the Frank Lloyd Wright House in Ebsworth Park.
The Kirkwood non-profit decided to hold its annual fundraiser at the hotel because of Wright's connection to Louis Sullivan, the world-renowned architect of the 1893 Union Trust Building. The building has been meticulously restored to its former glory as Hotel Saint Louis.
"Having the event at Hotel Saint Louis just months after its opening was extremely important and an exciting opportunity," said Kathryn Feldt, executive director of the Frank Lloyd Wright House in Ebsworth Park.
Wright worked as Louis Sullivan's draftsman, said Feldt, and he referred to Sullivan as "Lieber Meister" (beloved master).
"It's so exciting to have that tie with an old building that is developed into a new hotel property," said Liz Gibbons, co-chair of the "Preserving What's Wright" benefit along with her husband, Mike Gibbons. "There's the tie between Louis Sullivan the architect and Frank Lloyd Wright, who was studying under him at the time the Union Trust Building was being built."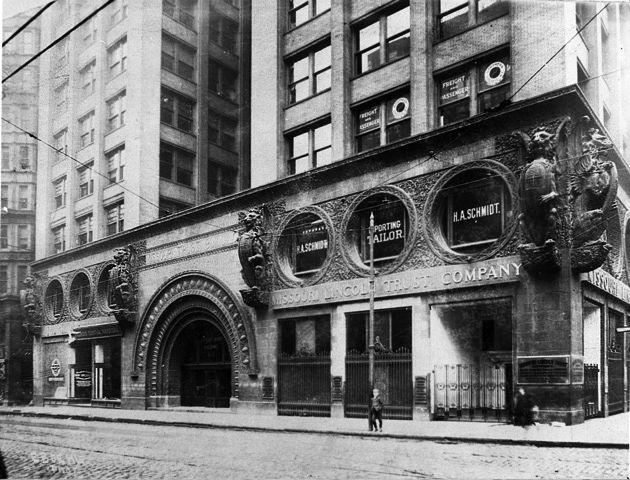 Hotel Saint Louis
Amy and Amrit Gill, owners of Restoration St. Louis, breathed new life into the endangered historic Union Trust Building at 705 Olive St. in downtown St. Louis when they purchased it in 2015. It is one of only 30 Sullivan buildings left in existence.
After a $68 million renovation, Hotel Saint Louis opened in December 2018. There are 140 guest rooms, including 52 suites, 14 luxury apartments, a three-bedroom penthouse, the street-level restaurant Union 30, a rooftop pool and other amenities.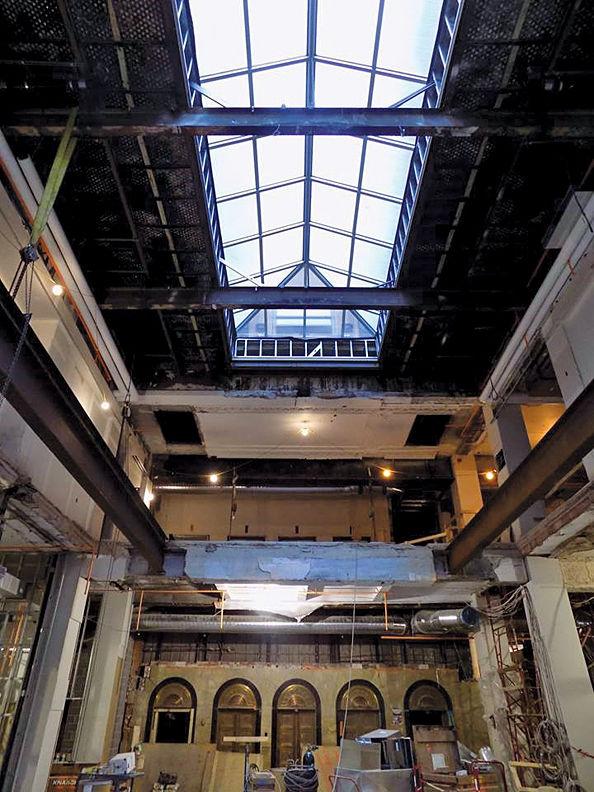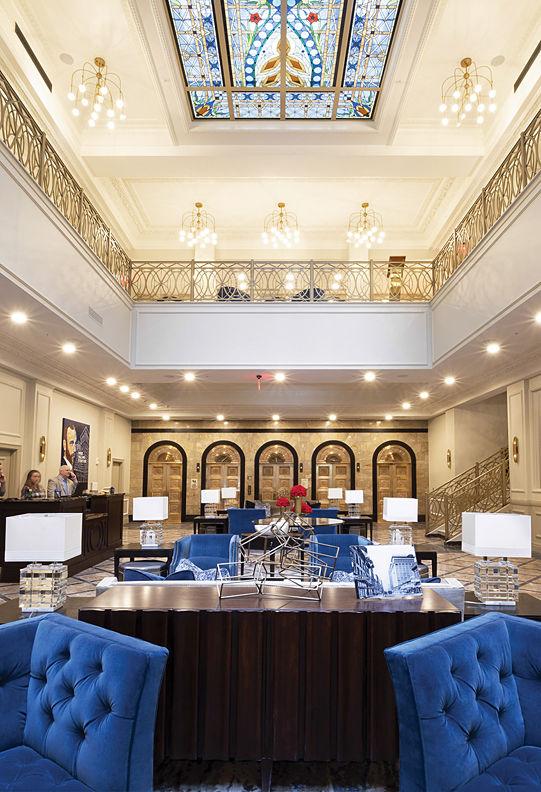 The Gills made a concerted effort to stay as true to the original Sullivan design as possible. Except for some alterations in 1924, the exterior of the building is in its original form. The Gills even left intact the multi-story mural of ancient Greek architecture that adorns the hotel's exterior back wall.
"When the Gills renovated the property they did as much as possible to restore what was there," said Gibbons, noting they even found the original mold for the cornices which they used in the hotel's restoration.
At the June 9 fundraiser for the Frank Lloyd Wright House in Ebsworth Park, Amy Gill will describe the restoration and talk about future restorations in St. Louis, said Feldt.
"She and her husband have done many restoration initiatives across the country, but this project has been referred to as their love affair and gift to St. Louis," said Feldt.
The event will feature tours of the hotel so attendees can see the exquisite restoration for themselves – from the 16-story naval blue wrought-iron staircase and arched windows to the elaborate terra cotta trim, cornice, cast-iron embellishments and balustrade panels.
The benefit will be held in the rooftop FORM Skybar, which features a panoramic view of downtown. A Wright-inspired auction and food samples curated by Hotel Saint Louis' "Chef Birk" (Matt Birkenmeier) round out the evening.
"This is an opportunity for people to get a first intimate look from a very important perspective and help a neighborhood landmark," Feldt said.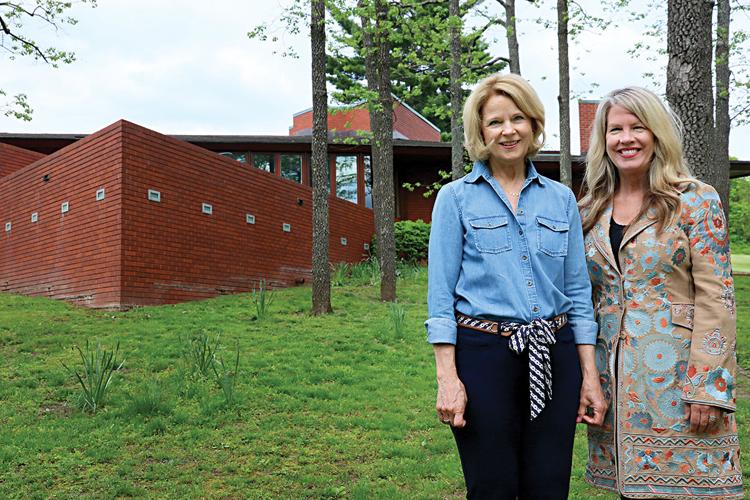 Frank Lloyd Wright House in Ebsworth Park
The Frank Lloyd Wright House in Ebsworth Park was Wright's first building in the St. Louis area and one of only five in Missouri. Wright designed the 1,900-square-foot brick and cypress house for artist Russell Kraus and his wife Ruth in 1950. The building, often referred to as the Kraus House, sits amid a persimmon grove on 10.5 acres at 120 N. Ballas Road in the Sugar Creek Valley area of Kirkwood.
In 2001, the Frank Lloyd Wright House in Ebsworth Park non-profit purchased the house and grounds from Russell Kraus and deeded the property to St. Louis County for a public park and house museum. The organization is responsible for the preservation and operation of the house museum; St. Louis County Parks and Recreation maintains the grounds.
The house was renovated to exacting museum quality standards. Known for its intersecting parallelograms, the structure still retains the original Wright-designed furnishings and fabrics — chairs, tables, ottomans, even a unique parallelogram bed.
The house is an outstanding example of Wright's Usonian style. The style was intended to be used for efficient and economical residences for middle-income Americans, Feldt said.
"A lot of times people think of Frank Lloyd Wright's buildings as being big, like 'Falling Water,'" said Gibbons, referring to the famous house Wright designed in Pennsylvania. "I think it's important for people to see what he designed for middle class families."
Feldt encourages people to experience the house and support it with their membership. Various levels are available, which entitle members to special events, tours and more. One membership level gives members free or discounted admission to about 40 Wright-designed properties around the country, including "Falling Water," Feldt said.
"A lot of people think when we acquired the property and memorabilia in 2001 we accomplished what we set out to do," she said. "The reality is the preservation of the Frank Lloyd Wright home – and any historic home – is ongoing and requires ongoing care and support."
This year's benefit will raise money for a variety of critical restoration projects, including restoration of the museum's terrace.
"We're very disciplined and deliberate in our preservation work," Feldt said. "The benefit will help us restore the terrace to the original Frank Lloyd Wright intent."
Regular docent-led tours are offered by reservation only. The tour schedule has been expanded so more individuals can experience the house. Other events include Twilight Tours, lectures and various exhibits.
The June 9 event at Hotel Saint Louis will be held from 4 to 7 p.m. Tickets cost $125. For tickets, more information about the house, programming or tours, visit www.ebsworthpark.org.