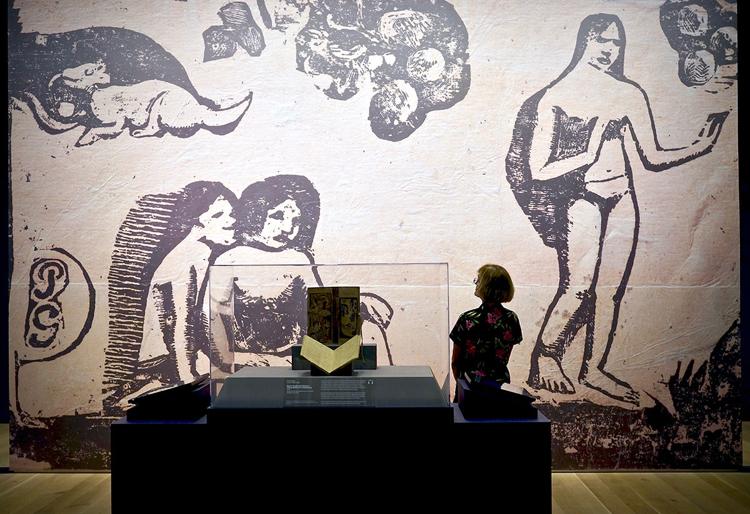 The Saint Louis Art Museum exhibition, "Paul Gauguin: The Art of Invention," is challenging in showing Gauguin from a unique prospective. A map at the entrance pinpoints the artist's diverse travels and places of residence, forming a timeline of his convoluted life. 
Though he was born in Paris (1848), Gauguin's family soon moved to Lima, Peru, then back to Paris when he was 6 years old. After an early career as a Paris stockbroker, Gauguin married and, in his mid-30s, moved his family to Denmark. 
But he soon began a restless artistic journey of travels back to Paris, to Brittany, Martinique, Polynesia, Tahiti, the Marquesas Islands and New Zealand. Late 19th century life seemed to shape an urgency in him, a search through several personal relationships, in a global world of rapid change.
Simon Kelly, curator of modern and contemporary art at the Saint Louis Art Museum, along with research assistant Abigail Yoder, organized over 50 works by Gauguin from the Copenhagen museum Ny Carlsberg Glyptotec and about 30 objects from the Saint Louis Art Museum's own collection into six galleries. Seen together, these works give coherence to Gauguin's stylistic shifts and range of materials.
The first two galleries highlight Gauguin's early Impressionist-style painting, including the beautiful "Sailing Vessel in Moonlight" (1878), as well as "Landscape from Osny" (1883) painted in his friend Camille Pissarro's hometown. Also in this gallery is "Portrait of Mette Gad," a simple pencil portrait of Gauguin's wife, drawn in 1873 before he began his extensive traveling.
Gauguin hints at his interest in primitivism as an alternative to the modern world with a Peruvian textile in the background of his "Woman Sewing," painted in his Paris studio in 1880. The Saint Louis Art Museum's comparable South American textile, "Aymara: Poncho," hangs alongside the Gauguin.
The third gallery follows Gauguin to Martinique and Brittany and includes Gaugin's polychrome woodcarvings, striking ceramics and increasingly abstracted paintings. The primitive, seemingly unfinished carving of "Reclining Woman with Fan" (1889) reveals his reaction against academic art of the day, in contrast with his earlier and quite-finished wood sculpture "The Singer" (1880).
The fourth and fifth galleries focus on Gauguin's two voyages to Polynesia and illustrate his mature painting style — simplified forms, colors and patterns. His 1891 "Tahitian Woman with a Flower," and his "Reclining Tahitian Women or The Amusement of the Evil Spirit" (1894) are iconic works painted in Polynesia. Also in this gallery are outstanding Polynesian arts of the type that inspired Gauguin — pots and glassware from 1893-95, Samoan tapa cloth and powerful Maori art — all from the museum's collection. 
The final gallery contains a Gauguin woodcut and lithograph from the Mildred Lane Kemper Art Museum, plus Gauguin's woodcuts on various China and Japan papers and his color woodcut, "The Creation of the Universe," (1894) from the Saint Louis Art Museum collection.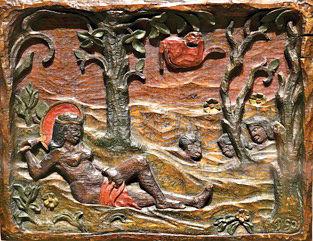 There is also another media exploration by Gauguin, his hand-written manuscript, "Modern Thought and Catholicism." This treatise and the accompanying two woodcuts and two transfer drawings — given to the museum by former St. Louis resident and actor Vincent Price in 1948 — provide a unique highlight and "note" of closure to the exhibit.
Paul Gauguin: The Art of Invention
Saint Louis Art Museum
July 21- Sept. 15