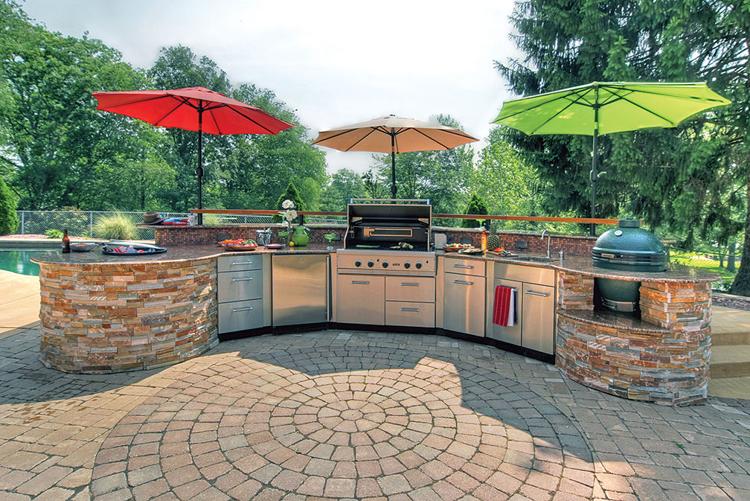 With a few tantalizing days of temperatures in the 60s and daylight lasting a bit longer, the urge to break out the old barbecue grill gets stronger.
Wouldn't it be nice not to have to brave the elements to satisfy this urge? Outdoor kitchens have been around for several years, but their popularity has exploded over the past decade.
While St. Louisans love to complain about their weather, St. Louis is the ideal place for an outdoor kitchen because we (usually) get to experience all four seasons.
Jill Worobec, senior designer at Mosby Building Arts in Kirkwood, said the outdoor kitchen is an extension of the home without doing a room addition.
"By extending the living space outside, you're adding another dimension to your home and having more space for entertaining," she said. "Many people in St. Louis have pools, so this becomes another area where they can entertain and don't have to bring the pool party inside."
A good point, to be sure, because who wants drippy footprints inside the house?
In discussing outdoor options with clients, Worobec seeks to discover the ultimate purpose of the space.
"Is it a small oasis for you where you can enjoy your morning coffee?" she said. "Or do you want to entertain?"
If the answer is "entertaining," she then suggests an outdoor kitchen.
"Maybe more than just a grill, and adding some cabinetry where they can keep materials outside through the seasons," she said.
Richard Stephens, owner of Red Oak Landscaping in Arnold, said many landscaping businesses are creating spaces where more time can be spent outdoors.
"Almost like a 'staycation,'" he said. "Some people take time off work and they do things around their community that they normally wouldn't do — act like a tourist in their own city So they create spaces in their backyard to get the experience almost like they're somewhere on vacation.
"A lot of outdoor kitchens projects come with a pergola or a pavilion setting as well where you have overhead lighting and you're creating this ambiance in a space where you're entertaining friends and family, and you just want to be outside," Stephens continued.
One of the first things Stephens discusses with a client is price.
"You can get a simple outdoor kitchen with a grill and counter space or you can get extremely elaborate," he said. "Their budget dictates what the outdoor kitchen will entail and what materials will be used."
Worobec and Stephens said natural stone is a better choice than a man-made products because stones stand up better to being exposed to the weather.
Material choice is one thing to consider, and one has to remember that components such as the grill, refrigerator and other appliances add to that price.
Worobec recommends an ice maker and a sink. "A warming drawer is another option, and a side burner for the grill."
Pizza ovens and smokers make great additions to the outdoor kitchen.
Stephens said with a Kamado-style grill like the Big Green Egg, one can grill, smoke or cook a pizza.
Another consideration is in choosing an appropriate location for the outdoor kitchen.
"Does the area face the east or west?" Worobec said. "If you want a cover, what type?"
Depending on the size of the area, a client may opt for an umbrella table, or a pergola for a much larger area.
"There might be a retractable screen on all sides, but the space still feels open, airy, and protects you from mosquitoes," she said.
Stephens said clients can also purchase outdoor kitchen kits, which include everything but the components such as refrigerator, grill or sink.
"The kit comes with a stone countertop and comes on a pallet," he said. "Your contractor builds it on site and you measure the openings for your components. It can be done in a day."
Gathering around a fire pit on a crisp, fall evening is made even more inviting if the pit is part of an outdoor kitchen.
"Maybe a movable fire pit or something that would be built-in, like a wood burning pit with a gas igniter or an appliance like a brick oven," Worobec said.
St. Louis is a great place for an outdoor kitchen, and many options and prices are available for those who are considering adding an entertainment area, or just a comfortable place to relax.