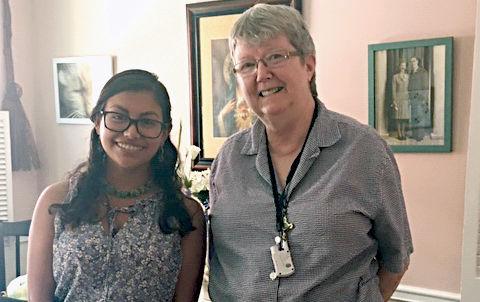 With thousands of Baby Boomers retiring each year, the face of America is changing. According to Washington University professor and expert on aging Brian Carpenter, Ph.D., more and more Boomers are rejecting nursing homes and retirement facilities in favor of aging in their own homes.
But seniors living alone, especially those with mobility issues, often struggle with upkeep or experience social isolation. With limited income after retirement, some also have financial troubles.
Fortunately for St. Louis seniors, retired investment banker John Levis has a solution. In 2017, then 76-year-old Levis founded Odd Couples Housing, a service that connects independent senior homeowners with responsible millennials looking for a place to stay.
Levis' idea began when he observed his mother-in-law, who lived in a two-bedroom, two-bathroom apartment. Her twin sister lived in the apartment building in the same size apartment. Realizing each twin was using only one bedroom and one bathroom, Levis suggested they move in together and share home and caregiver expenses.
With the sisters cohabiting successfully, Levis thought he was onto something. He and business partner John O'Connell contacted the Olin School of Business at Washington University and hired a team of MBA students to study their new business prospect — a senior-to-senior housing matching service. Midway through the study, the students told Levis he had a winning idea, but there was one problem.
"They said, 'your idea is really a good one, but if you have a situation that doesn't work out with two seniors, you'll have a displaced person. How about us — graduate students and professionals?' So we pivoted and decided we'd do multigenerational housing as opposed to senior to senior," said Levis.
A Good Fit
Using a compatibility survey built by Carpenter, Odd Couples Housing is now matching senior-millennial pairs all over St. Louis. Once a pair is deemed suitable, Odd Couples arranges an in-person meeting and home tour. All final decisions, rent agreements and housing arrangements are determined by the couple themselves. Since its official launch in 2018, the program now has hundreds of candidates signed up, with the number of millennials far outpacing the number of homes available.
As Carpenter explained, the algorithm matching seniors to millennials is not dissimilar to most dating websites.
"We're asking some generally big questions to give people a flavor of who they might be interested in living with. Lifestyle questions like do they have a pet? Are they a smoker or non-smoker? Morning person? Those kinds of questions help weed out those who might not be a good fit," Carpenter said.
Though Levis said he plans to refine the algorithm further in the future, Odd Couples has already experienced success in most of its matches.
One perfect pair is University City homeowner Abby Schult and millennial graduate student Erika Gavilanes. A widow since 2011, Schult applied for Odd Couples Housing after reading about it on a neighborhood blog. Their agreement centers on Gavilanes doing chores, taking care of the pets and watching the house when Schult travels. The two have been living together for two months.
"I didn't know anything about Ecuador before Erika. I'm really impressed with her love for her country and dedication to her family," said Schult. "She's a really good woman. I really like her."
Gavilanes, who learned about Odd Couples from a school friend, said she would recommend the program to other students as an alternative to more expensive housing.
"It's a really good option. It's cheaper than having a place of your own and you only have to do normal chores you'd do on your own," said Gavilanes. "You don't sign a lease. You're there for as long as you both want."
A Social Solution
While having a millennial around has financial and physical advantages, according to St. Louis University Professor Jennifer Ohs, Ph.D., the benefits can improve a senior's overall health as well.
"As people age, their social networks tend to shrink. They are more selective about how they spend their time and who they spend their time with. That has benefits but it can also be isolating, particularly as our friendships and our family members are geographically distant," said Ohs. "As our social networks shrink locally, it is often valuable to have someone in your close community, if not in your home, to interact with as a form of social support.
"Social support and social connection locally are very important for our well being," she continued. "Our physical, social, psychological and spiritual health are all intimately connected. This is a wonderful, viable option for supporting older adults who want to age in place. Our country does not support older individuals living their best lives and this program can certainly do that."
Odd Couples Housing CEO Steve Lilly added that the program benefits millennials as well, offering affordable housing to undergraduates, a group often neglected by colleges. The abundance of graduate and professional students in St. Louis, he said, is what makes this city a great market.
"We have a wonderful housing stock in St. Louis," he said. "A lot of those homes are populated by individuals who have aged in those homes for many years. When the concept was developed, we aimed our mission and method around universities … Doing this here as our launching pad made a lot of sense to me."
Odd Couples currently does not charge for its services, said Lilly, but this may change as the company grows. Lilly predicts only a small fee to sign up for matching, with most of the revenue coming from website advertisements. Odd Couples might also offer other housing services in the future, such as maintenance.
Learn more about Odd Couples Housing at oddcoupleshousing.com.