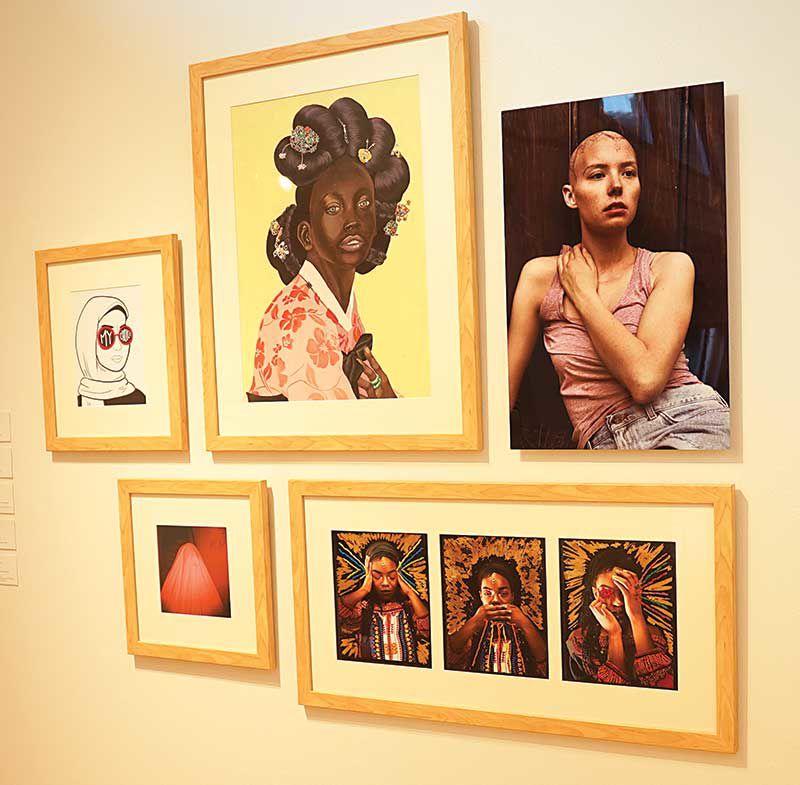 The Center of Creative Arts (COCA) Millstone Gallery is currently showing a traveling exhibition, "Art. Write. Now." — a selection from this year's Scholastic Art and Writing awards.
This national exhibition program is nearly a century old and, in 2018, awarded over $300,000 in scholarships to middle and high school students across America.
Distinguished alumni of this program, funded in part by the National Endowment for the Arts, include: Bernard Malamud, Truman Capote, Sylvia Plath, Andy Warhol, Robert Indiana, John Baldessari, John Updike, Robert Redford, Joyce Carol Oates, Stephen King, Ken Burns and Lena Dunham.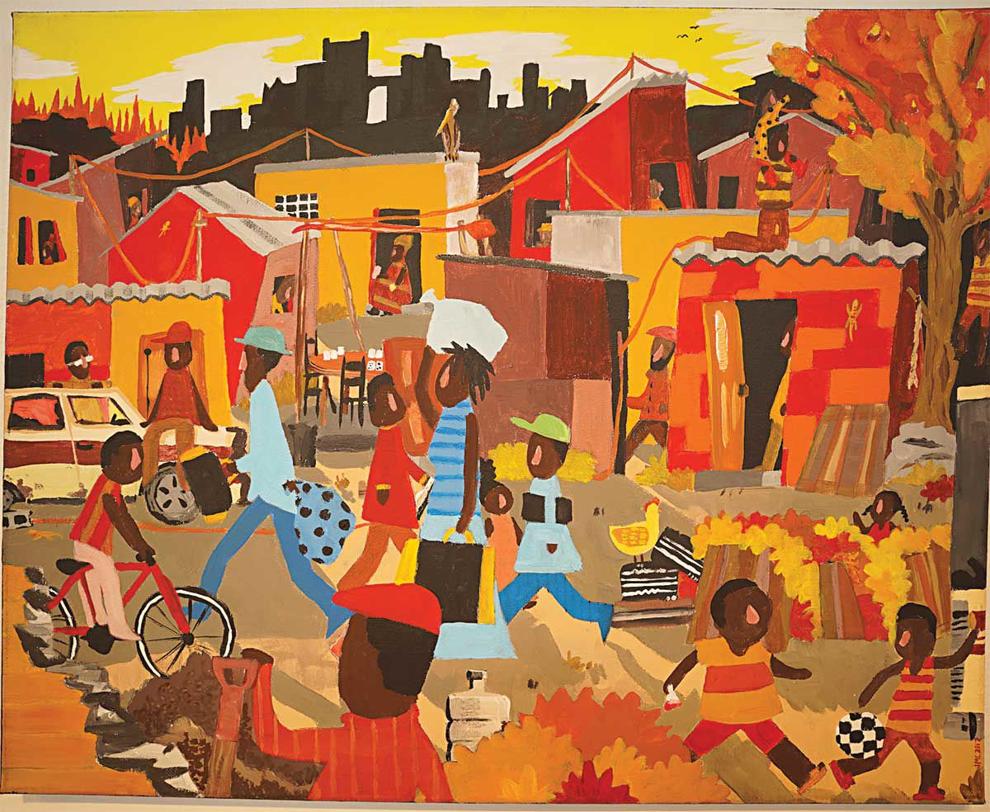 Portions of the awarded works are currently exhibited in major cultural institutions across the country. This juried exhibition at COCA offers discomforting awareness of contemporary inequalities by depicting appalling conditions of the poor and underprivileged, as these young student artists display an impressive understanding of the cunning ways that individual perceptions can lure us into humankind's collective love for discrimination and prejudice.
In her painting, "Fragments," Julie Wang of Irvine, California, experiences the uncertainties of a collapsing "now" and envisions a reconstructed, more whole-brained view for the future. The artist's creative process imagines a surrealist landscape that abandons comfortable and engrained perspectives to create a new construction and view of reality.
Javier Gutierrez of Burbank, Illinois, depicts an affluent suburban couple and their young daughter (who clutches an American flag), as they enjoy a backyard picnic on a blanket. The family's well-brushed and contented golden retriever looks devotedly at his master. A tray with a pitcher of iced tea and a red "Make America Great Again" cap rest alongside an upscale picnic basket. Superimposed red script, across the white picket fence in the background, is picture postcard goo — "Wish You Were Here!"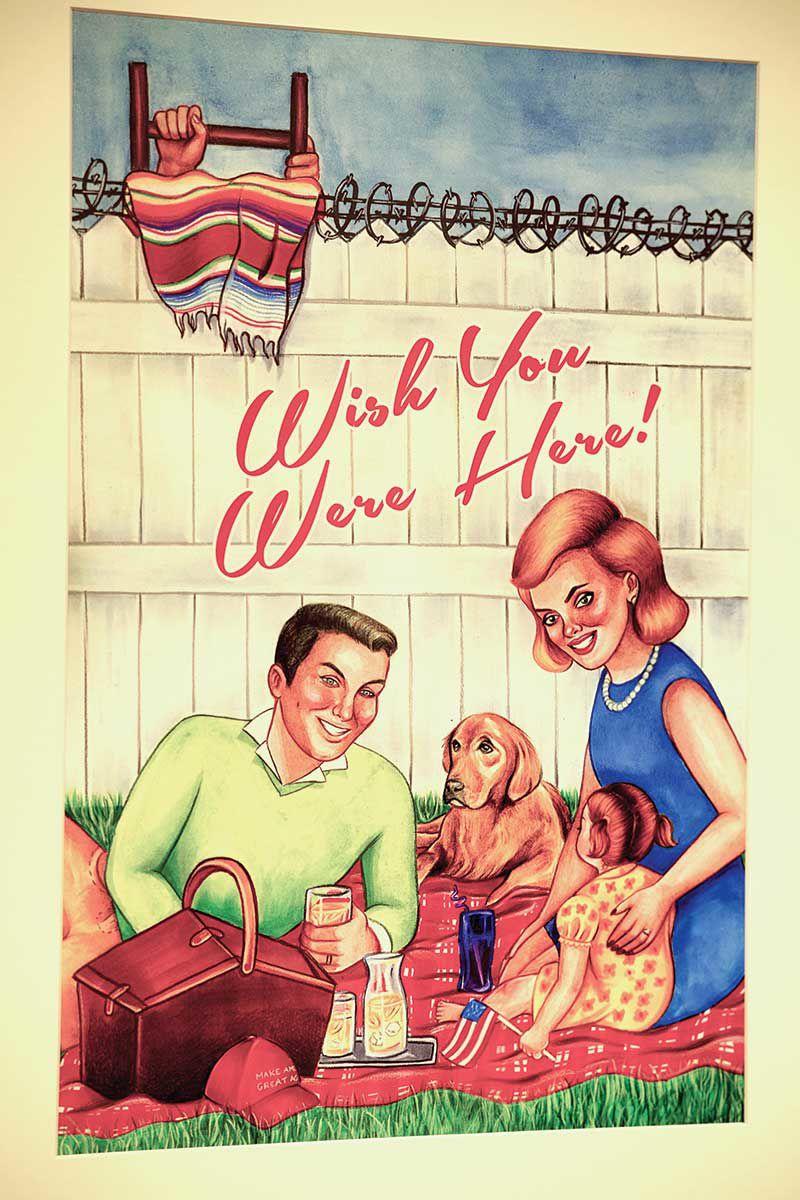 From the other side of the high fence, brown hands grasp a ladder, where a Mexican blanket is draped over a section of the prison-coiled barbed wire that stretches across the fence top. The cashmere-sweatered husband and his blond, well-coiffed wife (picnicking in a blue dress and pearl necklace) look outward, smiling for the camera/viewer. Only the daughter, who faces the fence, is able to see the "background story."
Other gold medal winners exhibited include Rachel Whitbeck of Monticello, New York, for her fashion piece, "Hashtag Black Power," and Katie Goldenberg of Bronx, New York, for her editorial cartoon, "Close the Gap," addressing unequal pay for women and blacks. Also, Yunjin Lee of Tenafly, New Jersey, for her painting of a kimono-clad young black woman with hair sculpted into art, as well as Jesse Cockerham of Clemmons, North Carolina, for his street scene painting, "Nassau."
The next generation of great American artists and writers may be found right here, addressing many of the complexities of problems confronting our times. They see and communicate boldly in this exhibit: "Art. Write. Now." Hope may be found in listening to these young voices of art — right now.