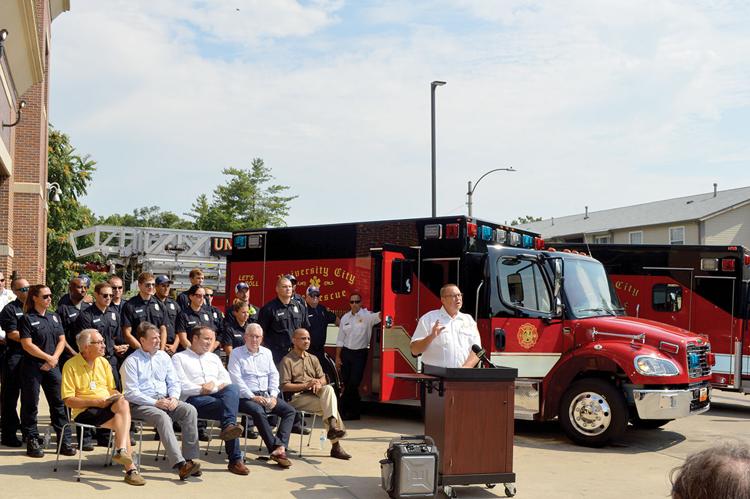 As of 7 a.m. on Saturday, Aug. 3, ambulance service in University City is officially back under city control after several years of outsourcing. City officials addressed the changes at a public event that morning at Fire House #1 on Westgate.
University City used its own paramedic/firefighters on city ambulances until August 2015 when the city council approved a contract to outsource ambulance service to Gateway Ambulance (now MedicOne). Many residents were critical of the outsourcing, with concerns about quality of service and lack of knowledge of the city by Gateway.
"This has been a five-year-long struggle, but it was also about an engagement in democracy that has brought EMS back in the community," said University City Mayor Terry Crow. "Today is about how we move forward."
Crow said the move would bring a return of mutual aid between University City and surrounding municipalities, including Clayton, Richmond Heights, Olivette and Brentwood.
City Manager Greg Rose said officials at MedicOne were understanding of the move and supportive during the transition.
In October 2018, the city received a $1.9 million SAFER grant from the Federal Emergency Management Agency (FEMA), which allowed the department to hire 12 additional paramedic/firefighters. Crow said several of those staff members are veterans of the U.S. military. The staff has been training since March on new equipment including new heart monitors and a new ambulance, which was unveiled at the event.
The ambulance's "box," the compartment where patients are treated, was taken off of an older city ambulance, refurbished, and then put on a new chassis.
Paramedic/firefighter Matt Pagano said the rehab saves the city approximately $100,000 from the cost of a new ambulance. He said a second ambulance is currently being rehabbed in a similar fashion. When it is finished it will bring the city's total to four. Pagano was recognized by several city officials as being instrumental in obtaining the SAFER grant.
Fire Chief Bill Hinson described the long history of the University City Fire Department, which was founded in 1906. He said it was one of the first departments west of the Mississippi River to use a hydrant system. In the 1940s the department was also one of the first to use modern-day ambulances, which Hinson said were not common until the 1960s and 1970s. Prior to that, many departments utilized cars similar to the hearses used by funeral parlors.
Like Crow, Hinson also addressed the future. He said the department is in discussion with the University City School District to create a training program for students interested in becoming EMTs.