A new monthly show in the Central West End, might be just the thing for fun-seekers this spring and summer.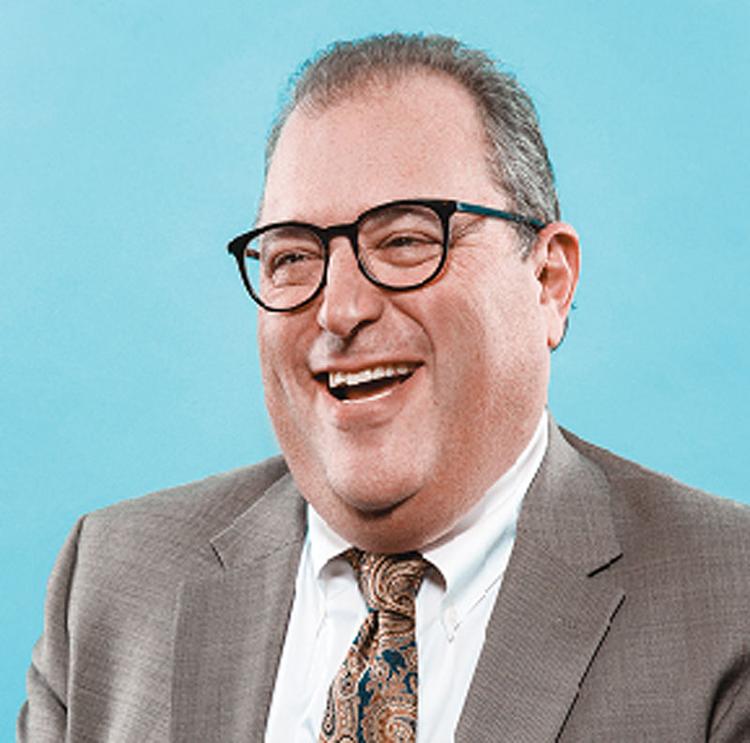 The Gaslight Comedy Series is a grassroots stand-up show featuring an alternating lineup of St. Louis and Midwest comics. Hosted in the Gaslight Theater, 358 N. Boyle Ave., visitors can enjoy dinner and drinks from the adjacent West End Grill and Pub before and after the show. The theater seats an audience of 100 and, according to series host Yale Hollander, "there's not a bad seat in the house."
Hollander is the brain behind Laugh Tracks, a live comedy program briefly performed aboard the short-lived Loop Trolley. A lawyer by day, Hollander became involved with the St. Louis comedy scene in 2016. Both jobs, he said, involve similar skills.
"I work with a company that works with attorneys on developing their practice skills," said Hollander. "I've long been accustomed to public speaking and talking with people and I've always found that the more humorous I can make it, the better the message sticks. So it wasn't a huge leap from my day job to comedy."
About a year in, Hollander became involved in comedy promotion, working to put together shows and making sure local comedians have the opportunity to perform in front of paying audiences and sharpen their skills. Before focusing efforts on the Central West End, he put on shows in Clayton, Webster Groves and other St. Louis neighborhoods.
The Gaslight Comedy Series is designed to bring local comedians into the spotlight. The hour-and-a-half long shows feature a rotating mix of new comics and more experienced "headliners," including the occasional out-of-state guest.
According to Hollander, many of the comics involved in the series are people he's watched over the years. It's fun, he said, to watch a total stranger develop their act across multiple shows and become "someone you want to see."
"The St. Louis comedy community is mutually supportive. We all see each other. It's a tight but welcoming community," he said. "A perfect example is Sam Lyons. I met him three years ago at an open mic. I started putting him on in five to 10 minute sets and he's grown and worked his way into a headliner."
Twenty-seven-year-old Lyons has been performing standup for six years, the first three in Mississippi, where he went to school. He was a featured performer in the very first Gaslight Comedy Series show on Friday, Jan. 31.
"I was always interested in comedy as a kid, but I didn't think comedians could become famous. I thought that famous people became comedians. The only comedians I knew were from 90's sitcoms — Tim Allen, Bill Cosby, people like that," said Lyons.
When Lyons learned about open mic nights at local establishments, he jumped at the chance. Starting with five-minute sets in bars, Lyons grew his act over the years, eventually deciding to move to St. Louis, where he could get consistent performance experience. He spent the next several years getting to know the St. Louis comedy scene, performing around the city, meeting other comedians and spreading the word.
The Gaslight Comedy Series, said Lyons, is a great introduction to what live comedy is meant to be.
"I want comedy to become normalized. I want it to be treated like an art form. A band can play at a concert hall, at a venue, in somebody's basement, and everyone is cool with it. But comedy still has to be at a club or established bar that does this sort of show," he said. "I want comedy to be something that can happen anywhere. There's a lot of us (comedians) here and we want to be on stage and we will do this in whatever form we can."
The Gaslight Comedy Series continues on Friday, March 13 at 8 p.m. Featured comics are Lisa Pockets, Becky Polacek, Brendan Olson and headliner Rich Braun. Other shows are scheduled for April 3, May 8 and June 5. 
Hollander hopes the Gaslight Comedy Series will continue past June and become a fixture of the St. Louis comedy scene. 
"We are thrilled to have a regular presence in the Central West End," he said. "For $10 you'll get an hour and a half of live entertainment. It's always a good time. We put on a pretty diverse lineup of comedians and styles. There'll be something for everyone. And you're supporting the local arts community and supporting a venue that supports the local arts community."
Tickets are available for all shows at ticketmaster.com or at the Gaslight Theater before showtime. For more information, check out The Gaslight Theater Comedy Series on Facebook or visit www.gaslighttheater.net.