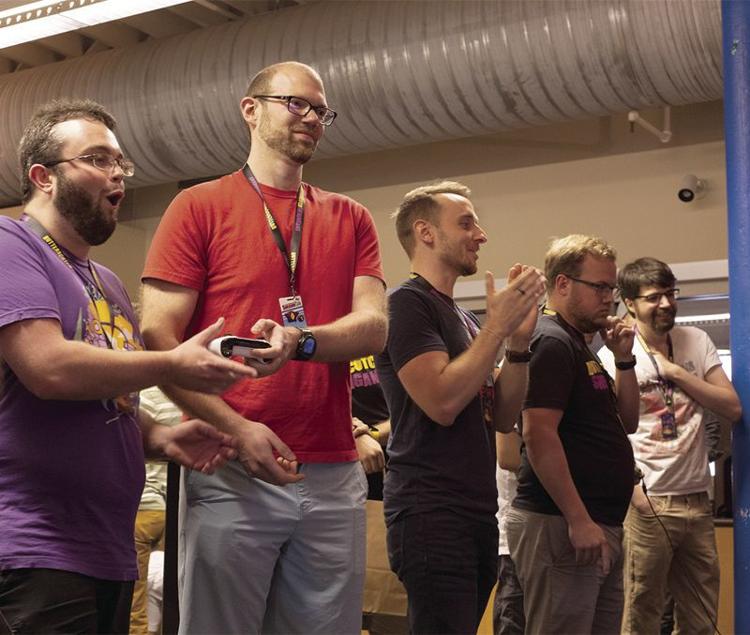 Award-winning video game studio Butterscotch Shenanigans recently launched the beta version of "LevelHead," a level-building game in which players build obstacle courses to test and train delivery robots. 
Fans of the Central West End-based studio gathered at the CET  on Sarah Street on Saturday, Sept. 28, for the second annual "Shenanicon," Butterscotch's fan convention. Players met with the company's founders — brothers Adam, Seth and Sam Coster — listened to a live podcast recording and competed in a "LevelHead" tournament. 
According to Sam Coster, the convention is Butterscotch's way of putting a face to their players.
"It's one of the things about being a game developer. It's not like you're a musician and can play a concert and see your fans," he said. "We wanted to create a mini version of that where we could meet them. It's a long form mingling session."
"LevelHead" is Butterscotch Shenanigan's sixth game since its founding in 2012. But prior to that, its three founders had very different plans. Eldest brother Adam, then working on his Ph.D. in microbiology, wanted to create science equipment. Little brother Sam, a graduate of Washington University, wanted to author books. Only Seth Coster, perhaps prophetically, declared he wanted to make video games. 
On a road trip, the three brothers talked about forming an umbrella company for their various projects. 
"We thought, 'OK, what's a good term that encompasses all of what we're doing?'" said Sam Coster. "Shenanigans. And we spitballed from there and got 'butterscotch.' It felt good." 
A Family Business
While their older brother finished his Ph.D. in Texas, Seth and Sam started work part time under the name, "Butterscotch Shenanigans." In early 2012, the two entered the St. Louis Global Game Jam — a 48-hour game programming competition — and were hired in the parking lot as a result of their performance. 
For six months they worked for St. Louis-based online game company Simutronics until quitting to launch Butterscotch full time in November. Two games later, they were joined by their brother. Finally, they had their first hit in their third game, "Crashlands," in which players assume the role of an interstellar delivery woman tracking down a shipment in an alien landscape.
According to Sam Coster, all of Butterscotch's games are set in the same universe, revolving around the prosperous "Bureau of Shipping." 
"They're approachable, they're whimsical, they're cartoonish," he said. "The overall theme tends to be one of people trying to do their best in circumstances where things slide completely sideways. They always joke about bureaucracy and people getting in the way of you doing your job."
After the success of "Crashlands," the three brothers were able to open a new role in their company, hiring Shi Chen, a former employee of Riot Games, a company best known for the popular "League of Legends." Seth Coster's wife, Sampada, joined the company in February 2019. Butterscotch also employs several local and remote game testers on a freelance basis.
 Chen, a friend of the brothers through the St. Louis game developer scene, has been instrumental in helping with the launch of Crashlands in China. His day-to-day role is to format Butterscotch's games for multiple platforms. The company's games are compatible with Xbox, Steam, mobile phones and the Nintendo Switch.
"What's exciting is getting paid to make video games. I grew up with them. To actually get into the sausage factory and become the wizard that creates them is amazing," said Chen. "Through this process I learned a bunch in terms of both technical and design skills. Sam, Seth and Adam all are incredibly capable and constantly learning. Through exposure to them, I picked up that kind of constant learning mindset. All of this made this journey incredibly rewarding for me."
A Perfect Place
Sam Coster came to St. Louis for an undergraduate degree in psychology from Washington University, sticking around a few years after to wait for his girlfriend to finish school. The reason the company is still in St. Louis, he said, is rooted in the city's game developer scene — or rather, its absence of one.
"Doing really good, high quality work in an area where there's not a ton of industry lets us stand out a bit," he said. "There's just a handful of us. It's really fun to be part of a smaller group doing high quality work."
That's not to say St. Louis doesn't have any draw for fans of programming. Part of the lifeblood of the city's gaming community, said Coster, is its yearly game jams, which draw thousands of competitors. St. Louis has among the largest competitions in the country. 
According to Chen, the game developer community has grown in the past five years. But that's not enough to draw Butterscotch's thousands of loyal fans to St. Louis — which many would consider a far cry from a tourist destination — for a four-hour fan convention like Shenanicon. 
That's why the company is considering major changes for next year's convention, including online elements. Through a streaming program such as Twitch, said Coster, the studio can host gaming contests, live panels and Q&A sessions that will be accessible to everyone all over the world. 
Into The Future
Butterscotch Shenanigans is now a critically-acclaimed studio. "Crashlands" was included in Time Magazine's "Top 10 Video Games of 2016" list. They were also nominated for a Dice Award — the gamer's equivalent of the Oscars — for best mobile game of the year. And Sam Coster was named to Forbes' "30 Under 30" list in 2018, at age 28.
So what's next for Butterscotch? Coster said immediate plans include perfecting LevelHeads for its full 1.0 release in the first quarter of 2020. The game is set for release on Xbox, Switch and PC/Mac. 
Once that's done, the brothers will take a breather, reflect on their past successes and see where life takes them. One thing is certain, said Sam Coster: Butterscotch Shenanigans will continue to expand on the world of the Bureau of Shipping and the colorful characters that inhabit their universe.
"We have way more stories to tell," he said.
Photo by Veronica Francis