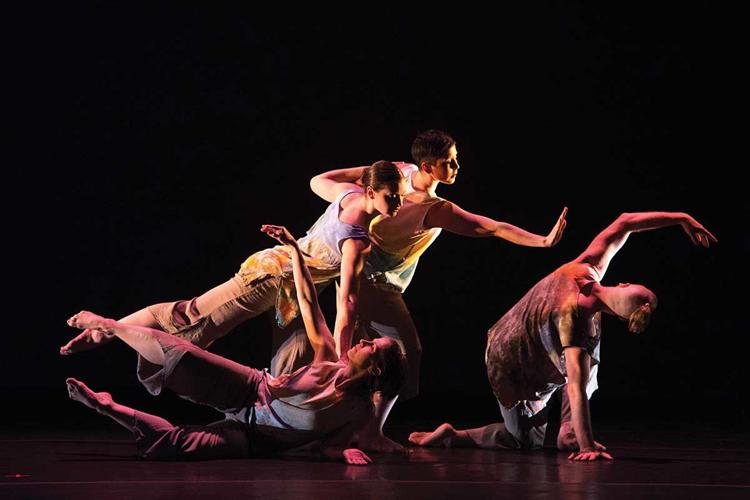 Modern dance, like poetry, communicates feelings and perspectives that go beyond the surface meaning of words or ideas. Two local dance companies hope to transport their audiences to new levels of emotional insight as one explores how dance unites the communities of St. Louis and the other searches humanity's relationship with time.
Both MADCO and Karlovsky & Company Dance are offering performances over the same weekend of March 29 and 30.
MADCO's "In the Meadow"
MADCO, or Modern American Dance Co., presents "The Unity Movement," an evening of dance voices celebrating St. Louis' diverse communities at the University of Missouri-St. Louis' Lee Theatre in the Touhill Performing Arts Center. Start times are at 8 p.m. Friday and Saturday, with a sensory-friendly 2 p.m. matinee on Saturday. A Thursday night 7 p.m. preview features excerpts of the show.
MADCO choreographers teamed with St. Louis groups and organizations to explore and represent their experiences and discoveries. "In the Meadow" by Stephanie Martinez incorporates three b-boys, or breakers, into the ensemble (the term "break dancer" is now considered inauthentic). Guest breakers are Frederick Fuller, Richard Grzelka and Dorreion Robinson.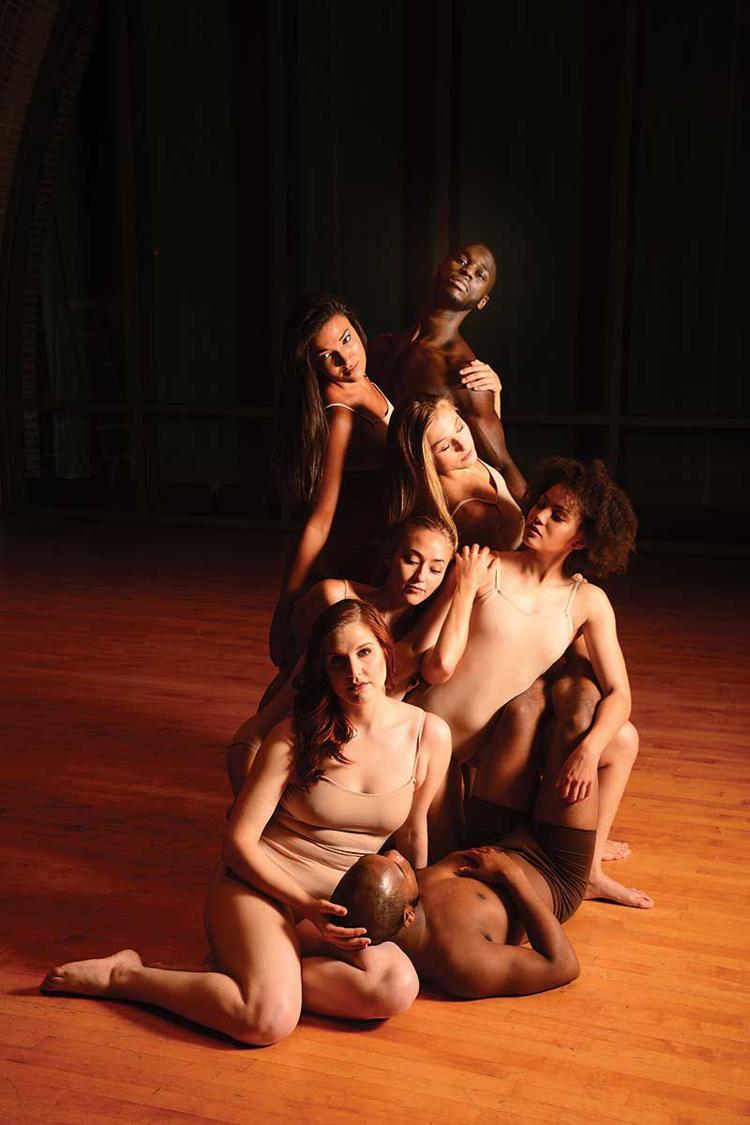 The dance was inspired by Amy Hunter's TED Talk, "Lucky Zip Codes." From a tense call for change, the different dance approaches evolve into a stylistic showcase that builds relationships in unexpected ways. The varied music includes "The Revolution will Not Be Televised" by Gil Scott-Heron; "Clair De Lune" by Claude Debussy; street sounds, the electronic, piano and percussive sounds of Murcof and Vanessa Wagner's "Metamorphosis 4," and more.
"Middle of the Road" by Joshua Puegh reveals a sometimes humorous and at times dark panorama of mid-America St. Louis' history, asking "What is St. Louis?" The work touches on early to later communities, such as the early French and pioneer era, the integral black community, the Bosnians in South St. Louis and other distinctive cultural groups.
Movement and expression link our past to our present. Music ranges from "God Has Smiled on Me" (traditional Gospel) to Ike and Tina Turner and a minuet from 18th century Versailles.
The piece "miles(dia)logged" was choreographed by MADCO dancers Belicia Beck, Darrell Hyche and Natalie Williams. Using dancers from the main company as well as from MADCO 2, they explore the tricky patterns of conversation.
Moving on and off stage with folding chairs, dancers depict the challenges and potential of human verbal contact, all inspired by Celeste Headlee's TED Talk, "10 Ways to Have a Conversation." Music includes "AmbientTRUST" by AGF as well as music by Adrian Klumpes, Max Richter, Levo and more.
Company dancers are Belicia Beck, Gabby Billy, Jeff Daryon, Austin Grigg, Elyse Guttmann, Darrell Van Hyche II, Daryon Kent, Mitchell Kent, Jeff Mitchell, Taylor Nash, Arriana Russ and Natalie Williams. Tickets are $30 at touhill.org.
Karlovsky & Company's "Shifting Time"
Karlovsky & Company Dance presents its premiere work at the Grandel Theatre in Grand Center with an earlier start time of 7:30 p.m. The full evening dance-theater work, "Shifting Time," incorporates varying moods and movement paces related to the human experience of time. Some elements are inspired by the exotic Japanese Butoh style (though not white face or Japanese design).
Company head Dawn Karlovsky said she and collaborator Megan Nicely of San Francisco will be using "concepts and influences from the butoh perspective" in the work. Other elements emphasize the mind-body connection or "somatic modalities." Karlovsky was inspired originally by Alan Burdock's book, "Why Time Flies," as well as her personal experiences. As she said, the piece creates "striking theatrical images that awaken memories and pose questions for our future."
The piece has eight sections with titles such as "Eternal Time," "Clock Time," "Environmental Time" and "Body Time." The work includes multiple solos, duets and ensembles, featuring Karlovsky and Nicely in solos and a duet. Nicely is artistic director of Megan Nicely/Dance based in the Bay Area, where this piece will be performed June 28 and 29.
The original electronic art music of Tory Starbuck will be performed live with additional recorded selections from the Kronos Quartet, Aris Kindt, and Alva Noto and Ryuichi Nakamoto. Starbuck employs a fusion of Asian folk and eclectic new wave sounds.
Additional company dancers are Summer Beasley, R. Vance Baldwin, Maeve Connor, Gabby Deakin, Lise Garger, Amy LaRue, Emilee Morton and Elise Marie Ringenberg.
Tickets at the door or via Metrotix are $15 or $20, general admission.