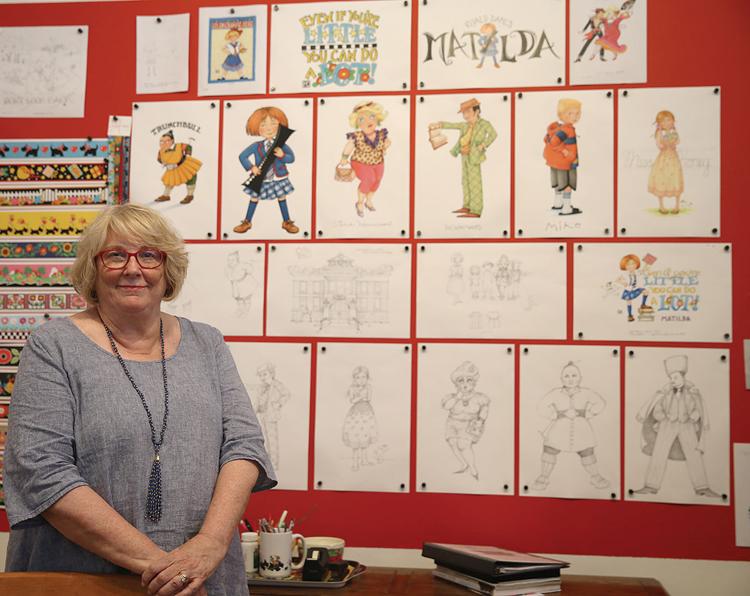 Not one to shy away from a new challenge, this past winter world-famous graphic artist and illustrator Mary Engelbreit agreed to collaborate on the set and costume designs for the musical "Matilda" that closes the Muny's 101st season. This first-ever collaboration will be unveiled at the regional premiere Aug. 5-11.
Mike Isaacson, Muny executive producer and artistic director, said he was grateful she took a leap of faith.
Surprised when Isaacson called, Engelbreit nevertheless said yes.
"I told him, 'I have never done anything like it. I'd love to do it, but I don't know how to do it,'" she said.
The alliance has proven to be a fortunate stroke of serendipity.
"This team and company promise to bring the magical world of Roald Dahl to our stage in a truly magical way," Isaacson said.
Engelbreit has a studio in her home in Ladue, where she still draws by hand – "most people don't" – but also has a Central West End studio.
"That's where the business gets taken care of," she said.
Engelbreit is eager to see "Matilda" come to life on stage now that her part is complete.
"I'm excited to see it. I'm just waiting for the rehearsals now," she said.
"They gave me the freedom to do something totally different than I have ever done," she said. "It really has been a lot of fun. I'm really thrilled to be a part of it. It's quite an honor."
Isaacson knew bringing Engelbreit's distinctive style to the production would make eccentric genius Dahl's beloved story a unique experience.
"When I imagined our Matilda at The Muny, I instantly thought of many of Mary's iconic and magical young women. What if our Matilda looked like one of them, and our production felt and looked like her world?" he said.
Engelbreit, who designed the programs for the 2012 Muny season, was well-suited to bring a fresh take to the darkly comic story, for Matilda shows how imagination is exactly what we need to navigate life's many challenges.
"Matilda"
Written in 1988 by the renowned British author, "Matilda" champions the kindhearted. The heroine is a precocious and intelligent 5-year-old who discovers her surprising powers, finds an adult ally when she is surrounded by evil ones, and triumphs over the greedy and wicked in a boarding school setting.
Dahl, who wrote "Charlie and the Chocolate Factory," "James and the Giant Peach," "The Witches" and "The BFG," was known for his inventive and playful use of language.
"When my boys were little, it was one of their favorite books," Engelbreit said. She also liked the 1996 movie directed by Danny DeVito, and had seen the stage version.
"Matilda the Musical" came to the Broadway stage in April 2013, after its sensational London West End debut by the Royal Shakespeare Company (it is still running in London). It won four Tony Awards.
Isaacson didn't see it as a British production, necessarily. And the St. Louis version will be different with Engelbreit's sensibilities.
"It really is a St. Louis production," Engelbreit said. "Mike Isaacson is just pro-St. Louis. He sees where he can fit in more St. Louis. He's always thinking of new and creative ways to do things. It's important to him because the Muny is such a big part of St. Louis."
Starting with meetings last winter, Engelbreit was impressed with how the Muny operates, and how the productions are realized and executed.
"Some places do the same thing over and over again. At the Muny, they are really such high quality shows every week. It's amazing and a lot of hard work," she said.
Once on board, Engelbreit began working with director John Tartaglia, providing character sketches, and then collaborated with costume designer Leon Dobkowski, set designer Paige Hathaway and video designer Nathan W. Scheuer to develop the look.
Other designers bringing Engelbreit's vision to life include lighting designer Rob Denton, sound designers John Shivers and David Patridge, and wig designer Kelley Jordan.
"John is such a great director. He is so funny and so nice, and so talented," Engelbreit said.
"They welcomed me with open arms," she added. "I've never met a friendlier bunch of people. They're all just so excited about what they're doing, and they have been so sweet to me – it's been wonderful."
Engelbreit Inspiration
"I've always been a big fan of Mary's work, so I immediately saw how it could serve Roald Dahl's Matilda," said director Tartaglia. "When I think of Mary's illustrations, I immediately associate them with St. Louis. Paige, Leon, Rob and Nathan and I are having a ball giving this production her distinctive style and feel, in the heart of her hometown."
Used to only drawing characters, Engelbreit had to take into consideration how the choice of material could impact performers in an outdoor setting.
"We had to make costume changes so they could move and not die of heat, they could dance and change quickly," she said.
Engelbreit said it was "cool to see" how they used her art to create a theatrical world.
"They had complete access to all our drawings – 14,000 pieces. We gave them plenty to work from," she said.
Engelbreit started a line of greeting cards in 1977, after selling hand-drawn ones in local shops. She now has more than 6,500 products – including apparel, fine prints, calendars, T-shirts, mugs, gifts, books, notecards, ceramic figures and accessories. She also has three New York Times bestselling children's books and served as editor-in-chief of the creative lifestyle magazine Mary Engelbreit's Home Companion for 11 years.
Engelbreit is now back to working on her own company projects, including a new Christmas book. New is a line called EngelDark, because "no one is bright and cheerful all the time," and a Unisex T-shirt that states: "Go Ahead. Underestimate me. This will be fun."
If the Muny should ever call, a second foray would be considered.
"I'd be happy to work with them again. It's been a great experience," she said.
Engelbreit is glad she took the plunge and learned new things.
"It was a great opportunity. You have to be ready to grab the opportunity and see where it can take you," she said.
For more information on the show or tickets, visit muny.org or call 314-361-1900.