Bob Dylan probably wasn't prophetically describing the coronavirus pandemic when he wrote, "The Times, They Are a-Changin'," but he sure could have been. As government mandates become stricter, small businesses all over St. Louis are closing their doors — praying it's not for good — and trying to adapt to the rapidly-evolving climate.
Restaurants are among the hardest hit businesses, after a March 17 order from St. Louis County Executive Sam Page directed all dine-in establishments to close to the public, allowing them to offer only delivery and carryout services. While many eateries chose to close, there's plenty of places still open and trying their best to keep sales afloat.
Frederik Houben, director of sales and marketing for the Chase Park Plaza Hotel at 121 Kingshighway Blvd., said sales for both the restaurant and hotel rooms have been affected by COVID-19 as people travel and venture out less. The hotel remains fully operational, though meeting spaces and dine-in options are closed.
"Business has slowed down in St. Louis. Everybody's feeling it," said Houben. "We are not planning on changing anything operationally, and we'll do everything as long as the city, state and federal governments allow us to do so."
The Preston, which serves breakfast, lunch and dinner to hotel guests and other patrons, currently offers takeout and room service.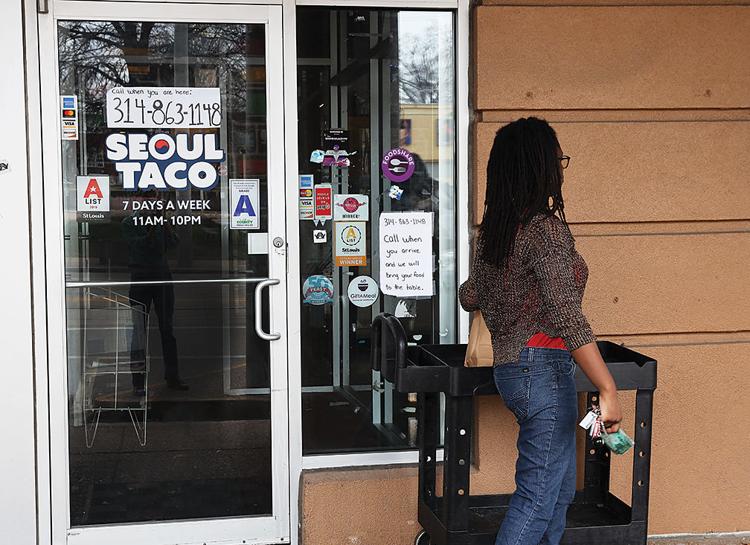 Another restaurant feeling the pressure of the pandemic is Seoul Taco, which has three locations in The Delmar Loop, Chesterfield and The Grove neighborhood. In addition to takeout and delivery, chef owner David Choi is offering a few innovative options to keep customers coming.
Seoul Taco now offers home meal kits featuring some of the restaurant's most popular dishes like gogi bowls, burritos and tacos. The kits serve four and include all the ingredients needed to create Seoul Taco flavor in a home kitchen. They can be ordered online through DoorDash or picked up curbside.
The new product is an attempt to stabilize cash flow in an uncertain time. Choi said his business is currently a "ticking time bomb" in terms of how long he will be able to continue, but he is trying his best to avoid laying off employees, instead reducing schedules.
"There's been some hardships. We've made adjustments on hours," said Choi. "A lot are living paycheck to paycheck and have to pay rent. Until we get more clarity on what kind of relief our employees are eligible for, we're going to employ as many as possible."
Choi's altruistic attitude doesn't stop with his employees. Last week, after observing the scarcity of ingredients at grocery stores, he launched a mini-market where customers can purchase general goods like eggs, salad greens and other ingredients that Seoul Taco stocks. Choi noted that he is also selling disposable gloves.
"We don't have any toilet paper, though," he joked.
Mini market supplies are available for pickup or delivery. Customers using DoorDash can order market products via a special section that has been added to the online menu.
While Seoul Taco was able to quickly update its website, according to Central West Ender and nationally-renowned IT specialist David Strom, a lot of local restaurants lack the ability or knowledge to change with the digital times. Many St. Louis restaurants, he said, have lackluster websites — or no website at all — and are losing sales because of this.
"There's a thought in some people's minds — particularly millennials — that if a restaurant makes it harder for me to do business online, why would I trust that they can do anything else right, such as good sanitation? They're not necessarily correlated, but any time you raise doubt in a consumer's mind, they'll go elsewhere. Unfortunately a lot of restaurants don't have that capability," he said.
In his quest to support Central West End restaurants, Strom discovered that many restaurants don't have gift card purchase options on their websites. Gift cards, he said, are a way to extend an "interest-free loan" to restaurants. Some other websites are broken, hard to navigate, or contain little information, lacking a menu or way to order delivery or takeout online.
To combat this, Strom is offering his services to help restaurants launch a gift card order form or online menu page on their websites. His price? A free meal.
"A lot of restaurants don't know how to take the steps from where they are now to where they could be. That's my job; to help them get over the hurdle and get something up online," said Strom. "I want these businesses to keep the neighborhood as vibrant as it was before.
To get in touch with Strom, email him at David@Strom.com.