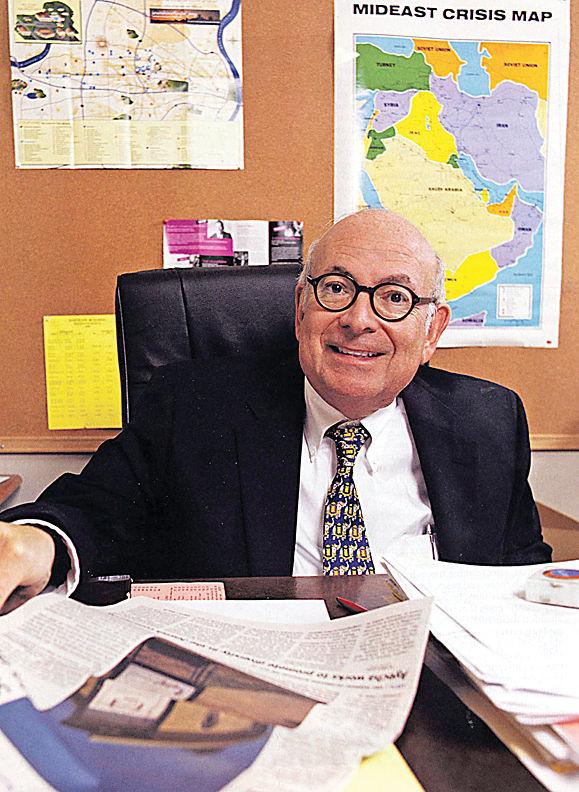 Fifty years ago, St. Louis native Robert "Bob" Cohn, agreed to become the editor of the St. Louis Jewish Light for two years. Little did he know that "trial period" would give him the professional ride of a lifetime.
Cohn semi-retired from the Jewish Light in 2004, but continues a very active association with the community newspaper as editor-in-chief emeritus. In fact, he still collaborates with the newspaper's staffers regarding preparing weekly editorials and covering hard news. He also periodically writes features and reviews books, plays and films.
"I was offered the chance to become editor of the Philadelphia Jewish Exponent and thought about working for Time, Newsweek, The New Republic or the Post-Dispatch, but always chose to stay at the Light," recalled Cohn. "And it was the right decision for me."
As a graduate of University City High School's Class of 1957, Cohn, 80, is a member of the University City High School Hall of Fame.
Though he had bachelor's degrees in English, philosophy and political science from Washington University and was a licensed attorney and Missouri Bar member, journalism eventually won in taking center stage in his career.
"Since I was 10 years old, I've wanted to be an attorney or editor. I enjoyed reading editorials and political cartoons with my dad. At U City High, I worked as a writer for the student newspaper, "The Tom-Tom." I even was editor of The Cohn Times, which had a circulation of four, including me," he said.
The budding journalist typed stories on his mother's ancient Underwood upright typewriter and then drew in the pictures.
"I discovered how much I enjoyed seeing people reading my work," he added.
Early Career Decisions
However, legal interests also continued to influence Cohn's journalism.
"Law and journalism are sister professions. There are corrupt lawyers and biased journalists, but we also have had Clarence Darrow and Walter Cronkite. There are many legal issues involved in running a newspaper, not the least of which is protecting the First Amendment. It has also helped me win leadership positions in the Press Club, the Legal Advocates for Abused Women and the County Human Relations Commission," he said.
True to form, Cohn also became editor of "Student Life," the Washington University undergraduate student newspaper, and later of "The Writ," the law school student newspaper.
After graduating law school in 1964, Cohn worked for five years for then County Supervisor (Executive) Lawrence Roos as his administrative assistant, staff attorney, speech writer and press secretary.
After five years on Roos' staff, Cohn started on July 1, 1969, as chief editor of the Jewish Light.
Bob's Personal Background
Cohn has won numerous awards for his journalism and public service. He is a past president of Congregation Shaare Emeth, Legal Advocates for Abused Women, the Press Club of Metropolitan St. Louis and the St. Louis Regional Chapter of the American Jewish Congress (now the Midwest Jewish Congress.)
He's won several national Simon Rockower Awards for his writing, and received the Fred A. Goldstein Community Service Award from the Jewish Federation of St. Louis.
He received other awards, including being inducted into the St. Louis Media Hall of Fame, and the Rabbi Abraham Joshua Heschel/Rev. Dr. Martin Luther King Award from Jews United for Justice for his many years of civil rights work.
He's also associated with the St. Louis County Human Relations Commission since 1964, and continues to serve as the group's chair.
Cohn is married to the former Barbara Berg. They are the parents of three children, Scott (married to the former Julie Bohm), of Chesterfield, who have three children; Julie (married to Paul Greene), of Falmouth, Maine, who have two children; and Emily Cohn of Vinalhaven, Maine, and St. Louis.
Bob's Take On News
"St. Louis has its distinctive characteristics – Midwestern values, a fragmented government and a vibrant Jewish community. There are many fascinating issues to cover, including anti-Semitism and Israel's relations with American Jews," said Cohn.
Regarding the difference in covering news and events for a special interest audience, such as Jewish Light readers, Cohn said stories that might not be covered at all in the general press can get in-depth coverage in the Jewish press.
As an example, he pointed to extensive coverage of the Soviet Jewry movement that resulted in a major March on Washington, which he covered. He also cited the USSR letting more than 1 million Jews go to Israel, the United States and Europe.
He's also visited Jewish communities in 30 countries, including 18 trips to Israel and to Arab nations.
For the most influential article or topics Cohn covered in St. Louis during those decades of reporting, he counts the first-ever Middle East trip in 1974 to Egypt, Syria, Lebanon and Israel.
"I was among a small group of American editors of Jewish newspapers allowed to travel as such to these countries. That trip was part of an effort to open ongoing contacts among Jewish and Arab journalists. At a later trip, we organized an international Jewish Media Association, which built bridges to Jewish newspapers in places like the Soviet Union," he added.
Among the standout people that Cohn has covered is prime minister Golda Meir, Broadway star Tova Feldshuh, Beat poet Allen Ginsberg, Soviet Jewish hero Natan Sharansky, actor and political activist Theodor Bikel, Israel former president Shimon Peres, Holocaust survivor Elie Wiesel and Rabbi Chaim Potok. He assured they were all "colorful, vital and fascinating."
Today's Facts Versus Opinions
When it comes to facts, so-called "fake news" and public opinions
regarding trust in current journalism, Cohn admits there is an appalling amount of blatant bias in major news outlets – "and not just Fox News."
He agrees that this bias has eroded confidence in the media as an institution.
"Where are today's Walter Cronkites? It will take a lot of hard work to regain that trust, which is vital to our democracy. The folding of thousands of newspapers in recent years frustrates young people from finding jobs in media," he said.
Cohn's advice to present journalists and media representatives is: "Keep at it, no matter how much pressure you are subjected to, and keep reminding yourself how fortunate you are to be part of an essential profession that never gets boring."
He said that observation has been his experience after 50 years at the St. Louis Jewish Light.
"I've had a very satisfying career," he said.