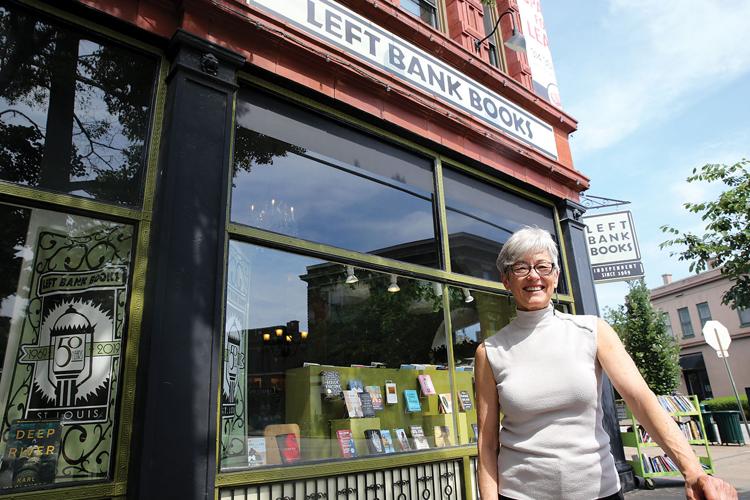 Location, location, location. Eight years after it opened, Left Bank Books moved to the corner of McPherson and Euclid avenues in 1977 and became a cherished fixture in the burgeoning historic Central West End neighborhood.
Eclectic and diverse, this year the cozy bookstore is celebrating 50 years in business. The shop has thrived as a vibrant community hub and stayed true to its activist mission. Today, it is the oldest and largest independently owned bookstore in St. Louis, named in national publications as one of the best in the U.S.
Current co-owner Kris Kleindienst, who was hired as a clerk in 1974, had scraped together $1,000, along with fellow employees Barry Leibman and Justin James, to buy out the bankrupt owners collective. Now in her 45th year, she continues to lead into the 21st century along with her partner and husband, Jarek Steele, who has been there 17 years.
Kleindienst said it is crucial to not be mired in the "good old days" and is always trying to keep up with industry changes.
"We are not just the past. We are the future. I refuse to be put into a coffin," she said.
Founded in 1969 by a group of anti-war social activist graduate students at Washington University, Left Bank Books built its reputation on having counter-culture content you could not find anywhere else. Books on feminism, LGBTQ issues and civil rights were its signature, as well as underground publications.
The diverse selection remains paramount to this day, mixing in contemporary literature, the arts, children's books and human rights topics.
Their very name is indicative of the fabled Rive Gauche part of Paris, bordered by the Seine River, and inspiration to a famous literary set in the 1930s, including F. Scott Fitzgerald and Ernest Hemingway.

That Left Bank Books is in the same neighborhood where Tennessee Williams grew up, T.S. Eliot lived and Kate Chopin died demonstrates its appeal to artists, intellectuals and students, just like its Parisienne roots.
First on Skinker Boulevard, then later in the Delmar Loop, with two other bookstores nearby, Kleindienst said they looked at moving into the city. The 399 N. Euclid property beckoned. It was nestled near tree-lined streets, adjacent to elegant homes and ready for pedestrian traffic.
Herb Balaban owned the building, and his popular namesake restaurant was across the way. While the Central West End was gaining momentum with its quirky Bohemian vibe, Left Bank Books became an integral part of it through each ensuing decade.
"We thought it was a comfortable fit for our store," Kleindienst said.
A lifelong reader and aspiring writer, she had found her niche. Her commitment and service haven't wavered. Why has it flourished against the odds, competing against the superstores and holding its own with online shoppers?
"We have a unique identification. We've hung on because we're something familiar. You know what you're going to get when you come here," Kleindienst said. "I also feel that we must earn that loyalty every day. I don't take it for granted."
The care and attention are evident, but also, in a good-news twist, independent bookstores have seen a boost in business over the past five years. That's according to the American Booksellers Association, a major advocate.
"It's very positive at this point," Kleindienst said.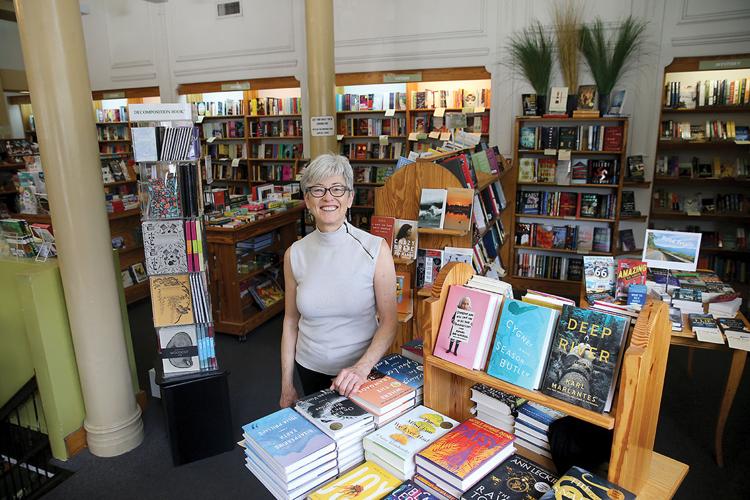 Weathering The Storm
Not that the store hasn't been a challenge at times, but Left Bank Books has gone through the typical ups and downs associated with small businesses, including recessions. The major hurdle, after competition from bookstore giants Borders and Barnes and Noble, has been the internet behemoth, Amazon.
"It is still highly unregulated, and has a terrible effect on all retailers," adversely hitting small towns and Main Streets, Kleindienst said.
Left Bank Books has weathered the storm because it doesn't strive for the wide profit margin the bigger outfits do, she said. They also support the local community, giving back to the people who have kept them in business. (For more on the Left Bank Books Foundation and River City Readers, a partnership with St. Louis Public Schools, visit www.left-bank.com).
"That's a huge difference," she said. "I have seen kids grow up, have kids of their own and then they bring them in."
The owners are proud to work alongside about 20 very knowledgeable and dedicated booksellers.
"We have a strong staff. It's community, it's a safe space. They are very supportive. They're a really great group of people," Kleindienst said, noting that Left Bank Books emphasizes old-fashioned customer service. The character and personality are a bonus.
"A human being answers the phone and if they can't help, they get another person to help a customer. It's basic hospitality," she said. "They have individual expertise, so we try to find the right person to help. They're like research librarians."
Online retailing is here to stay, she added. Left Bank Books has implemented online sales and has discovered people will go online to read about a book, but they order it for pickup in the store.
However, Kleindienst pointed out: "We're not just a retailer."
Left Bank Book Signings
Book signings with popular authors help Left Bank Books stand out, too. The signings bring more than 250 authors a year to interact with the store's patrons. Hillary Clinton, Toni Morrison, Gloria Steinem and Jimmy Carter have been there.
American humorist-comedian David Sedaris has remained loyal over the past 20-plus years.
"He loves supporting us and we love working with him," Kleindienst said.
The celebrity authors are the easy part, she said, but Left Bank is also committed to boosting the mostly unknown authors as well.
"I think that sets us apart," she said. "That's the core of who we are and the kind of book worth investing in. When it's a first novel, no one's heard of the person, so we have to decide if they are worthy of an audience. We hope us having faith in the author helps them."
Kleindienst cited two unheralded female writers who visited Left Bank before their careers skyrocketed – Elizabeth Gilbert of "Eat, Pray, Love" and Cheryl Strayed, who wrote "Wild."
Illustrator Mary Engelbreit was first to exhibit art in Left Bank's downstairs gallery. One of her most iconic posters, "A Book is a Present That You Can Open Again and Again," was initially an advertisement for the store.
Local authors appreciate Left Bank's efforts, too.
Food critic Ann Lemons Pollack wrote several restaurant guides with her late husband, Joe Pollack, and published "Lost Restaurants of St. Louis" last fall. She said she has "wonderful, warm memories" at the bookstore.
"Joe and I always had our kickoff readings at Left Bank. It was so natural, it just seemed organic. We hardly had to specify to Jeff Fister (ex-publisher of Virginia Books and West End Word) that we wanted it there rather than some big chain; they could come later," she said.
Pollack, forever a foodie, recalled the late chef Anthony Bourdain's appearance at Left Bank Books.
"What I remember is Anthony Bourdain going from a reading across the street to a deserted Duff's after he'd read because a bunch of local chefs had decided to stage a late-evening potluck in his honor since it was Monday and many spots were closed," she said.
Community Support
Kleindienst praised the Central West End Community Development Corporation for its support. She is excited about Bookfest St. Louis that they created in 2017. This year's event will begin on Sept. 21. Activities will take place at local restaurants, too, and the children's and young adults book events will be held at the Schlafly branch of the St. Louis Public Library.
"It's fun for all ages," Kleindienst said. "We'll bring in national and local authors. We'll have street vendors. We're proud to be a part of it," she said.
Left Bank Books will hold a 50th anniversary celebration on Friday, Oct. 25. For more information on the celebration or the bookstore, visit www.left-bank.com.