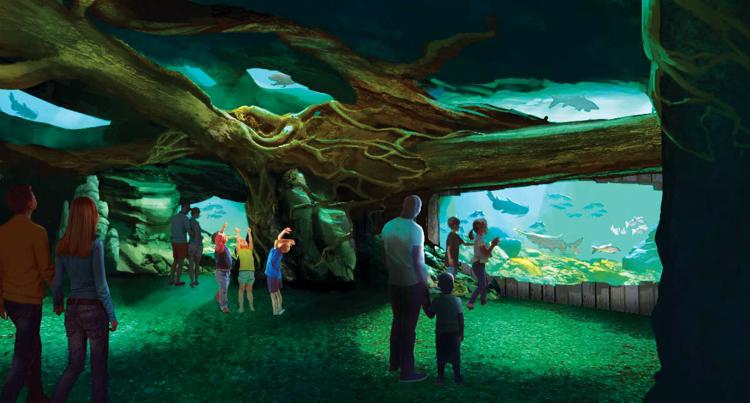 The St. Louis Aquarium at Union Station will open on Christmas Day, Dec. 25. Special Christmas Day hours will be from noon until 6 p.m.
"We are thrilled to be able to invite the public into our new home for the holidays," said Tami Brown, executive director of the St. Louis Aquarium at Union Station. "This is a great way to start a new family tradition by experiencing the wonders of aquatic life at the aquarium."
Timed admission tickets are on sale at www.stlouisaquarium.com.
General admission tickets are $25 for adults and $18 for children ages 3 to 13. Children under the age of 3 are free. Tickets will allow access to all of the aquarium's galleries, exhibits and interactive experiences. The St. Louis Aquarium at Union Station will offer timed ticketing that will allow guests to avoid waiting in line. A limited number of same-day passes also will be available for purchase every day on site.
The aquarium will be open for extended holiday season hours from Dec. 26 through Jan. 4, 2020, from 10 a.m. until 9 p.m. daily. Beginning Jan. 5, the aquarium will be open regular hours from 10 a.m. until 6 p.m., Sunday through Thursday, and 10 a.m. until 9 p.m. on Fridays and Saturdays.
The St. Louis Aquarium at Union Station is the centerpiece of a $187 million family entertainment complex in downtown St. Louis. The Aquarium and other attractions — including the 200-foot St. Louis Wheel — are housed at the 500,000-square-foot National Historic Landmark train shed at Union Station, which originally opened in 1894 as the biggest and busiest train terminal in the nation.
The 120,000-square-foot aquarium covers two stories and includes environments filled with more than a million gallons of water. The aquarium will include one-of-a-kind exhibits featuring more than 13,000 aquatic animals from fresh water and marine environments around the world. It will bring together state-of-the-art technology, animal care, education and conservation with the excitement of aquatic creatures.
Visitors will enter the aquarium via a 3-D virtual reality train ride that honors the history of St. Louis Union Station's railroad past. The multimedia train delivers guests to an area that explores the confluence of the Mississippi and Missouri rivers. Playful otters — named Sawyer, Finn and Thatcher — piranhas and doctor fish are just some of the highlights.
Lord Stanley, the rare blue lobster named for the NHL's Stanley Cup and St. Louis Blues' championship, will live in his own habitat with a hockey theme.
Shark Canyon will offer views of 60 sharks and rays in a 250,000-gallon environment. The Deep section will take visitors on a journey through the depths of the world's oceans to meet the animals that live there, including Jellyfish and a Giant Pacific Octopus.
The second floor will include a variety of interactive exhibits and touch tanks to create a hands-on and hands-wet experience.
"Visitors will leave the St. Louis Aquarium at Union Station with wet hands and a greater understanding of the planet's rivers, oceans and aquatic life," said Brown. "They will be able to feed turtles and stingrays and interact with invertebrate animals in our touch tanks. Our staff also will have a variety of other animals such as sloths and birds to explore with the guests."
More than 1 million visitors are expected annually.
Parking for the aquarium and other Union Station attractions is available via surface lot at 401 S. 18th St. Parking costs $3 per hour and $1 for every additional 30 minutes. Bills, coins, debit and credit cards are accepted.