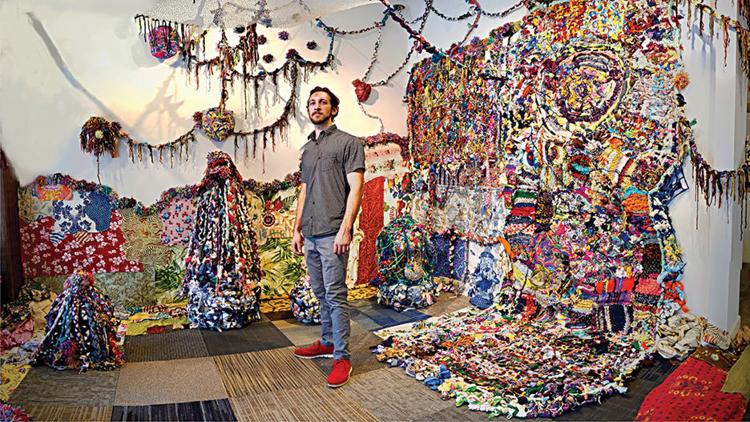 Once considered by many a secondary art of simple aesthetics, textiles communicate beauty but also convey strength and innovative concepts. In the Sept. 6 issue of the West End Word, we looked at "Little Cuttings," the weavings of Fidencio Fifield-Perez at Craft Alliance, one of the the original five collaborative participants of Innovations in Textiles, begun in 1994 and now boasting 48 metropolitan participants. (Full information and calendar at www.innovationsintextilesstl.org.)
The other four original collaborators are: St. Louis Art Museum, the Duane Reed Gallery, Millstone Gallery at COCA and Art Saint Louis. Here's a peek at their exhibitions currently on view.
Saint Louis Art Museum
On display at the Saint Louis Art Museum, "Printing the Pastoral: Visions of the Countryside in 18th Century Europe" documents the historically important underpinning that broadened the printing medium to include a more widespread use of fabric, as well as paper. The introduction of copperplate-printed cotton, enabled finely detailed pictorial designs to be faithfully reproduced in colorfast dyes on fabric, without bleeding.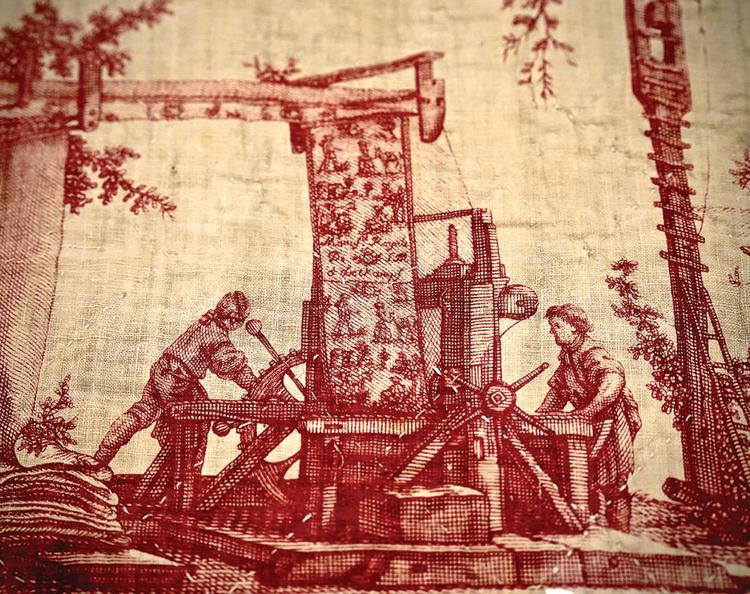 Duane Reed Gallery
At the Duane Reed Gallery, Ethan Meyer assembled "Solar Temple," a room-sized installation complete with fabric altars and heavenly canopy, a work he says is informed by a transcendental understanding of nature. This site-specific work, pieced together from recycled fabric, will grow during the exhibition's duration as the artist continues to add more materials received as re-purposed donations.
Center for Creative Arts
The "Adornment" exhibit at COCA's Millstone Gallery features artists Basil Kincaid, Albert Yowshien Kuo, Seth Aryee, and Yolanda Newson — plus Yvonne Osei, curator-in-residence at COCA.
The show looks at the art work, as well as the creative process and the presence of the human form - its stature, functionality and expression. "Adornment" explores symbols of luxury and power in individuals and collectives — the ways of celebration and festival. It addresses authority issues and the way people define themselves, by accepting or challenging societal values.
Basil Kincaid, working with recycled materials donated from his family and community, envisions a sort of DNA in clothing. His "Spirit In Transformation" at COCA creates a kind of portrait of the wearer. Using clothing as an identifier, he demonstrates that the clothes someone wears can speak volumes about them. Clothing traverses between private and public space. What one chooses to wear in the privacy of home becomes, outside that space, a public statement and an identifier.
Although Kuo's "How the West Was Won" at COCA is an acrylic painting of hats on a black background, it fits well with the adornment idea of tattoos, fabrics and even hair braiding as markers/identifiers holding symbolic power.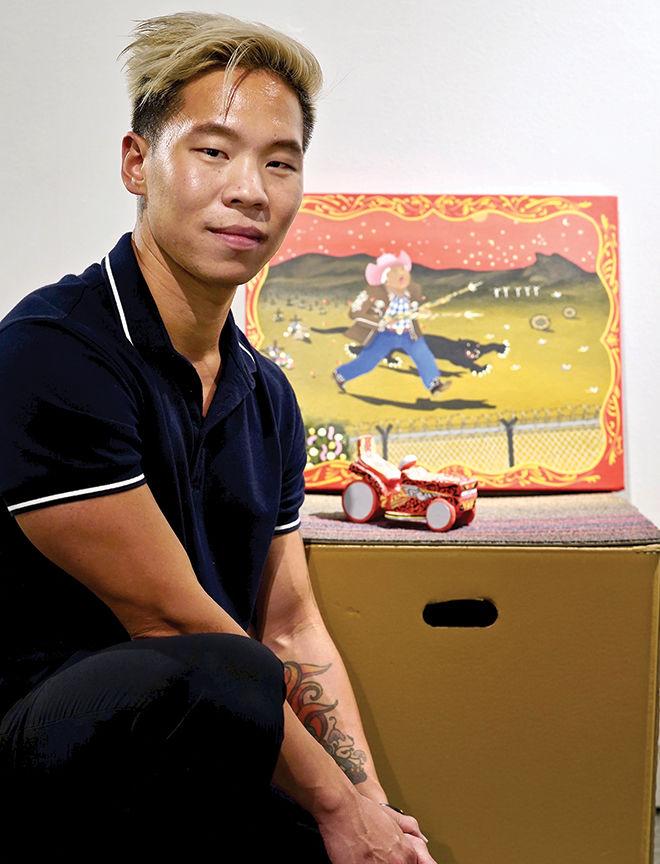 Kuo has another work that is currently on view in the faculty show at Meramec Community College, "The People's Republic of the West." In this work, the masculine object of a tractor is decorated in a "feminine" manner. The cowboy wears a pink hat, similar to the hats depicted in the COCA show, and walks across a vast empty frontier towards a wire wall, a barrier. The painting is framed in tôlle, a commonly used pattern in decorative arts.
Art Saint Louis
At Art Saint Louis, Fiber Focus 2019, a juried exhibition of 42 artists from eight Midwestern regional states, is represented as a component of the Innovations in Textiles STL 2019 collaborative. Featured is St. Louis-based artist Elizabeth Hope Madden, who presents her "Net of Miraculous Occurrences." Madden uses a traditional labor intensive process to stitch a fragmented and sentimental dream image. Hands seem to reach with hope for transformation in an accelerating world, where even that grasping may become a delusional reach, beyond what the border of magic pills can fix.