River Styx, St. Louis' oldest literary magazine, has a new home.
The magazine staff, along with a multitude of other community literary arts-minded entities, recently moved into the newly renovated, two-story building now called High Low at 3301 Washington Ave. It's a place "where art can start and stand out."
High Low offers a combined literary center consisting of a 1,500-square-foot main level library, writers' suite, gallery, joint workspace for nonprofits and community café.
As an initiative driven by the St. Louis-headquartered Kranzberg Arts Foundation, Executive Director Chris Hansen said foundation backers and staffers are thrilled to partner with St. Louis' top literary arts organizations and those who support local writers to provide this unique, cooperative space.
High Low is being positioned as a new venue for freedom of expression through spoken and written word, said Hansen.
"St. Louis is a literary city. High Low fills a niche needed where writers and literary institutions can collaborate to further the literary arts. It will be a welcoming place for all to enjoy," said KAF founder Ken Kranzberg.
A Home For River Styx
Shanie Latham, River Styx managing editor, said the staff is incredibly grateful to the Kranzberg Foundation for recognizing the value of literary arts to the St. Louis community by providing a shared space where the area's diverse, micro-organizations can create and offer programming while being unburdened of some of the less program-centric tasks and expenses, such as paying utilities or dealing with internet outages and other infrastructure issues.
"Having a literary center where multiple organizations can come together allows us all to keep our individual identities while also giving us some of the infrastructure benefits of a larger organization. It will also, I hope, bring more national attention to the vibrancy of the St. Louis literary community as a whole by creating more of a focal point for it," said Latham.
She said there are a number of ways River Styx will benefit from moving to the High Low.
"While we're an internationally distributed magazine and publish work of writers from all over, we make a point to include at least a few Missouri writers in every issue, as part of our mission to support writers in our region. We anticipate that meeting local writers as well as other literary curators at the High Low will bring to our attention new ­— or new to us — writers whose work we want to feature," explained Latham.
The same is true of the reading series, she said, where they generally try to include one local writer along with one non-local writer at each event.
"Beyond benefits we may experience to existing projects, I predict that meeting people from other organizations or seeing people more often, and chatting with them informally about what their organizations are up to, will provide opportunities for new ideas about joint programming or collaboration opportunities to be born in an organic way that would never have occurred if we were simply holed away in our own individual offices," Latham concluded.
The More The Merrier
In addition to 1975-launched River Styx, local organizations with offices at the High Low include: Flood Editions; Shirley Bradley LeFlore Foundation & the Creative Arts and Expressions Lab; St. Louis Poet Laureate Jane Ellen Ibur; St. Louis Poetry Center; St. Louis Volunteer Lawyers and Accountants for the Arts; Tennessee Williams Festival; and UrbArts Poetics.
"St. Louis Poetry Center is thrilled to have its first-ever dedicated office space at High Low," confirmed Erin Quick, St. Louis Poetry Center executive director.
"We're a small organization that's been supporting poets and readers for over 70 years. The capacity growth provided by High Low means we can build on this legacy in fresh new ways," Quick added.
She said having a physical space from which to work is "game-changing" for their entity, allowing for new volunteer support, youth programs, events, collaborations and ultimately more opportunities to engage with poetry in meaningful ways.
MK Stallings, UrbArts president, said High Low will enable their group as well to better serve artists involved in poetry programs.
"I can see our spoken word poets meeting there and practicing for performances. Our gallery in Old North is a wonderful home for many things we do, but isn't able to provide a dedicated space for the development of poetry performance troupes in ways that are sufficient," he said.
"We're pleased that High Low gives a space to further develop the poems and voices of our Slam poets," added Stallings.
The building also gives Jane Ibur a broader anchor. She was appointed Poet Laureate for the City of St. Louis on April 12, 2019. She began writing poems in middle school, which developed into a career of writing, teaching and promoting poetry. An alumna of Webster University, she co-produced/co-hosted Literature for the Halibut on KDHX community radio for 19 years. She's authored two collections of poems, and has been included in more than 50 literary anthologies and magazines.
Ibur said the High Low will be a great venue for readings.
"It's lovely to have the gallery next door to the performance space. The building can be a focal point for writers to come and write or read. I'll be using the conference room for writing workshops," she added.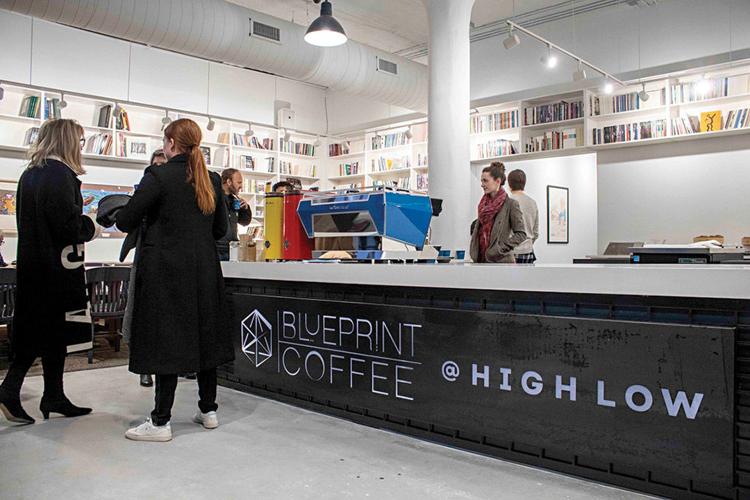 Promises And Perks
Organizers promise the High Low progressive library will feature rotating collections of inspiring books, magazines, literary journals, newspapers and articles. Hansen said the library is being sourced from the donations of private individuals, institutions and Left Bank Books.
The café, called Blueprint Coffee at High Low, operates daily from 7 a.m. to 2 p.m. It offers a full-service coffee program by Blueprint Coffee and a fast-casual food service program developed by local James Beard-nominated chef Rob Connoley, who owns Bulrush STL and Squatters Café.
The High Low 600-square-foot gallery space, which is expandable up to 2,600 square feet, is slated to host five to six rotating exhibits per year dedicated to literary arts-focused exhibitions in a temperature and humidity-controlled environment to protect collections. Hansen indicated exhibits will be selected annually through a
juried process.
A 2,000-square-foot/20-capacity dynamic performance and event "listening room" space is dedicated to literary-arts-focused content, from poetry readings and storytelling to literary series and book signings.
Two distinct workspaces occupy the building's second floor. The 1,000-square-foot Writers' Suite houses the foundation's forthcoming Writers-in-Residence program designed to support local up-and-coming writers and to attract national and international writers to the community. Additional spaces are available for rent by local writers on a weekly or monthly basis.
KAF teams worked with St. Louis-based SPACE Architecture + Design specialists to complete the project.
For updated information on events, or to rent the new venue online, visit KranzbergArtsFoundation.org/High-Low.