In December 2015, the Washington Post published an article called "8 amazing Hanukkah parties across America." Represented on the list were events in famous party cities; New Orleans, Miami Beach, Chicago. But standing at number two, sandwiched between festivities in New York City and Los Angeles, was a name many Central West Enders might find familiar: the Hanukkah Hullabaloo, hosted by local band Brothers Lazaroff.
Showrunners Jeff and David — the real brothers Lazaroff — were surprised to see their event made the cut. But look into what makes the Hullabaloo, now in its ninth year, one of St. Louis' premiere Jewish events, and it's hard not to see why the annual take on the Festival of Lights earned its place on the list.
Jeff and David Lazaroff have been playing music together since high school. Even after David Lazaroff moved to Austin, Texas for college, where he remained for 13 years, the two continued to collaborate. When the call of creativity became too great, David Lazaroff moved back to St. Louis in 2009. Since then, Brothers Lazaroff has produced eight original albums and collaborated on countless more. Their band currently has nine musical members.
In 2011, musician (and once-Texas gubernatorial candidate) Kinky Friedman was playing Off Broadway in downtown St. Louis as part of his Hanukkah Tour. The Brothers Lazaroff decided to ask the venue if they could open for him.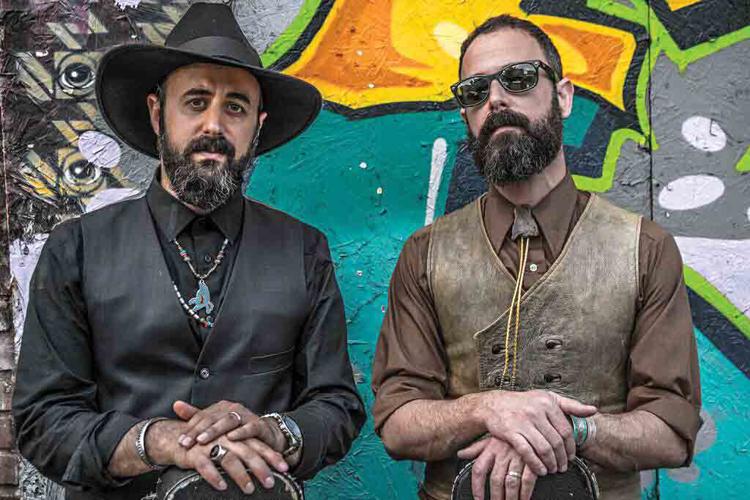 "They said maybe an afterparty," said Jeff Lazaroff. "So we said, 'let's do a Hanukkah party.' We'd seen really cool Christmas shows but no really fun rock n' roll Hanukkah shows. All the Hanukkah events were held at community centers or synagogues and we wanted to do something more."
To round out their performance, the band reached out to Rabbi James Stone Goodman, who brought a series of poems to read over improvised music. Brothers Lazaroff liked the sound so much, they took Goodman to the studio — alongside local band Will Soll's Klezmer Conspiracy — a week later to record "Eight Nights."
"It's become the basis for the Hullabaloo," said Jeff Lazaroff. "We always perform it."
The original event was on the small side, with a turnout of 75-100 guests, but the celebration was ultimately a success. Brothers Lazaroff performed a unique blend of rock and a style of European folk called klezmer popular in Jewish culture, all while serving freshly-fried potato pancakes — latkes — from the stage.
"More than anything, we wanted to get Jewish rockers around town involved. That was the original format; getting people who just happened to be Jewish to help with starting a Hanukkah rock show," said David Lazaroff.
The event has continued annually since then, quickly outgrowing Off Broadway and moving through several more venues before settling in at the Grandel Theatre. This year's Hanukkah Hullabaloo on Saturday, Dec. 14 will be the band's second year in the space. The show sold out in 2018 to a crowd of nearly 600, and the Brothers Lazaroff are hoping to have a repeat experience in 2019.
While the crowd size and musical guests change each year, the Brothers Lazaroff make sure to keep a few things consistent. Attendees can expect hot, fresh latkes again this year, as well as live musical performances of original Lazaroff Brothers music and covers of songs by Jewish songwriters.
"We alway play some Bob Dylan and Leonard Cohen. We're celebrating the link of Jewish Americans in rock n' roll and rhythm and blues music," said David Lazaroff. "We also always do a tribute to honor musicians who have passed away during the year. A lot of the legends we grew up with are passing away. It's a good opportunity to recognize some of the ones that were meaningful to us."
Another thing that hasn't changed is the event's mission to raise money for charity. From the beginning, it's been a non-profit affair, and this year is no exception. Proceeds from the 2019 Hanukkah Hullabaloo will go to youth violence prevention program "Say Something, Do Something."
This year's guests include St. Louis singer Anita Jackson, back for her second Hullabaloo, and Grammy-nominated Elizabeth McQueen, formerly of band Asleep at the Wheel. Vendors include St. Louis apparel store STL-STyLe and University City's Taco Buddha.
The 2019 Hanukkah Hullabaloo will be held from 7-10 p.m. on Saturday, Dec. 14 at the Grandel, 3610 Grandel Square. People of all faiths and ages are welcome to attend.
"It's really been a great mix which is something we're proud of," said Jeff Lazaroff. "We have a huge age range of attendees, from folks in their 80s to people who bring their kids, all religions and those from all backgrounds. Obviously there's a big Jewish base but there's been a lot of other people who get it."
For tickets and more information, visit the 9th Annual Hanukkah Hullabaloo event page on Facebook and brotherslazaroff.com. For a preview of "Eight Nights" or to purchase the album, visit www.eightnights.bandcamp.com.