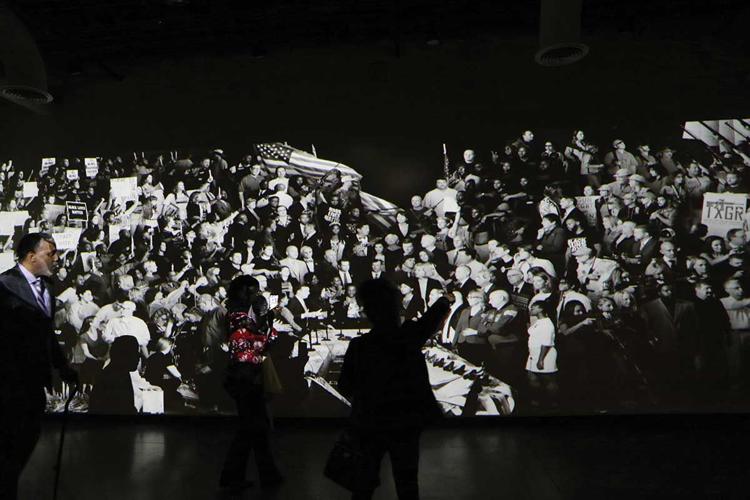 When Time magazine writers and French artist, JR, created a 26-page special feature regarding "Guns In America" for the Nov. 5 edition, they shot straight to St. Louis to gather stories and perspectives.
Some locals included in Time's media project are gun violence survivors, city leaders, social activists, students, artists, shooting coaches, nonprofit organizers, National Rifle Association members and law enforcement officials.
In total, 245 Americans were interviewed for the project, with all of them visually included in a Time composite cover whose online version is interactive. The entire project took five months to complete.
St. Louis also was one of six U.S. cities selected to host a traveling digital mural as a spin off of the Time project to encourage conversations about complex viewpoints in U.S. gun debates. Regional Arts Commission staffers hosted the local exhibit on Nov. 5. At the exhibit, visitors viewed a four-minute video and could access audio recordings of people involved in the magazine's feature.
Those online recordings can still be listened to at time.com/guns-in-america.
Regional Arts Commission Marketing Communications Manager Stanford Griffith said their staff was told up to one-third of the people showcased in the mural are from St. Louis.
In the story, St. Louis Marine Corps veteran Jamison Sweet said everyone just needs to work with each other. St. Louis Metropolitan Police Sgt. Charles Lowe said he sees both sides of why guns are important.
But James Clark, founder of Better Family Life's St. Louis Gun Violence De-escalation Centers in St. Louis who was also quoted in the feature, reminded people that "the gun issue" is the single most important one facing Americans.
He said local reactions to his involvement in the Time project were very positive.
"We've heard from organizations and individuals we didn't think were in tune with the work we do – that's inspiring," added Clark, whose team offers conflict prevention and resolutions to avoid gun violence.
Clark said due to this national interest and acknowledgment of the centers' approaches, the organization's amnesty and clean sweep neighborhood programs are now being replicated in other cities.
St. Louis Police Chief John Hayden Jr. said he had been contacted by friends and colleagues who were impressed with the concept of the Time magazine project. He said people have been complimentary of his explanation about challenges faced by St. Louis police officers in their efforts to reduce violent gun crimes.
Cheeraz Gormon, founder of St. Louis' Sibling Support Network, was also interviewed for the feature.
"Some people closest to me lost their lives because of bullets entering their bodies," Gormon said.
Gormon launched the charity to assist others in healing from trauma inflicted by brutality after losing two of her brothers and a cousin to acts of gun violence.
Still, she said she has a complicated relationship with guns, given that her grandmother kept a gun for safety reasons associated with domestic violence and overall defense.
"I've pulled friends in my mother's house, their bodies riddled with bullets after the spray of a drive-by," she vividly recalled.
Gormon said the Time interview made her realize talking about losing her brothers will always be hard.
"It does soften over time, but may never be easy. For that, I am thankful, and empowered by," she said.
Gormon said she's not much for the "guns are a necessary evil argument."
"All I know is the world is how we've created it," she said. "When we start choosing differently, with intentions based on respect for all life, we will do things differently."
Gormon added that when it comes to gun topics, there's a noticeable lack of imagination, faith in new ways for handling issues, and the truth about how many people are operating from fear as the only reason for arming themselves.
St. Louis Mayor Lyda Krewson gets a text message every time there's a shooting in St. Louis. In her individual recording for Time, she said guns are a huge detriment to the city, region and country.
"We have some of the most lax gun laws in the country," Krewson said.
"Easy access to guns makes small disagreements sometimes turn into homicides. Even when homicides may not have been the intention of the shooter, they ruin lives."
The mayor personally knows how guns change life's trajectories. In the Time magazine piece, Krewson shared the story of her husband being murdered by a gunman in front of her and their children inside their car near their residence in 1995.
She also talked about the societal impacts of military-capacity, assault-style guns being legal.
"It's a crazy way to live with one another," she said. "Imagine being a police officer and knowing almost everyone you face may have a gun. We expect police officers to exercise perfect judgment at all times, but they have to make assumptions that everyone has a gun. If you or I make a mistake, it's usually not fatal. If police officers make a mistake, it often is. It's a very complicated subject."
Former St. Louis City Police Department Sgt. Thomas Lake said he never realized how disassociated he was from the topic until he became a victim of gun violence.
"As a police officer, I adapted myself to separate emotionally and personally from victims of gun violence," he said.
Lake was ambushed within close range and shot in the face twice on Hampton Avenue while on duty on Nov. 20, 2016. He was talking to his father on his cell phone at that exact moment. His father heard the gunfire and eventually overheard the gut-wrenching words "he's dead" as police officers arrived on the scene. Fortunately, he survived.
In Time's feature, Lake shared feelings about the emotional aftermath of the traumatic attack, including how the shooter took his livelihood and confidence. He said he still wants to serve, but the nightmare left him with more questions than answers.
"Human life is just too important – we just can't resort to violence," Lake said.