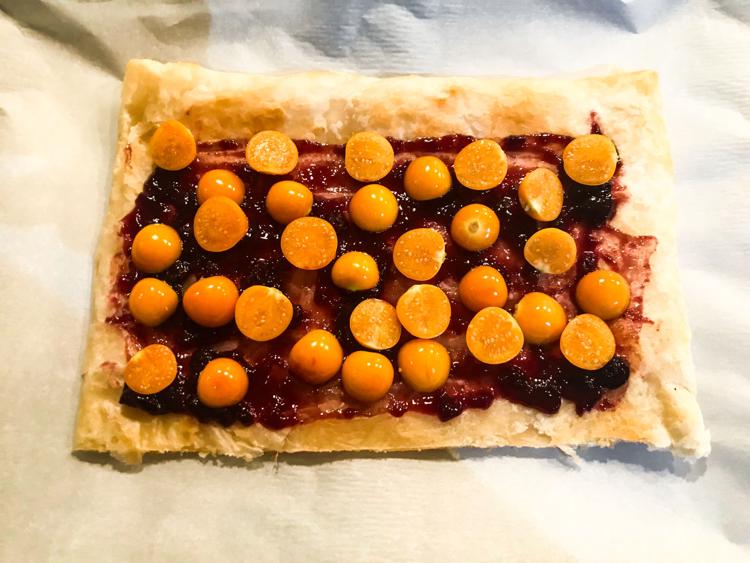 One of my favorite ways to explain the concept of wisdom vs. intelligence is the tomato example. I'm sure some of you have heard it: Intelligence is knowing a tomato is a fruit. Wisdom is knowing it's not.
I like this example for culinary reasons. Very rarely are tomatoes featured in desserts. But if you love tomatoes to the point of wanting them even in your after-dinner sweets fix, I might have a solution for you.
Gooseberries taste like tomatoes would if they were proper fruits. Tangy, tart and sweet, these beautiful yellow fruits are slightly tropical and perfect for cutting through other sweet ingredients.
I bought a pint at Trader Joe's a while back and realized that, beyond nibbling a few at Niche back when I staged there, I had no experience cooking with gooseberries. So I did what I normally do; Google recipes, reject them all, search my fridge and ultimately create my own dessert.
What I came up with is simple, requires very little cooking if you don't feel like it, and creates a tasty summer treat that's not bad to look at either. Of course, if you don't want to search far and wide for gooseberries, you can replace them with raspberries and the effect will be much the same.
Gooseberry Pastry
Ingredients:
1 box frozen, ready-to-bake puff pastry sheets (2 sheets, about 1.1 lbs total)
1 pint fresh gooseberries (or raspberries)
4 T blueberry jam
2 C pastry cream (recipe follows, or use pre-made. A 50/50 ratio of firm whipped cream and vanilla pudding will also do.)
Directions:
Make pastry cream as directed in recipe below. Allow to cool.
Bake puff pastry sheets as directed and cool. When cooled, cut each sheet in half width-wise for a total of four sheets.
Slice gooseberries in half.
On the first sheet of puff pastry, spread 1/3 of the jam in an even layer, leaving some room at the edges. Top with 1/3 of the sliced gooseberries and 1/3 of the pastry cream.
Repeat this process on two more layers of puff pastry and top with the fourth layer.
Allow an hour of resting time to firm up, slice and enjoy! Can be kept tightly wrapped in the fridge for several days.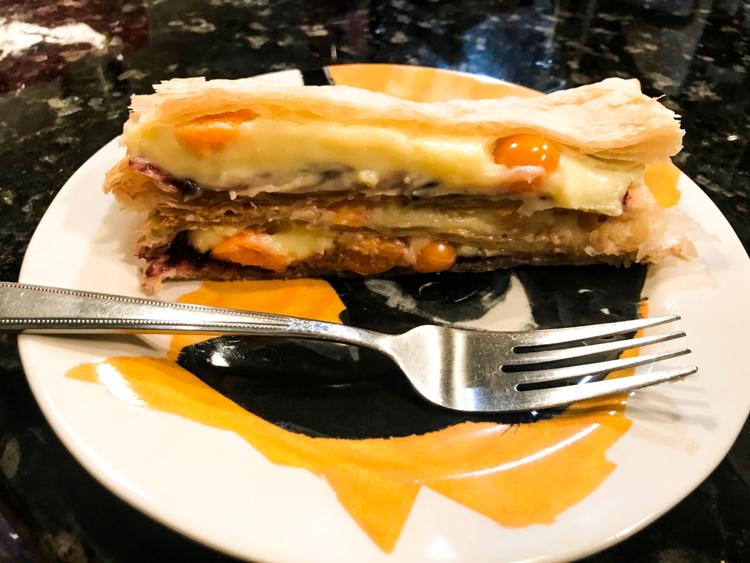 Pastry Cream
Ingredients:
2 C milk
1/4 C white sugar, plus 1/3 C (divided use)
2 egg yolks
1 egg
1/4 C cornstarch
2 T butter
1 tsp vanilla extract
Directions:
In a heavy-bottomed saucepan, stir together the milk and 1/4 cup of sugar. Bring to a boil over medium heat.

In a medium bowl, whisk together egg yolks and whole egg. Stir together  remaining sugar and cornstarch, then stir them into the egg until smooth.

When the milk comes to a boil, drizzle it into the egg mixture SLOWLY in a thin stream while mixing to avoid scrambling the eggs. Return the mixture to the saucepan and slowly bring to a boil, stirring constantly so the eggs don' t scramble or scorch on the bottom. (If you scramble some eggs, pass the mixture through a sieve to remove curdled pieces.)

When the mixture comes to a boil, IMMEDIATELY remove from heat. Stir in the butter and vanilla, mixing until the butter is completely blended in. Pour into a heat-proof container and place a piece of plastic wrap directly on the surface to prevent a skin from forming. Refrigerate until chilled before using.