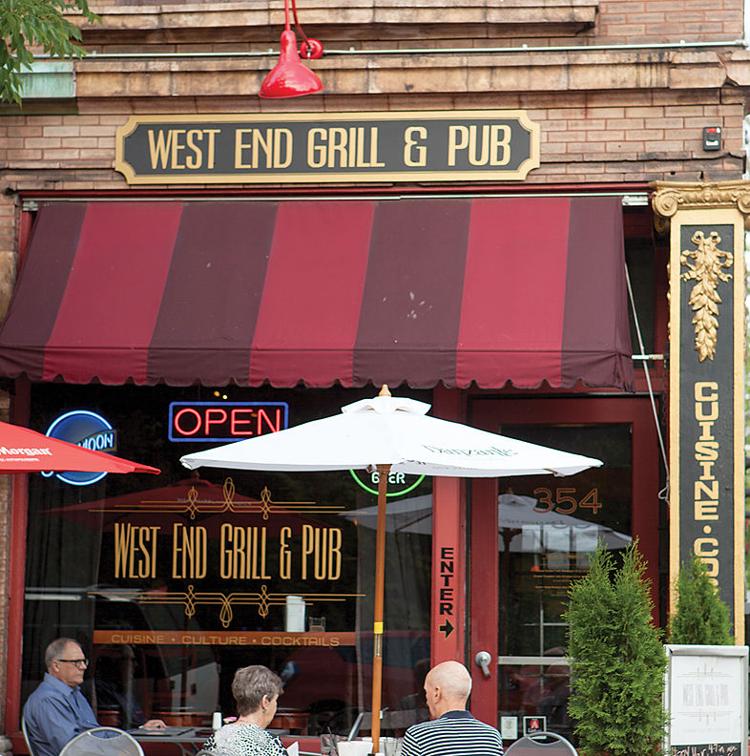 A neighborhood restaurant and bar that was rescued by its neighbors, the West End Grill & Pub, reopened in mid-April after a three-month hiatus. Longtime customers have been showing their appreciation ever since.
Soon after the restaurant and bar shuttered in early January, co-owners Neill Costello and William Roth, two of the four original investors, were approached by Central West End residents to discuss what could be done to begin again. When the place closed, a deal with a new owner was in the works, but that did not happen, Roth said.
"Almost immediately people missed it," he said.
Roth said during several meetings the support grew to keep 354 N. Boyle Avenue the place that residents knew and loved. They donated time and money to make it happen. And they're showing up now, making sure they bring people in to dine.
"We have many ambassadors. It's all about community," Roth said. "They invested in the neighborhood."
Costello agreed, saying he re-upped because of how the residents banded together.
"When I saw what all our neighbors were doing to help keep WEGAP going, I knew we had created something special and wanted to show my commitment to them that they were doing the right thing," Costello said.
Diners flocked on opening night, April 12, which also coincided with a St. Louis Actors' Studio production at the adjacent Gaslight Theatre.
Costello was taking orders and helping wherever needed.
"Opening night was probably more energizing than our original opening night. I felt like it was more about community than commerce," Costello said.
Roth said even if people did not sign papers to invest, they came out to help. Residents painted and reupholstered, giving the space a fresh look, and brought in art reflecting the bygone landmark Gaslight Square era.
"Every night, it's great," Roth said. "I'm stopped by people giving accolades. They say they are so happy to have us back."
Once the place is running the way the ownership wants it to, Costello said he will tend to the business side.
"My plan is to hand off operations to some more youthful people, and stay involved in a more administrative role," he said. "I love this business and don't want to stray too far away from it."
Roth, who grew up in the Central West End, knew of the iconic Gaslight Square reputation, and when he discovered the building was for sale, he jumped at it. The music, history and theater were the draws to rehab the building near his office. West End Grill and Pub opened 10 years ago, and the theater soon afterwards.
The theater is used for regional productions, cabarets and fundraisers. Roth is the artistic director of St. Louis Actors' Studio.
While they are not the same operation as before, owners are working out details to add the special theme nights again and bring Sunday brunch back. Some of the popular draws were Steak Night on Tuesdays and a five-course Wine Dinner on the last Wednesday of the month.
Currently, the restaurant is open from 4 to 10 p.m. for dinner Monday to Wednesday; 4 until 11 p.m. Thursday through Saturday; and from 4 to 9 p.m. Sunday. The bar is open for happy hour from 3 to 7 p.m. and then stays open until closing time, around 1:30 a.m.
The simplified menu presently has some of WEGAP's favorites, including the award-winning Green Curry Mussels and the Chef's Burger, which is topped with white cheddar cheese, bacon, sweet cherry peppers and an onion ring. The Braunschweiger sandwich remains a staple – a generous portion is served on rye bread with onions, white cheddar cheese and spicy brown mustard.
"It's been on the menu from the very beginning. I personally love it. We have two 90-year-old brothers who come in for it. It's such an old-school sandwich, but it sells well," Roth said.
The downside to starting over is that there is a completely new staff, Roth said. Logan Maus is overseeing the kitchen.
The original tagline was: "Culture shares the stage with cuisine and camaraderie."
"We want to keep what made us popular – consistent good food, our warm atmosphere and affordable prices," Roth said.