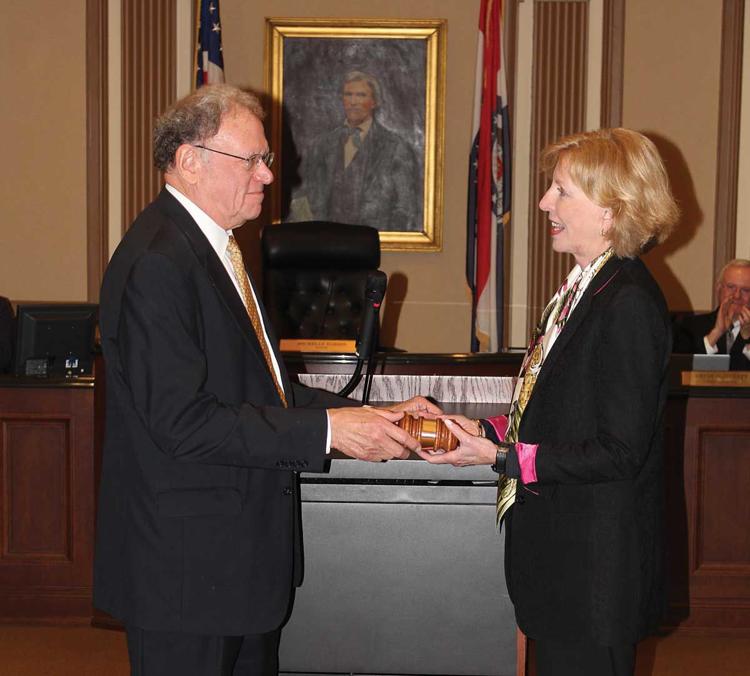 Clayton Mayor Harold Sanger said his good-byes at the April 23 board of aldermen meeting, ushering in the tenure of former alderman Michelle Harris.
During his parting comments, Sanger joked that over the years he had secretly come up with nicknames for all of the aldermen, but had never used them publicly. He told Harris that her nickname was "23." Several moments later, Harris was sworn in as the city's 23rd mayor and Sanger ceremoniously passed the gavel to her.
Sanger thanked the board, as well as city staff and his family. He said he was proud of the development that took place in the city during his tenure, and of multiple years with balanced budgets. He also spoke of his pride in the relationship between the city and the Clayton School District.
"This is not about me, it is about we, in this room. There is nothing wrong in Clayton that can't be fixed by what is right in Clayton," said Sanger. "Our community is in the right hands. I'm convinced that Michelle is the right person in the right place at the right time."
"I am humbled and honored to be '23,'" Harris said. "As Harold said, It's not about me, it's about we. I have worked with three different mayors (during her tenure on the board), and I have learned from each one.
"No one can claim success in five or six years all on their own," said Harris, who also thanked her family.
A Ward 2 alderman, Harris' vacated seat will be filled in a special election to be held in August.
Sanger could not run for re-election due to term limits. He served two, three-year terms. Sanger spent more than 20 years in city government, previously serving as chair of the city's plan commission/architectural review board and as a Ward 3 alderman.