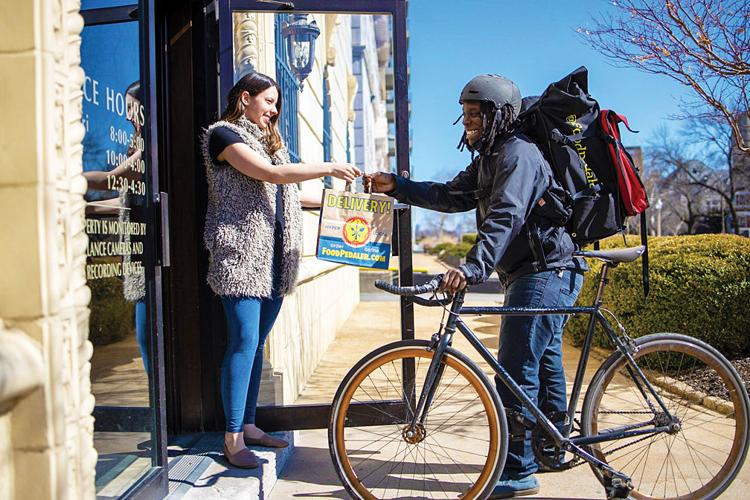 In the age of COVID-19, more and more people are looking to restaurant delivery services to fill the gap created by social distancing.
Alex Ward hopes there is room in that gap for a few good bicyclists.
"Bicycles make it easy to get around, especially downtown," said the 24-year-old. "The Central West End is also bike-friendly."
And that's why the CWE is the central piece in the Food Pedaler, Ward's unusual delivery enterprise.
Started in 2013 by entrepreneur Tim Kiefer, the business was acquired by Ward last summer after he worked for a year as one of its delivery cyclists.
His website lists 16 restaurants in the Central West End and another 15 in the downtown area, though some are shut down at present due to the global pandemic. Five of his cyclists, who work as independent contractors, take alternating shifts on their bikes for lunch and dinner in the CWE, although only lunch hours are available for downtown where the main clientele are office workers.
"Maybe in the future we'll extend that to dinners to hit some of the people who live downtown," he said.
So, why go with bikes?
"We, of course, have an emphasis on sustainability and being eco-friendly and just promoting a healthy lifestyle," said Ward. "It is also low cost for our delivery guys. Realistically, the cost they'd have to pay is just maintenance on a bike as opposed to having to pay for gas in a car."
Moreover, he said pedal power can be faster than a gasoline vehicle in certain circumstances.
"Sometimes Euclid can get kind of crowded, but all our guys are used to biking in the city," he said.
A typical day will bring in 15 or so orders and the message is really starting to get out. Ward has about 5,000 people on his email list.
"I did a website redesign, added mobile apps," he said. "Before, we had never had IOS or Android apps."
Typically, customers of the service pay $3.99 to $5.99 per delivery plus gratuity and food.
The operation has also launched an initiative with the Fit and Food Connection, a local charity non-profit that helps provide healthy living resources to local people in need.
"With that partnership, for every order, we donate 50 cents to their cause," he said.
The average order takes about 30-35 minutes to arrive and he aims for a maximum of 45 minutes.
"Since we are a local company, we have a good focus on customer service because we oversee a smaller area than Doordash nationally," Ward said. "We can really focus on making our customers and restaurants happy."
Todd Lannom, 58, considers himself a happy customer.
"My partner and I live here in the Central West End and almost exclusively use Food Pedaler for delivery from Central West End restaurants," he said.
Lannom likes the warm, friendly service as well as the fact that it is a local business supporting other local businesses. He said he has found that, when an item is missing or wrong with other delivery services, it can be a hassle to find someone to call.
But not with Ward's outfit.
"With Food Pedaler, you can text them right away and they'll run back and get something they forgot or give you a credit," he said.
Ward said he's received good reviews from eateries who feel the service is reliable.
"I've always heard really good things from the restaurants that we use," he said. "Sometimes I hear them complain about other services and they say they always recommend us."
Ward also likes doing deliveries himself. He harkens back to the founder's view of the business.
"He loved biking and he saw having a job on a bike as just super freeing, not even feeling like work," he said, noting that deliverers use their own bikes.
A native of Webster Groves, Ward now lives in the CWE. He said he has heard of similar businesses in Chicago and Denver but knows of nothing else like it in the St. Louis area.
As for the future, Ward sees expansion. In the near term, he's aiming to augment his delivery region to include the Grove/Shaw neighborhood just as soon as he gets enough restaurants signed up.
Ward is currently introducing new ideas and fee structures. Customers who pay $11.99 a month can get unlimited deliveries through a premium program. He's also experimenting with "subscriptions" that provide high-quality prepackaged products from local businesses beyond the on-demand meals that users currently get.
In the meantime, his cyclists continue to deliver hot, fresh meals to those stuck at home. Learn more, or order delivery, at