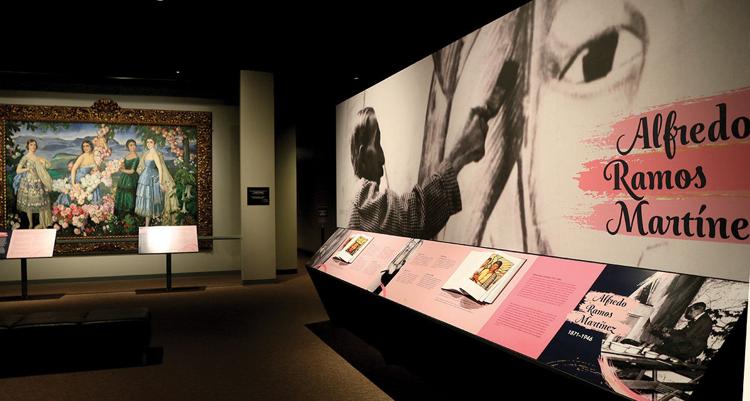 Aviator Charles Lindbergh may be best known for what he did in the sky. But it's what he and his wife, Anne, did on the ground in other countries that sparked a wonderful new exhibit at the Missouri History Museum.
In 1929, Mexican president Emilio Portes Gill gave newlyweds Anne and Charles Lindbergh a wedding gift — a monumental 9-by-12-foot "Flores Mexicanas" painting by renowned Mexican and master artist Alfredo Ramos Martinez.
The artist reportedly worked on the painting for 15 years before it was gifted. However, the location of "Flores Mexicanas" was unknown to art scholars. That's because the Lindberghs entrusted the masterpiece to the Missouri Historical Society, where it has been safely stored for decades.
Now, for the first time in more than a half-century, the painting is on view to the public.
Entitled "Flores Mexicanas: A Lindbergh Love Story," the exhibit is open at 5700 Lindell Blvd. through Sept. 2. The conservation of the painting was made possible through a Bank of America grant with additional support from the Ed & H. Pillsbury Foundation.
This exhibit includes a small theater area that plays 14 minutes total of two videos. One movie covers behind-the-scenes segments of restoring the painting. Additionally, a large interactive smart screen is offered to touch and learn about various milestones of U.S.-Mexico history.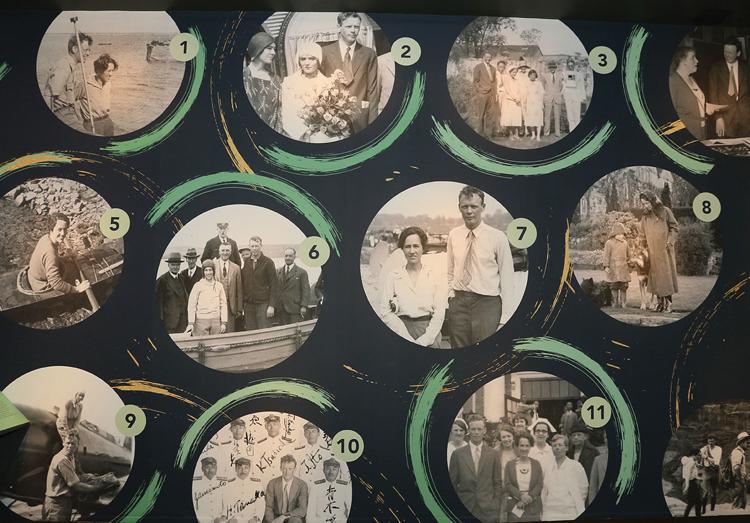 Royal Couple Of The Skies
For decades, the Lindberghs have been referred to as "the first couple of the skies." But until this new exhibit, few people understood the extent to which this adventure-seeking couple served as American goodwill ambassadors to other countries and how well received they were in various cultures. In fact, the connections associated with this painting left a lasting legacy on U.S.-Mexico relations.
Adam Kloppe, Missouri History Museum public historian, said the painting has been in the museum's collection since 1932.
"It needed love and attention after that amount of time, and Frances Levine, our museum president, thought about approaching Bank of America to support its restoration," he said.
Kloppe said conservation work began in 2017, with the painting sent to Minnesota to be hand-cleaned with Q-tips by Midwest Art Conservation Center personnel.
"Nearly 90 years of dirt and grime had to be removed, so it took a while," he said.
The massive and ornately carved wooden frame surrounding the painting was separated from it for cleaning as well.
"We wanted to take the frame apart to clean it, so it was X-rayed in preparation and that led to several discoveries, such as the carved pattern does not repeat itself, like in other frames," he revealed.
Twenty Lindbergh artifacts also are on display for the exhibit, including the couple's flight jackets, a walrus tusk, medals of honor, an Aztec incense burner and a sarape.
One of the most prestigious and interesting display items is a huge, earthy-brown floor globe, on which Charles Lindbergh himself drew black marker lines to designate long flights he and Anne took between 1929 and 1935. The globe, a wedding present, was from the family that owned Ryan Airlines, the San Diego-based company that built the Spirit of St. Louis aircraft.
Kloppe said University of Missouri-St. Louis museum studies' students were engaged to assess the exhibit's potential components. He said they outlined concepts for the exhibit's major areas, and drafted display labels offered both in English and Spanish.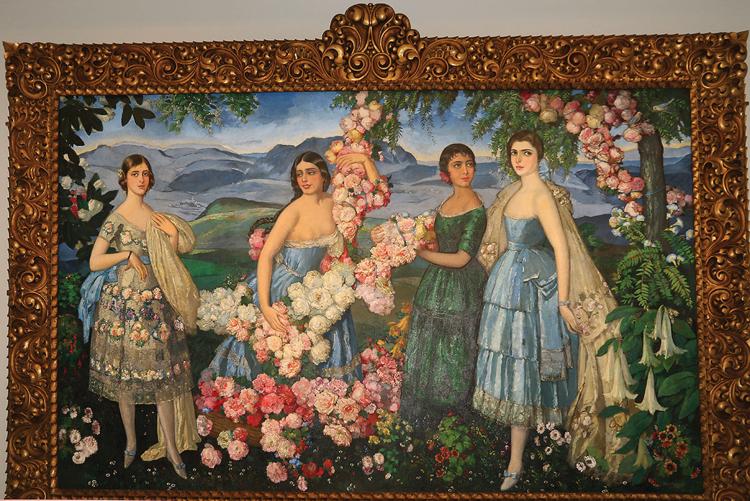 Back Story Of "Flores Mexicanas" Painting
As one of the largest paintings in the museum's overall historical collection, Kloppe said the "Flores Mexicanas" creation is like being given a fascinating portal to multiple, time-honored stories. He said it was inspired by the Modernismo art movement.
Kloppe said it's believed the four females in the painting represent four main cultural traditions in Mexico during the 1920s: indigenous women, mestizo women, Spanish women and American women.
The painting features a noticeable abundance of various flowers, which in the art world at that time represented ancestral spirits, rebirth, exploration and spontaneity.
Other features of the painting are tiny villages and Martinez's passionate depiction of the Mexican landscape.
During the cleaning and conservation process, however, it was discovered the artist had painted a fifth female in an upper corner, but then painted over her. If visitors know where to peer and look closely, her remnants can be spotted.
The painting was given to the Lindberghs as a wedding gift because Mexico was the place where the couple met. Anne was the daughter of Dwight Morrow, U.S. ambassador to Mexico and U.S. senator from New Jersey.
Anne and Charles were introduced on Dec. 21, 1927, in Mexico City, when Charles was invited to the Morrow family's Christmas holiday. According to Anne's diary entries, she was none too impressed by him, and he had to woo her for quite a while and get her used to the famous public life he was thrust into due to his history-making flights.
They were married in a private ceremony on May 27, 1929, at the home of her parents in New Jersey.
Honoring Anne
Anne was not just Charles' wife. She was a trailblazing go-getter in her own right, though shy and very private. The exhibit showcases never-before-seen items, such as her award-winning books from 1931 and 1933. Her books and articles spanned genres from poetry to nonfiction, covering topics such as youth and age, love and marriage, peace, solitude and contentment, and the role of women in the 20th century.
During 1929, Anne flew solo for the first time, and in 1930 she became the first American woman to earn a first-class glider pilot's license. In the 1930s, the Lindberghs were the first to fly from Africa to South America, and explored polar air routes from North America to Asia and Europe.
Anne Lindbergh received numerous honors and awards throughout her life in recognition of her contributions to both literature and aviation.