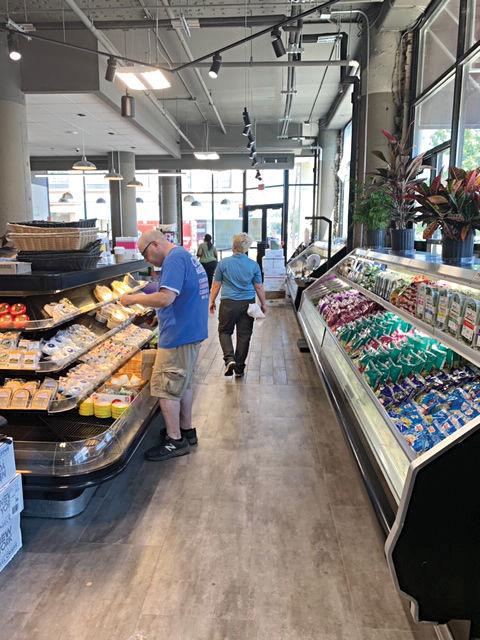 The Lofts at Euclid residents will be able to "shop in their pajamas" now that Fields Foods is open on the ground floor.
The chain celebrated the grand opening of its third St. Louis location at 625 N. Euclid Ave., at the southwest corner of Euclid and Delmar, on Aug. 15. The location has 8,500-square-feet on the west side of the building's ground floor, adjacent to the Medicine Shoppe with 87 loft-style apartments above. It's also near the LaunchCode Mentor Center.
"It looks like a corner grocery store," said Chris Goodson, owner and CEO.
Fields Foods' expansion is part of an effort to bring wholesome, reasonably priced grocery options north of Delmar, eliminating a food desert.
"The one thing I am proud of is bridging the Delmar Divide," said Goodson. "We can connect with residents who stayed in the area to provide healthy eating opportunities and economic activity."
The new location will be a one-stop shop for grocery needs, aiming to provide everything shoppers want at affordable prices. Fields Foods offers a wide selection of pesticide-free, organic, non-GMO, gluten-free and natural products. Many products will come from small and mid-sized farmers and vendors within 300 miles of St. Louis. It will be open to the public from 7 a.m. to 10 p.m., seven days a week.
Goodson mentioned the company's third-third-third philosophy; one-third healthy food items, one-third locally grown items and one-third fun snack items. He added that there will also be a wine and coffee bar in this location.
"We like to have fun," he said.
Goodson believes that shops like his have and will continue to spur further development in urban areas.
"I know there are plans for mixed-use housing in the area so hopefully we are doing our part to keep the momentum going," he said.
Fields Foods newest location was originally built in 1910 and was designed by the same architect who penned brewhouses for Anheuser-Busch. It began as the Langan & Taylor Company headquarters. He said the space has hosted a variety of businesses through the decades – a furniture warehouse, a drug store, a tailor shop, offices and, now, his store.
"Everyone at Fields Foods takes great pride in offering a variety of healthy food options for our community and for doing our little part to bridge the Delmar Divide," said Goodson. "We are very excited to be part of this wonderful neighborhood."
Goodson opened his original Fields Foods location in Lafayette Square in January 2014 with 35,000-square-feet. This past spring, he opened the second store, with 18,000-square-feet, in the Washington Avenue Loft District. A fourth location will open this fall in Dogtown, at 6300 Clayton Ave. Like the CWE location, the Washington Avenue is — and the Dogtown location will be —on ground floors beneath apartments.
Fields Foods is locally owned, locally operated and a locally focused grocery store committed to creating an inspired shopping experience for every customer. The grocery store is located in the stunning historic apartment building, the Lofts on Euclid, which was developed by Cullinan Properties.
For more information about Fields Foods, becoming a Fields Foodie, jobs, locations and more, visit www.fieldsfoods.com.