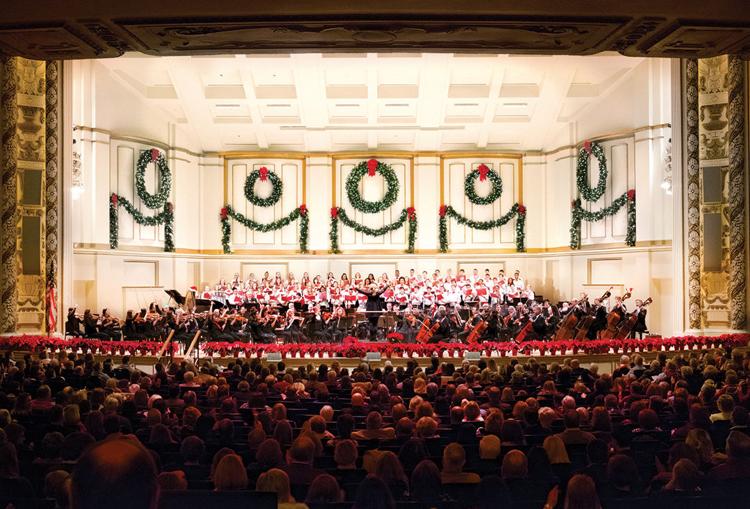 The St. Louis Symphony Orchestra and music director Stéphane Denève invite audiences to celebrate the holiday season at Powell Hall, 718 N. Grand Blvd., with eight different programs between Thanksgiving weekend and New Year's Eve.
The season kicks off with performances of a timeless holiday classic, Tchaikovsky's "The Nutcracker." At these performances, the music from the ballet takes center stage on Nov. 29 to Dec. 1, with special lighting design and a performance with the St. Louis Children's Choirs.
After releasing a recording this year of his Swing Symphony with the St. Louis Symphony to critical acclaim, jazz trumpeter Wynton Marsalis and the Jazz at Lincoln Orchestra return to Powell Hall to perform holiday hits with a big band flair on Dec. 4.
On Dec. 6-8, the St. Louis Symphony and conductor and harpsichordist Richard Egarr perform stately Baroque works featuring three soloists from within the symphony: violinists Kristin Ahlstrom and Angie Smart and flutist Andrea Kaplan. Repertoire includes Handel's "Water Music Suite" and "Music for the Royal Fireworks," along with Bach's "Brandenburg Concerto No. 5."
The St. Louis Symphony also presents a special program of familiar and contemporary holiday music at the Mercy Holiday Celebration Dec. 13-15. The program features the Holiday Festival Chorus, a choir of high school students from throughout the St. Louis region. Enjoy Powell Hall in its holiday best with Santa Claus, reindeer, and carols.
Now a beloved tradition, the St. Louis Symphony IN UNISON Chorus joins the St. Louis Symphony for the annual Gospel Christmas concerts on Dec. 18-19. This year, St. Louis native and fourth-place finisher on NBC's "The Voice," Kennedy Holmes, brings her powerful vocals to this fan-favorite concert.
Families are invited to experience the music of the popular Christmas comedy, "Home Alone," as the film plays on the big screen while the St. Louis Symphony performs John Williams' score live Dec. 20-21. Disney fans will be treated on December 27-28 with performances of the Academy Award-winning score of Beauty and the Beast while the animated classic plays on the big screen.
Holidays with the St. Louis Symphony close with a seasonal tradition: the BMO Wealth Management New Year's Eve concert. For the first time, St. Louis Symphony Music Director Stéphane Denève brings his take on this fun-filled night of musical surprises.
Concert tickets are on sale now. For tickets and show times visit slso.org/tickets or call the symphony box office at 314-534-1700. Classical tickets start at $15. Children's tickets are $10 with the purchase of an adult ticket.