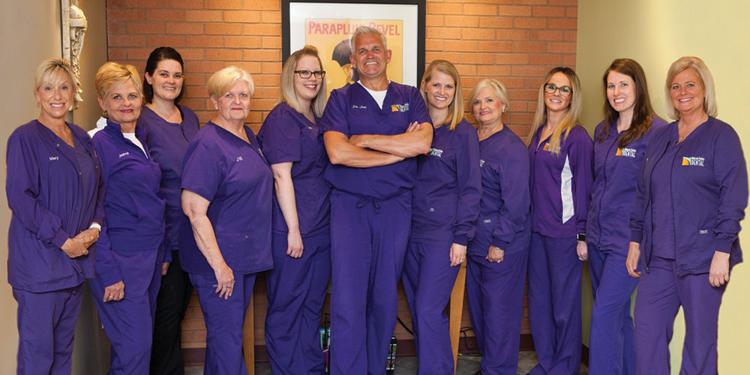 The year 2019 marks the 108th year in practice for Watson Pointe Dental.
Dr. Joseph S. Grimaud continues the family tradition started in 1911 by his grandfather, Dr. Vincent Grimaud. Dr. Joe's father, Dr. James C. Grimaud, joined the practice in 1938 and retired in 1988 after 50 years of dentistry. Dr. Joe joined the practice in 1985. Dr. Joe is pleased to have 6 family members (3 sisters and 3 nieces) and four honorary members working in his office.
Much has changed in dentistry over the past 107 years, and "technology has made dentistry much easier and more comfortable for patients," said Dr. Joe.
Watson Pointe Dental uses such technologies as digital X-rays, intra-oral cameras and single visit, all-porcelain restorations and crowns. Most recently Watson Pointe Dental has been using a digital scanner to take "impressions" of patients' teeth. Gone are the days of gag inducing, mouths full of nasty tasting, messy, putty-like impression materials.
Although new technology is an important feature of the dental office, the atmosphere remains friendly, warm and comfortable. Patients are offered fresh coffee and tea in the relaxing reception room, comfortable pillows, cozy blankets and warm, lemon-scented towelettes following treatment.
Prevention is still a top priority. An ounce of prevention is worth a pound of cure.
"This old saying was never more true than in dentistry," said Dr. Joe. "Our highly skilled dental hygienists customize treatment and home care instructions for each of our patients."
Dr. Joe takes his 21st-century skills to Nepal each October. He treks in the Himalayan Mountains with the Karma Thalo Foundation to deliver dental care to the Nepalese living in remote villages. Dr. Joe encourages individuals to "like" the Karma Thalo Foundation on Facebook.
Stop by Watson Pointe Dental for a visit or a tour of the office. New patients are always welcome.
Watson Pointe Dental
8537 Watson Road • Webster Groves
314-963-2000