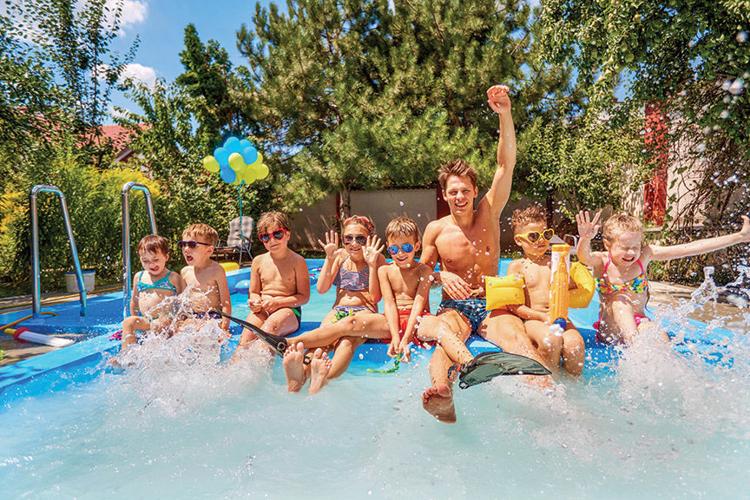 Camps
Ackermann's Swim Program is family owned and teaches ages 4-11 the life skill of swimming and water safety since 1949. Non-competitive, safe environment builds confidence and self-esteem. Four different water level in heated pools for progressive learning. Great playground, plus convenient drop off and pick up at the curb. www.ASPKirkwood.com
Camp Pegnita is an old-fashioned day camp that gives kids the feel of an away camp, right here in Kirkwood on six beautiful acres. Camp Pegnita has been providing a safe and enjoyable summer for kids ages 5 to 14 for more than 60 years. Activities include archery, arts and crafts, organized sports and games, campfires, cooking, gardening, hiking and nature activities. Campers receive daily swim lessons and free-swim in the on-site pool. A special event, like a pirate party carnival, a magic show or a camp-wide field day is scheduled every week. Register today at camppegnita.com.
Imagine a summer camp where campers eat breakfast in the company of ring-tailed lemurs, zoom down a zip-line and kiss a camel before lunch, make pottery on the wheel in the afternoon and play a camp-wide game of Capture the Flag after dinner. Cub Creek Science Camp is that camp. With over 300 animals, a six-element ropes course and activities in arts and crafts, archery, photography, chemistry and more, this is a truly unique summer camp. Facilities are air-conditioned, meals are served buffet style with alternative meal options available, and accreditation by the American Camp Association. Visit www.CubCreekScienceCamp.com.
Ignite creativity this summer at COCA. Campers have the opportunity to learn and experience new things, build their skills and, most importantly, have fun. COCA offers some of the most creative camps for kids and teens, ages 3 to 18. Camps start the day after Memorial Day and run through August 21, providing families with 13 weeks of summer arts opportunities. Join this summer.
Community School offers camps for 3-year-olds to eighth graders on the school's beautiful 18-acre campus. Over 90 offerings, with special sessions from STAGES, Bricks 4 Kidz, HINRG and more. Plus, Play Camp for the youngest campers, a week devoted to STEM and FUNdamentals to fight the summer slump. Register at www.communityschool.com/camp.
At Gifted Resource Council Summer Academies (314-962-5920) bright and gifted K-8 students will explore engaging topics in-depth and hands-on with highly qualified instructors.
Imaginations will soar this summer in the all-new Camp Invention® program, Elevate! Campers in grades K-6 will spark their creativity and build collaboration skills while controlling their very own flight simulation robot, protecting Earth's ecosystems, designing the ultimate sports complex and learning the value of their ideas. Local educators will lead fun, hands-on STEM activities inspiring children to ask questions, overcome obstacles and be confident in their innovative ideas. Visit www.invent.org/camp or call 800-968-4332 to register. Use promo code LOCAL25 to save $25 (expires 3/31) or LOCAL15 to save $15 (expires 5/12).
Kraus Farms offers three types of camps: horse camp, farm camp and mini buckaroo camp. Kraus Farms stresses safety, horsemanship and fun for every camper.
Summer adventure awaits at MICDS. Four camps–Pegasus, Language Immersion Camp, Rams Sports Camp and Eliot Summer Academy–offer a variety of activities for kids in grades K-12 from any school. Campers will explore unique learning opportunities, languages and cultural experiences, sports and hobbies to ensure that brains and bodies are active and campers are eager to return each day. All camps are located on the sprawling 100-acre MICDS campus and supervised by enthusiastic counselors and expert MICDS staff. Pursue new passions, explore new cultures, exercise athletic skills and stretch limits at MICDS summer camps.
Miriam's specialty camps are perfect for students entering grades K-12 who need a boost in FUNdamentals during the summer. Camps offer small teacher to student ratios and customized curriculum with a fun and caring staff. Campers can focus on academics such as reading and writing skills, build social skills, or choose from therapy camps that emphasize sensory, fine motor or emotional development. Morning, afternoon or full-day sessions plus after camp care is available. Learn more at miriamstl.org or call 314-961-1500.
Summer would not be the same without New City School Summer Camp. Campers will have an exciting time learning new things, pursuing their passions, meeting new friends and rekindling old friendships. Camps complement busy summer schedules, with over 20 full-day options for campers age 3 to 7th grade, plus Early Care starting at 7:00 a.m. and Extended Care until 6:00 p.m. New City School is excited about their new Innovation Lab. Campers will spend time in the lab creating, cooking and enjoying what they have made. Visit www.newcityschool.org/our-program/summer-camp for an online catalog and downloadable registration form.
Come join the fun and get better at tennis this summer at the Dwight Davis Memorial Tennis Center Nike tennis camp. Junior full-day and half-day camp options for boys and girls ages 5-18. All ability levels welcome.
St. Louis Gym Centre (314-968-9494, www.stlouisgymcentre.com) offers gymnastic instruction for ages one to adult. Summer 5-day and half-day camps and classes available. Birthday parties, field trips, open workout and playgroups.
Fill a child's summer days with camps at Ursuline Academy. Open to boys and girls ages 6-14, each camp is designed to create an entire week of full-day fun. Ursuline is excited to share in unique partnerships with COCA, and Bricks4Kidz to enhance the summer offerings. Camps include pottery and art, soccer, Minecraft Gaming, field hockey, magic, dance, Lego Robotics and much, much more. Visit www.ursulinestl.org/ for all camp details and registration.
Yucandu Art Studio believes that when kids get great materials, they make great art. Yucandu is such a fun and inspiring place to be and the camp projects are so cool. Send children to a place where they will grow as budding artists, feel successful and bring home artwork. Yucandu campers say, "That was the best camp ever!"
Preschool
Emmanuel Preschool (314-961-2393) provides ages 2-5 with joyful learning through music, art, yoga, creative movement and cooking. Experienced, caring teachers foster a creative environment. Now enrolling for fall.